Jon Snow And Ygritte From Game Of Thrones Have Gotten Engaged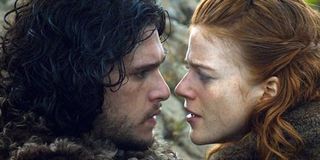 It looks like wedding bells are in store for Kit Harington and Rose Leslie. The duo fell in love on the set of Game of Thrones and got engaged after five years of dating. Harington and Leslie's relationship mirrors the romance between the actors' onscreen personas, Jon Snow and Ygritte. Apparently, Kit Harington and Rose Leslie wanted to keep the news of their engagement quiet, but somebody spilled the beans to the press.
Reports say Kit Harington has wanted to marry Rose Leslie for a long time, and after the actors moved in together back in January of this year, he decided he wanted to pop the question sometime this year. This idea lines up with what he previously told interviewers about how he felt like he had moved in with his best friend and things were going well. While Harington and Leslie are ready to walk down the aisle, they allegedly have not settled on any of the details of the wedding yet.
About a year after Kit Harington and Rose Leslie began dating in 2012, there were rumors they separated for a while before getting back together. They later confirmed their relationship by appearing on the red carpet with each other at the Olivier Awards in London in 2016.
Kit Harington previously gushed about Rose Leslie and said he fell in love with her while filming Game of Thrones in Iceland, which he indicated was a beautiful place with an ambiance just right for romance. He also explained he naturally felt attracted to Leslie anyway, so it was easy to play her love interest on the show, which in turn made it easier to fall head over heels for her in real life.
Before the couple was really out in the open about their romance, Rose Leslie spoke fondly of Kit Harington without outright calling him her boyfriend. In fact, she called him "a dear friend" and told People,
Many fans and friends of the two actors have been cheering on their relationship from the sidelines. For example, Academy Award-winning actress Nicole Kidman appeared on an episode of The Late Late Show with James Corden along with Kit Harington, and she came right out and asked if he planned to marry Rose Leslie. Harington was shocked, so Kidman backed up a bit and said,
Kit Harington laughed and said he had been put on the spot by Nicole Kidman. He then indicated that an engagement might be a possibility down the road and said he was taking things "step by step, step by step" in his relationship. From the sounds of it, Harington and Rose Leslie did take their time, and now congratulations are in order for these Game of Thrones stars on the way to their wedding day.
Your Daily Blend of Entertainment News
Your Daily Blend of Entertainment News
Thank you for signing up to CinemaBlend. You will receive a verification email shortly.
There was a problem. Please refresh the page and try again.