Tom Petty's Daughter Shared Personal Images From His Funeral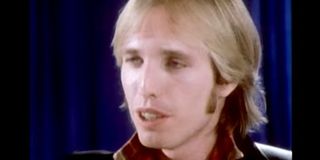 Family and friends of late musician Tom Petty recently gathered for his funeral at Self-Realization Fellowship Lake Shrine in Pacific Palisades, California, where they remembered the rock star's life and legacy and marked his passing. AnnaKim Violette Petty, his youngest daughter with his first wife, Jane Benyo, later shared lovely pictures of the icon's funeral. For example, she smiled through the sorrow for a selfie next to a large printed photograph of her father.
It appears the event was sad, of course, but the family included nice touches to keep the mood sentimental but not somber. For instance, guests could receive a Tom Petty tee-shirt.
AnnaKim Violette Petty also shared a picture of one of the Golden Lotus Archway, one of the beautiful structures at the location. Apparently, the arches lead to the Mahatma Gandhi World Peace Memorial, where an ancient Chinese coffin now contains some of Mahatma Gandhi's ashes.
It is heartening to know Tom Petty is in such incredible company. In fact, the funeral for George Harrison of The Beatles also took place at the same meditation center. Harrison and Petty played together in the Traveling Wilburys, so it was a pretty fitting place for friends and family to say goodbye.
AnnaKim Violette Petty posted several pictures with her family and friends at the service, and she always shared a beautiful (yet heartbreaking) image of the main funeral photograph of her father.
Tom Petty passed away at 66 years old on October 2. Petty's manager later revealed in a statement that the musician had gone into cardiac arrest at his Malibu home in the morning, and then more than 12 hours later, Petty died peacefully with family and friends by his side at UCLA Medical Center. The following day, AnnaKim Violette Petty also posted a statement on Instagram. Her message included words of gratitude for the outpouring of love from her father's fans and the kindness and emotional support everyone close to her provided. She wrote,
It sounds like Tom Petty was surrounded by love and warmth when he was laid to rest.
Your Daily Blend of Entertainment News