Someone Tried To Sell A Picture Of Sia's Butt, So She Shared It For Free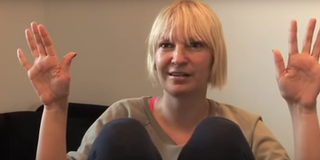 Singer-songwriter Sia recently took back her confidence by tweeting a nude image of her a paparazzo was trying to sell. It was a bold action for the "Cheap Thrills" singer. After all, Sia has worn oversized wigs and masks covering her face in recent years because, according to her, she feels anxiety and insecurity in front the public. To put herself out there this way was an enormous step, and it makes a big statement that the paparazzi need to lay off. You can see the photo here for free:
It is excellent when celebrities get the last laugh this way; what an invasion of privacy this picture was! The way Sia handled the situation was perfect, and it was great how she told people to save their money. It serves as a middle finger to the person who originally posted it for cash and, perhaps, to the tabloid industry that propagates the notion it is okay to photograph people naked in supposedly safe places. (It is not okay!) Plus, the popular producer and former Zero 7 vocalist got to promote her new holiday album, Everyday is Christmas, too.
Sia's strategy to tweet the picture but one of the ways celebrities have taken care of nude photo leaks in recent times. For example, Prince William faced several photographers and tabloid publishers in court over topless photos of his wife, Princess Catherine, from 2012. The result was a victory for the royal family, who won nearly £100,000 in damages. However, not everyone in the limelight takes photographers who overstep to court. For instance, Ariana Grande shrugged off alleged nudes of her surfaced in 2014. She tweeted that her butt looked better than the one in the pictures, and like Sia, Grande also used the message to circle back to her work and mention that tour dates were on the way.
Similarly, after a nude of Orlando Bloom on a paddle boat with Katy Perry surfaced last year, the Pirates of the Caribbean actor made light of the situation during a radio talk show. Perry later joked about the moment, too. However, unlike Sia, Bloom was out in public with one of the biggest pop stars on the planet when the photographers captured the pictures. Sia, on the other hand, appeared to be in the privacy of her home or a hotel room--or just somewhere people should never have been aiming cameras.
Unfortunately, there seems to be an epidemic of paparazzi trying to catch celebrities in the buff nowadays, and hackers are in on the game too. A long list of stars have had nude photos leak or get taken by photographers using long-lens cameras. Kirsten Dunst, Amanda Seyfried, and Kate Upton each had naked picture "scandals" when hackers got into their private computer files and stole pictures a few years ago. Jennifer Lawrence had the same situation happen, but in an interview, she urged people not to call it a "scandal" but a "crime." And it seems most courts agree. After all, a hacker wound up in prison for ten years in 2012 when a court convicted him of stealing and publishing nudes of Christina Aguilera, Scarlett Johannson, and Mila Kunis.
Hopefully, Sia and the other stars sticking up for themselves can serve as a reminder to the paparazzi to back off. Here's hoping more celebrities feel emboldened to take back their narratives and pictures (and that photographers start being more respectful of people's privacy).
Your Daily Blend of Entertainment News