Kid Rock Secretly Dating Kellie Pickler?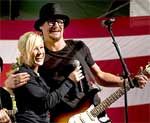 Rocker Kid Rock is secretly dating American Idol star Kellie Pickler, according to U.S. tabloid reports. The hitmaker showed up at the recent CMT Video Awards in Nashville, Tennessee with ex-girlfriend Sheryl Crow - but he was really at the prizegiving to be close to his new love, according to the Globe.
A source tells the publication, "The romance between Kellie and Kid has been the worst-kept secret in Nashville." Insiders claim Pickler was talking about Kid Rock when she recently told a radio interviewer, "I'm seeing someone. I got a man. He's a great, great guy. We've been seeing each other for over a year."
Rock, real name Robert Ritchie, has been linked to a string of lovely ladies and was briefly married to Pamela Anderson in 2006. (KL/TG/LR)
Copyright 2009 WENN
Your Daily Blend of Entertainment News
Thank you for signing up to CinemaBlend. You will receive a verification email shortly.
There was a problem. Please refresh the page and try again.