Nia Long: What To Watch If You Like The Boyz N The Hood Star
She's honestly one of the best...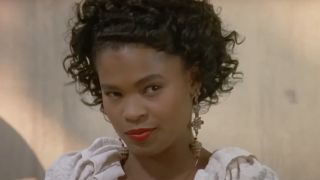 (Image credit: Columbia Pictures)
Whether she is appearing in groundbreaking coming-of-age dramas like Boyz n the Hood, iconic comedy shows like The Fresh Prince of Bel-Air, or more recent streaming titles like The Best Man: The Final Chapters and You People, Nia Long has long been one of the most prolific and triumphant voices in the entertainment industry. Over the course of the past four decades, the talented actress has landed lead or supporting roles in some of the most consequential films of our time, and it looks like that trend will continue for just as many years.
Since CinemaBlend has a habit of recommending movies to watch while also sharing the various ways to enjoy them (either through streaming or purchasing digital copies), we have put together a collection of some of Long's best movies and TV shows from throughout her career. It's a varied bunch, which is great, as each of these roles show off how Long handles herself in everything from comedy to drama to long-running TV crime procedurals. Let's begin.
Boyz N The Hood (1991)
The late John Singleton's riveting directorial debut, Boyz n the Hood, turns its focus to South Central Los Angeles with a heartbreaking coming-of-age story about Jason "Tre" Styles III (Cuba Gooding Jr.) after he is sent to live with his father, Jason "Furious" Styles Jr. in the hope that he won't end up like so many of his peers. That's difficult, however, as gang violence and the drug trade keep pulling in his friends Darrin "Doughboy" Baker (Ice Cube) and Ricky Baker (Morris Chestnut), resulting in a tragic end.
Serving as Tre's guiding light in the crime-ridden neighborhood is Brandi (Nia Long), Tre's deeply devoted and religious girlfriend who attempts to motivate him to escape the dangerous neighborhood before he gets caught in the crossfire. Though one of her first roles, Long handles herself in key emotional scenes tremendously.
Stream Boyz n the Hood on Starz. (opens in new tab)
Rent or buy Boyz n the Hood on Amazon. (opens in new tab)
Friday (1995)
Released in 1995, the Ice Cube-led stoner comedy, Friday, follows down-on-his-luck Craig Jones (Ice Cube) as he tries to reconcile with the fact that he was fired on his day off. Told over the course of a single day, F. Gary Gray's timeless classic sees Craig reluctantly smoke pot with his best friend, Smokey (Chris Tucker), dodge a drive-by shooting, and stand up to neighborhood bully, Deebo (Tiny "Zeus" Lister Jr.) before the stroke of midnight.
Nia Long shows up in the Friday cast as Debbie, Craig's crush who shows she's one of the few people in the neighborhood who's not scared of Deebo, standing up to him at one point, setting up one of the most iconic showdowns in '90s cinema. She's cool, calm, and collected, and not willing to take anything from anyone, even the massive man that is Deebo.
Stream Friday on HBO Max. (opens in new tab)
Rent or buy Friday on Amazon. (opens in new tab)
The Fresh Prince Of Bel-Air (1991 - 1995)
Before Will Smith became one of the biggest stars in Hollywood with movies like Bad Boys, 1996 box office juggernaut Independence Day, and the Men in Black franchise, he became a household name with the landmark sitcom The Fresh Prince of Bel-Air. Throughout his journey, which took him from West Philadelphia to Southern California, Will had more than his fair share of romantic interests, going as far as almost tying the knot with Beulluah "Lisa" Wilkes (Nia Long), not once, but on two separate occasions.
Related
Nia Long Opens Up About Working With Will Smith On Fresh Prince
Long's time on The Fresh Prince of Bel-Air was brief, but memorable, as she was involved in one of the biggest storylines of the groundbreaking series, which came at a time where her career was reaching new heights. It should also be noted that Long made a one-off appearance earlier in the series, playing a girl named Claudia in the show's second season.
Stream The Fresh Prince of Bel-Air on Hulu. (opens in new tab)
Buy The Fresh Prince of Bel-Air on Amazon. (opens in new tab)
Soul Food (1997)
Released in 1997, George Tillman Jr.'s star-studded dramedy, Soul Food, centers on the complicated relationships shared by Josephine "Big Mama" Joseph (Irma P. Hall), her three daughters, played by Vanessa Williams, Vivica A. Fox, and Nia Long, and other members of their large family and group of friends. When the family matriarch falls into a coma, her loved ones fall into a state of chaos as they become frightened by a prospect of a life without the glue that keeps them together.
All of the performances in Soul Food are incredible, including Brandon Hammond as Ahmad, Big Mama's grandson who provides narration, but the three sisters, and their testy relationships, serve as an anchor for the incredible highs and lows of a family crisis.
Stream Soul Food on Prime Video. (opens in new tab)
Rent or buy Soul Food on Amazon. (opens in new tab)
The Best Man Franchise (1999 - 2022)
Between 1999 and 2022, Malcolm D. Lee released three chapters in his The Best Man saga in the form of two movies – The Best Man and The Best Man Holiday – and a Peacock original series, The Best Man: The Final Chapters, that followed a close-knit group of college friends as they deal with the trials and triumphs of early adulthood and middle age.
The cast, which is anchored by the core group of Harper Stewart (Taye Diggs), Lance Sullivan (Morris Chestnut), Julian "Murich" Murchison (Harold Perrineau), and Quentin Spivey (Terrence Howard), also includes the likes of Nia Long as Jordan Armstrong, Harper's friend and former classmate who was almost something more. Though her character had multiple great moments throughout the chronicle, few compare to the scene in The Best Man where she called Harper out on his attitude with one of cinema's most explosive slaps.
Stream The Best Man on Prime Video. (opens in new tab)
Rent or buy The Best Man on Amazon. (opens in new tab)

Stream The Best Man Holiday on Peacock. (opens in new tab)
Rent or buy The Best Man Holiday on Amazon. (opens in new tab)

Stream The Best Man: The Final Chapters on Peacock. (opens in new tab)
Big Momma's House (2000)
Raja Gosnell's 2000 comedy, Big Momma's House, follows FBI agent Malcolm Turner (Martin Lawrence) as he goes undercover in hopes of tracking down escaped convict Lester Vesco (Terrence Howard) before he can find the stolen cash he hid away before going behind bars. But, this isn't any normal sting operation, as Turner has to dress up like the grandmother of Vesco's ex-girlfriend, who was suspected to have had a role in the robbery.
Though most of the comedy comes from Martin Lawrence's shenanigans while dressed up like a cranky southern woman, the drama comes from an outstanding performance by Long, who plays Sherry Pierce, Vesco's ex. The mystique surrounding Pierce throughout the movie leaves you guessing until the very end, a feat pulled off thanks to Long's talents.
Stream Big Momma's House on HBO Max. (opens in new tab)
Rent or buy Big Momma's House on Amazon. (opens in new tab)
NCIS: Los Angeles (2017 - 2018)
The CBS hit drama-action series NCIS: Los Angeles is one of the longest-running shows on TV right now, though its 14-season run will conclude at the of the 2023 spring TV schedule. Over the years, the show that follows an elite undercover force fighting enemies both foreign and domestic, has seen a great number of actors join cast mainstays Chris O'Donnell, Daniela Ruah, and L.L. Cool J, including Nia Long for a short period of time.
During Seasons 9 and 10, Long took on the role of NCIS Executive Assistant Director for Pacific Operations, Shay Mosley, who provided moments both tense and light as the team's new leader. This wasn't Long's first time appearing on a series like this, as she portrayed Officer Sasha Monroe on NBC's Third Watch a decade earlier.
Stream NCIS: Los Angeles on Paramount+. (opens in new tab)
Buy NCIS: Los Angeles on Amazon. (opens in new tab)
Love Jones (1997)
Theodore Witcher's 1997 romantic drama, Love Jones, centers on poet Darius Lovehall (Larenz Tate) and photographer Nina Mosley (Nia Long) as they explore their respective careers in Chicago while also becoming major parts of each other's lives. This romance, however, is not without its ups and downs, as the lovers quickly discover that matters of the heart are never as easy as they seem.
Love Jones has a supporting cast consisting of some of the biggest names of the time like Isaiah Washington and Bill Bellamy, but they don't distract from the tense and tumultuous performances by the two leads, specifically Long, who shines throughout.
Stream Love Jones on HBO Max. (opens in new tab)
Rent or buy Love Jones on Amazon. (opens in new tab)
Keanu (2016)
Before Jordan Peele won an Academy Award for his Get Out screenplay, he wrote his first movie alongside Key & Peele co-creator and co-star, Keegan-Michael Key. That effort, 2016's Keanu, follows two cousins – Rell Dresden (Peele) and Clarence Dresden (Key) – as they go to great lengths to find and retrieve a kitten that had been stolen from them, creating a hilarious and sometimes intense buddy action comedy.
Long shows up in the movie as Hannah, Clarence's wife, who encourages him to relax while she goes off on a weekend trip. And though her screen time is limited in the movie, Long makes the most of it, creating some hilarious moments in the process.
Rent or buy Keanu on Amazon. (opens in new tab)
Good Hair (2009)
One of the great streaming options on Plex for Black History Month, Jeff Stilson's 2009 documentary, Good Hair, follows Chris Rock as he explores the history and cultural impact of the Black hair industry. Over the course of interviews with the likes of Nia Long, Kerry Washington, Lauren London, Tracie Thoms, Maya Angelou, and multiple others, Rock attempts to get to the bottom of the $9 billion Black hair industry, learning a great deal along the way.
Stream Good Hair on Plex. (opens in new tab)
Stream Good Hair on Freevee. (opens in new tab)
Rent or buy Good Hair on Amazon. (opens in new tab)
You People (2023)
And then there is Kenya Barris' comedy, You People, which was one of the new titles added to Netflix in February 2023. The movie centers on struggling podcaster Ezra Cohen (Jonah Hill) and fashion designer Amira Mohammed (Lauren London) as they prepare for their parents to meet for the first time, which ultimately leads to all kinds of issues for the couple.
The You People cast, in addition to the two leads listed above, also includes Eddie Murphy, Nia Long, Julia Louis-Dreyfus, and David Duchovny as the four parents, who are from two completely different backgrounds. Though she doesn't have a ton to do in the movie, Long, like always, finds a way to shine in her portrayal of Fatima Mohammed.
Stream You People on Netflix. (opens in new tab)
We included more than a dozen movies and shows featuring Nia Long, but this is barely scratching the surface of her incredible on-screen career. If you want to see what's coming out after going down memory lane with these great movies and shows, now's a good time to check out our 2023 movie schedule.
Your Daily Blend of Entertainment News
Philip grew up in Louisiana (not New Orleans) before moving to St. Louis after graduating from Louisiana State University-Shreveport. When he's not writing about movies or television, Philip can be found being chased by his three kids, telling his dogs to stop yelling at the mailman, or yelling about professional wrestling to his wife. If the stars properly align, he will talk about For Love Of The Game being the best baseball movie of all time.