Ted Lasso Season 3: 7 Quick Things We Know About The Apple TV+ Series
Here's what we know so far about Ted Lasso Season 3!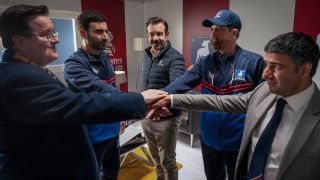 (Image credit: Apple TV+)
Many television fans with an AppleTV+ subscription would probably say that the streaming service brought us a true gem when Ted Lasso debuted on August 14, 2020. The soccer – OK, fine, football – comedy quickly garnered positive reviews from audiences and critics alike, with Season 2 being every viewer's first thought after they all got their fill of the freshman outing.
Now, with the second installment in the history books as of its finale on October 8, 2021 (Over a year ago as of this writing!) and having left us with several questions, people will want to learn every bit of information they can find about Ted Lasso Season 3. Without further ado, here's what you need to know about the upcoming season of heartfelt hilarity, football shenanigans and deep feelings!
Ted Lasso Was Renewed For Season 3 In October 2020
Luckily, fans didn't have to deal with any extended waiting period just to see if we'd actually be presented with a third outing of Ted Lasso. The comedy was renewed way back in October of 2020, before production had even begun on Season 2. As you likely know, this fast renewal was hardly a giant surprise, considering how massively popular and sincerely beloved the show became after its first season.
Ted Lasso Season 3 Began Filming In Early 2022
If you wanted more very good news, you've come to the right place! Along with the show being renewed for a third season, we also found out early on that Ted Lasso Season 3 was set to begin filming in early 2022. On January 4, 2022, star Brendan Hunt (who plays Coach Beard and also co-created, executive produces and writes the comedy) posted a photo of himself and lead Jason Sudeikis on Instagram as they were about to board a plane. His caption indicated that filming would start very soon, which was in accordance with what Phil Dunster (Jamie Tartt) told Variety, and what Hannah Waddingham (Rebecca Welton) said about when the show would begin filming while appearing on The Late Late Show with James Corden in December 2021.
Now, here's where the not so great news comes in, as production on the surprisingly sweet comedy took way longer than it had been expected to (which I'll get into more in a bit), and didn't begin as early in the year as it was planned. Fortunately, when Sudeikis hosted a charity event in Kansas City on November 12, 2022, he told the assembled guests (via GQ UK) that principal photography was due to come to a close the following week. He echoed that sentiment when speaking at a press conference for the fundraiser, but there's been no official word from Apple TV+ or the show, at this time, which states that filming is, in fact, complete.
What's The Delay On Ted Lasso Season 3?
Remember how I said we'd get into the reason for the very much extended production time on the Season 3 tales of AFC Richmond? Well, here we go. Even assuming that one of the best Apple TV+ shows did finish filming in mid-November, according to Puck, the series still took over a year to write and film. While the writers room started in September 2021, and the cast had all arrived in England by early January 2022, Sudeikis (who is now also the showrunner) reportedly decided that the scripts required big rewrites. So, instead of starting to film by mid-February, that beginning date was pushed to March.
However, not even waiting an additional few weeks to get cameras rolling worked. As, according to Puck's sources, production stalled several more times because of things like shifting character arcs, and more on-the-fly script changes. There was also, allegedly, a Sudeikis-spurred change big enough that caused production to need to pick up and move to Amsterdam, adding weeks to an already behind schedule. On top of all of that, a plan to shoot at Chelsea Football Club was stalled when that team needed to be sold by its Russian oligarch owner after his country's invasion of Ukraine.
All of this led to the mountain of delays, the show reportedly going way over budget, and fans still not being able to see Ted Lasso Season 3, which had been set to hit Apple TV+ in the summer of 2022. As of early December 2022, we still have no clue when the third season might debut.
Ted Lasso's Stars And Writers Are All Expected To Return, And There's At Least One New Cast Member Confirmed
Why don't we turn this football train around and get back to some more good news, eh? Though many of the Ted Lasso cast members were plenty recognizable before the show, their work on the hit has taken their stardom to a different level. This means that fans are hoping not just to see the series finally return, but also want to see more of their favorite characters and the actors who make them so special. According to The Hollywood Reporter, much of the main cast closed new deals to continue with Season 3 by mid-September 2021, with those who make up the beloved team of footballers for Richmond and other actors likely making new deals by a few weeks after that.
So, we can definitely expect to see Sudeikis (Ted Lasso), Waddingham (Rebecca), Hunt (Beard), the very real Brett Goldstein (Roy Kent), Juno Temple (Keeley Jones), and Dunster (Jamie) return for the new season. But, we should also be treated to more from actors like Nick Mohammed (Nate Shelley), Jeremy Swift (Leslie Higgins), Toheeb Jimoh (Sam Obisanya), Kola Bokinni (Isaac McAdoo), Cristo Fernández (Dani Rojas), and Billy Harris (Colin Hughes), along with many of the other supporting players. In addition, Deadline announced in April that Jodi Balfour (For All Mankind) had been added to the cast to portray Jack, "a charming venture capitalist."
Fans can also look forward to the overall feel of Ted Lasso remaining the same, as Sudeikis, Hunt, Goldstein, and the other writers will all return for Season 3, as well.
Ted Lasso Season 3 Will Have 12 Episodes
Season 1 gave audiences a pleasantly large episode count of 10, but the second set of episodes surprised viewers by adding two to that total when Apple decided to up the number. While Ted Lasso Season 3 won't increase the episode count again, Sudeikis revealed in a post-Emmy win interview in September 2021 that 12 episodes had, indeed, been ordered for the new season.
Nate Might Not Be Redeemed By The End Of Season 3
I doubt that many of us watched Season 1 and had any idea of where the second season was going for the sweet, knowledgeable, formerly bullied Nate. As much as he loved being trusted by Ted and Coach Beard, he hated it with a passion when Roy was also appointed a coach, and let his fears of being abandoned/not being good enough lead him down a shady road, which ended with him likely being at least one of the Big Bads for the new season.
Nate's portrayer, Nick Mohammed, noted earlier in 2022 that we actually might not see Nate be redeemed by the end of the new season. As he told the BBC:
I tell you what, if Nate doesn't get a second chance, but somehow someone like Rupert (Anthony Head) does, fans will not be pleased.
All Three Seasons Of Ted Lasso Will Tell A Complete Story
As all of us Ted Lasso fans know by now, the series was pitched with a three-season plan, as the original goal was for the story to end with the third season. But, when you have a series that dominated the cultural zeitgeist as quickly as this one has, it makes sense that fans, those at Apple, and probably several of the creatives behind the mega-successful comedy would love to see it continue beyond Season 3.
Whether it will or not hasn't been fully decided yet (though writer/star Goldstein did confirm that upcoming episodes were written as the show's last hurrah), but executive producer Bill Lawrence told Deadline:
So, even if Ted Lasso does last through Season 4 or beyond, we can count on the story that we've seen so far being completed by the end of Season 3. And, what that might mean for the future of this heartwarming series is certainly exciting to think about!
As for how that complete story will conclude, obviously we'll have to wait and see, but show editors A.J. Catoline and Melissa McCoy spoke to THR's Behind the Screen (opens in new tab) podcast a few months ago, and noted that they think Nate and Rebecca will have the biggest transformations in the upcoming season. Additionally, there are other new characters, including "new blood on the team" that "invigorates what's happening in the locker room," while things that were set up in the very first season will be coming back around before the finale credits roll.
All in all, it sounds like fans are in for a fantastic set of episodes, whenever Ted Lasso Season 3 does finally premiere.
Your Daily Blend of Entertainment News
Yennefer's apprentice, Gilmore Girl; will Vulcan nerve pinch pretty much anyone if prompted with cheese...Yes, even Jamie Fraser.
Your Daily Blend of Entertainment News
Thank you for signing up to CinemaBlend. You will receive a verification email shortly.
There was a problem. Please refresh the page and try again.