10 Times Emilia Clarke Was The Queen We Needed In Real Life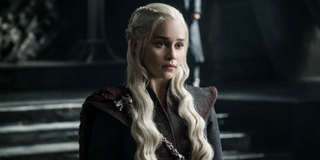 (Image credit: Helen Sloan / HBO)
For the eight seasons of Game of Thrones, Emilia Clarke has played Daenerys Targaryen, who wanted nothing more than to become Queen of the Seven Kingdoms. Clarke's royal factor entirely transcends that of her on-screen role. Throughout the past eight years, Clarke has proven she is the queen that people have needed in real life.
Whether it was opening up about battles she has fought in real life or promoting Game of Thrones, Emilia Clarke let the world in on her reign, making it clear that she is an absolute queen. These are just some of the examples in which she showed off her regality.
1. Emilia Clarke Opened Up About Brain Aneurysms
Ahead of Game of Thrones' final season premiere, Emilia Clarke revealed the scary battle she fought when the show had just begun. Opening up in her own words, Clarke wrote about her experience surviving two brain hemorrhages. Here is what she wrote in The New Yorker:
Emilia Clarke had a second aneurysm treated two years later in 2013. She underwent another surgery to treat it, which turned out not to be the final one related to her condition. I think Clarke deserves so much respect for overcoming everything she has and then opening up about her experience. Brave and impressive are just a couple of the words that spring to mind.
2. Recently Getting Blown Away By An Episode
Never one to be shy with a humorous response, Emilia Clarke weighed in following Game of Thrones' shocking penultimate episode. She did so with a post that summed up her shock regarding the jaw-dropping installment. Keep scrolling to see her post below:
Please note Emilia Clarke's hashtag, which spells out that the episode was "so shocking it blew my wig off." Clarke's Instagram post does not just include her reaction to the second-to-last installment of Game of Thrones. It also gives fans a behind-the-scenes peek into what went into it.
3. Jason Momoa Talks About Emilia Clarke
After Emilia Clarke talked about her brain aneurysms, her co-star Jason Momoa discussed that scary time. Momoa and Clarke co-starred in Game of Thrones' first season together. Momoa discussed the emotions surrounding Clarke's health crisis, telling Entertainment Tonight:
Jason Momoa played Daenerys' first (and now dead) husband Khal Drogo. He was killed off in the first season. Emilia Clarke's first subarachnoid hemorrhage occurred after Season 1 had finished filming. As Momoa's words attest, the two co-stars have remained close since then.
4. Emilia Clarke Teasing The Final Season of Game of Thrones
Emilia Clarke is the queen of teasing Game of Thrones. In the lead-up to the final season, Clarke has offered no shortage of hints and clues. She shared that Season 8 Episode 5 would be "bigger" than the Battle of Winterfell, which it was. At the Oscars, she teased a shocking season, which it has been. Emilia Clarke also foreshadowed that Daenerys' twist by sharing her reaction to filming the character's final scene. She told Vanity Fair:
That was not the only clue she has imparted over time. When it comes to Game of Thrones, Emilia Clarke has been the queen of rivetingly hinting at what fans can expect.
5. Clarifying "Coffee" Cup Spotted On-Screen
Game of Thrones has endured its share of eyebrow-raising moments in its time. The appearance of an apparent coffee cup during a celebratory scene at Winterfell gave the internet a gold mine of memes to make. HBO quickly responded by removing it from streaming versions of the episode. Emilia Clarke has not remained silent. See for yourself:
This was Emilia Clarke's incredible way of saying it was not her cup. Not only does she drink tea and not coffee, but she also leaves "the bag in," per her hashtag. Leave it to Clarke to lightheartedly touch on the brouhaha and bring some clarity.
6. That time Jason Momoa Gave Her A Lift At the Game of Thrones Wrap Party
Speaking of social media of which Emilia Clarke is a queen, who can forget the time Clarke posted that epic picture of her and Jason Momoa from Game of Thrones' wrap party? For reference, please look below:
Talk about a fun throwback! Jason Momoa came to the buzzy wrap party to celebrate the end of filming Game of Thrones. Fans got that picture and Emilia Clarke's fantastic caption, which referenced Dirty Dancing.
7. She Got Dragon Tattoos For Game of Thrones
Following filming on Game of Thrones, Emilia Clarke bid farewell to the show with a touching Instagram post. She went on to do something else too. Clarke got a tattoo. Or is it tattoos? Check out a picture of her ink below:
Emilia Clarke cannot contain her joy in that picture! The group of delicate dragon tattoos is an homage to Daenerys' dragons. There's one for each of Dany's dragons: Drogon, Viserion, and Rhaegal.
8. She Dressed Up As Jon Snow In New York City
Emilia Clarke took in the sights of New York City dressed as Daenerys Targaryen's nephew, Jon Snow. And she did it for a good cause. This video is just an example of why Clarke is such a fan favorite. She is hilarious and can somehow stay in-character no matter the circumstance. Check it out:
It is hard to pick the best moment of this video since the entire thing is a highlight. Emilia Clarke looking at the camera or when she is in the store playing with the magnets are both a blast. She is a queen throughout.
9. She started her own charity: Same You
Again, Emilia Clarke is doing spectacular things off-screen. Having survived two brain hemorrhages, she has taken action for a cause close to her heart. Clarke has started a charity called Same You. Per the charity's site, its goal is to "propel neurorehabilitation support services to the forefront." Here is a video of her announcing its launch:
To want to give back after everything she has gone through is truly inspiring. Emilia Clarke is not only an amazing actress. She can also add being an excellent philanthropist to the list.
10. Emilia Clarke Attended A Basketball Game, And Someone Bent The Knee
This is recent, and it is terrific. Emilia Clarke was attending a Houston Rockets basketball game when a mascot acknowledged her presence. Touching on the recent coffee gaffe, the mascot made its way over. Check out the video:
Bending the knee to Emilia Clarke is still totally in vogue. Her reaction is beyond sweet. She seems genuinely surprised to have garnered such attention. Again, why she is so loved and a queen, always.
Emilia Clarke's career will continue way beyond Game of Thrones. She has a lot going on in the future. Here is to whatever she does next. Just know she will continue being a total queen while she does it.
Watch Emilia Clarke in her final Game of Thrones episode, when the series finale airs this Sunday (May 16) at 9 p.m. ET on HBO.
Like a contented Hallmark movie character, Britt happily lives in the same city she grew up in. Along with movies and television, she is passionate about competitive figure skating. She has been writing about entertainment for 5 years, and as you may suspect, still finds it as entertaining to do as when she began.
Your Daily Blend of Entertainment News
Thank you for signing up to CinemaBlend. You will receive a verification email shortly.
There was a problem. Please refresh the page and try again.