Zoey's Extraordinary Playlist Has Added A What We Do In The Shadows Star For Season 2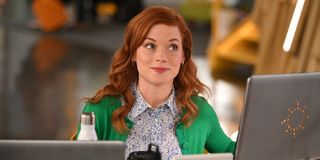 Sprq Point may have lost Skylar Astin's Max in Zoey's Extraordinary Playlist Season 1, but it's gaining another employee in Season 2. The musical dramedy promoted four of its recurring actors to series regulars ahead of next season and now, it's adding a What We Do in the Shadows star for a multi-episode arc as well.
Harvey Guillén is joining Zoey's Extraordinary Playlist in Season 2. The actor will play George, a recurring character and programmer who will be attempting to impress Jane Levy's Zoey and the rest of his colleagues at Sprq Point. According to Variety, Guillén is set to make his debut on the NBC series during its Season 2 premiere.
Based on the minimal information we have so far, I'd wager that Zoey will be George's boss, and it's possible that he'll be replacing either Max or Leif on the company's fourth floor. I say that because Max was promoted to manager last year before being fired, leaving an open position on Zoey's team of programmers. Instead of returning to the company, Max realized he liked being a manager and decided to look for a job elsewhere.
Meanwhile, Leif's fling with Lauren Graham's Joan ended and, upset, he's contemplating leaving Zoey's team for the sixth floor. My guess is that Leif will actually move on up and that's where Season 2 will begin, with George filling that spot. That said, I wonder how Zoey will react to George's need for approval. Will she be all for it or annoyed? Will she have to listen to his heart songs? I'd wager that the answer to that last question is yes, so bring it on!
Harvey Guillén is most notable for playing Guillermo de la Cruz, Nandor's vampire familiar in FX's What We Do in the Shadows. The series is based on Taika Waititi and Jemaine Clement's 2014 film and sees Guillermo wanting to become a vampire himself. In Season 1, he was surprised to discover that he's a descendant of Abraham Van Helsing, a famed vampire hunter. Guillén's other TV credits include The Magicians, The Good Place, and Crazy Ex-Girlfriend, among several others.
Zoey's Extraordinary Playlist Season 2 will tackle the aftermath of Mitch's death and the impact that has on Zoey and her family. In addition to grappling with her grief and having work-life balance, Zoey's complicated feelings for Max and Simon will continue to be addressed. Skylar Astin teased that there's certainly a "lot to unpack" with regards to the love triangle next season.
Zoey's Extraordinary Playlist Season 2 is expected to premiere at some point in 2021 on NBC. Stay tuned to CinemaBlend for updates. In the meantime, be sure to check out our fall TV premiere schedule for more on what to watch.