Jennifer Lopez Called Out For Copying Beyonce At American Music Awards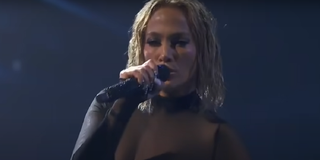 As hosted by Empire alum Taraji P. Henson, the 2020 American Music Awards aired on Sunday, and there was a variety of memorable performances from artists like Justin Bieber, Shawn Mendes, BTS, and Megan Thee Stallion. However, it was Jennifer Lopez's performance with Maluma that really got fans talking on Twitter, though it wasn't entirely because of how steamy it was. Rather, fans couldn't help but notice the stark similarities between Lopez's sultry performance and a previous award-show performance from Beyoncé, and they were quick to call the former out for being a supposed copycat.
Jennifer Lopez joined Maluma onstage at the American Music Awards to perform their songs "Pa' Ti" and "Lonely," but it was Lopez's catsuit, short-and-showered hairstyle, and her overall vibe that gave fans a lot of visual flashbacks to Beyoncé's "Drunk in Love" performance from the 2014 Grammy Awards. One fan on Twitter didn't mince words when calling out Lopez.
Having seen both performances, it's pretty easy to see that there are certainly similarities, which is why eagle-eyed fans on Twitter were able to notice it all immediately. One viewer put an image of Jennifer Lopez's look from the 2020 American Music Awards next to a picture of Beyoncé from the 2014 Grammys to make a point.
Meanwhile, some viewers argued that Jennifer Lopez was channeling moments and costumes from Flashdance and Chicago – there were bars onstage akin to the style of the "Cell Block Tango" performance. However, many others weren't very convinced by those defenses. One viewer even alleged that this wasn't the first time Jennifer Lopez had emulated Beyoncé for a big performance. Take a look!
Another viewer got a bit creative with their tweet, posting several images from Beyoncé's "Drunk in Love" performance with Jay-Z while congratulating Jennifer Lopez and Maluma on a job well done.
While there's no word yet from Beyoncé concerning what she thought about J-Lo's act, one Twitter user included a brief moment from Beyoncé's 2018 Coachella Valley Music and Arts Festival performance to highlight what they thought her reaction would be, which is essentially Beyoncé mock-laughing before getting serious. Check it out below!
While Jennifer Lopez's performance was dragged by several people pointing out the similarities to Beyoncé, there were still plenty of viewers who thought that Lopez and Maluma's performance was fiery, intense and then some. At the end of the day, Lopez's efforts surely didn't please everyone, which is honestly to be expected where Twitter is involved.
The American Music Awards may be over, but there are still lots of TV programs to watch right now and in the coming months. Be sure to check out our 2020 fall TV premiere guide, as well as our 2021 winter and spring schedule for options.
Your Daily Blend of Entertainment News
Thank you for signing up to CinemaBlend. You will receive a verification email shortly.
There was a problem. Please refresh the page and try again.