Zoey's Extraordinary Playlist Season 2: 7 Things We Know So Far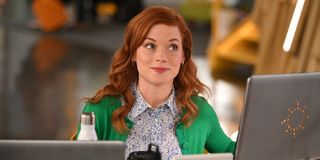 Zoey's Extraordinary Playlist wrapped its freshman season in May, leaving things off on a major cliffhanger that saw the death of a beloved character and Jane Levy's Zoey make a bold move by kissing Skylar Astin's Max. With filming currently underway, there are a few facts about Zoey's Extraordinary Playlist Season 2 that we know so far, including its premiere date and three new cast members who are joining the show.
The musical series was a refreshing surprise when it premiered during NBC's 2020 midseason lineup. It was heartfelt, the song choices and dance choreography excellent all around, and the characters had strong relationships with each other. And so, it was exciting when Zoey's Extraordinary Playlist was renewed for Season 2 shortly after Season 1 ended. With the series set to return soon, here are seven things we know so far about Season 2.
Zoey's Extraordinary Playlist Season 2 Will Premiere In January
Luckily, the musical dramedy's first season was not cut short due to Hollywood-wide production shutdowns and the cast and crew were able to return to work a couple of months ago. Now, the NBC series is debuting its second season much sooner than we thought. Mark your calendars because Zoey's Extraordinary Playlist Season 2 is all set to debut on Tuesday, January 5, 2021 at 8:00 p.m. ET on NBC. The series moved from its Sunday night time slot and will now be paired up with This is Us.
Zoey's Powers Will Be Explored Further In Season 2
An earthquake during the middle of Zoey's MRI scan somehow gave her the ability to hear people sing what they're feeling (something Zoey refers to as "heart songs"). However, there wasn't a lot of exploration as to where these musical powers really came from and if Zoey can ever fully control it. According to showrunner Austin Winsberg, Zoey's Extraordinary Playlist will explore a bit more of the mythology with regards to her powers and that it could "become a bigger part of the storyline."
Jee Young Han And Harvey Guillén Are Joining The Cast Of Season 2
Santa Clarita Diet and Bless the Harts alum Jee Young Han is joining Zoey's Extraordinary Playlist in Season 2 as Emily's older sister Jenna Kang. She'll show up to help Emily and David with their new baby, but will end up forming a strong relationship with Zoey's mom Maggie. Meanwhile, What We Do in the Shadows star Harvey Guillén has been cast to play George, an overeager programmer who is trying to please Zoey and the rest of his colleagues at SPRQ Point.
Felix Mallard Has Been Cast To Play Zoey's Childhood Friend
Zoey's life may be upended once more by the arrival of Felix Mallard's Aiden, Zoey's childhood friend and neighbor who is finally returning to San Francisco after spending many years backpacking through Asia. According to Deadline, Aiden will attempt to start a garage band, which means that Zoey may be hearing a lot more music that isn't only in her head. I can't say for certain what Zoey and Aiden's friendship will look like, but it's possible that their relationship could become romantic. Conversely, Aiden may be the shoulder Zoey needs to cry on with regards to her dad's death, especially now that things might be weird between her, Max, and Simon.
The Love Triangle Between Zoey, Max and Simon Is Still Alive In Season 2
Zoey's Extraordinary Playlist showrunner Austin Winsberg left the love triangle open-ended between Zoey, Max, and Simon at the end of Season 1. Here's what he told TVLine about why he chose to do that in preparation for Season 2:
Four Season 1 Actors Will Have More To Do In Season 2
Andrew Leeds and Alice Lee, who play Zoey's brother David and sister-in-law Emily, respectively, have been promoted to series regulars for Zoey's Extraordinary Playlist Season 2. The same goes for Michael Thomas Grant and Kapil Talwalkar, who play SPRQ Point employees Leif and Tobin, respectively. This means that all four characters will be getting a lot more to do next season, which is great because they're all wonderful characters. David and Emily will likely be struggling as new parents who have also just lost the Clarke patriarch. Meanwhile, Tobin and Leif will probably be stirring up some trouble and laughs at work.
The Season 2 Premiere Made Showrunner Austin Winsberg Emotional
The Season 1 finale of Zoey's Extraordinary Playlist ended with Mitch's death and a beautiful and heartfelt rendition of "American Pie." With the series set to pick up in the aftermath of Mitch's passing, I had no doubt that the Season 2 premiere would likely bring the feels. However, thanks to Austin Winsberg spilling the beans on Twitter, we now have confirmation. Here's what he had to say about the musical's Season 2 premiere:
Zoey's Extraordinary Playlist Season 1 surprised me in its willingness to be funny, sweet, and genuine and I have no doubt that Season 2 will be just as good. With the addition of new characters, Zoey having to manage her grief with her work and love life, as well as her friendship with Alex Newell's Mo, the sophomore season has a lot going for it already. The premiere date honestly can't come soon enough.
Zoey's Extraordinary Playlist Season 2 is scheduled to premiere on January 5 at 8:00 p.m. on NBC. Stay tuned to CinemaBlend for updates on the show. In the meantime, be sure to check out our 2020 fall TV guide and our 2021 winter and spring schedule for more on what to watch.
Your Daily Blend of Entertainment News
Thank you for signing up to CinemaBlend. You will receive a verification email shortly.
There was a problem. Please refresh the page and try again.