11 Cool Breaking Bad Christmas Gift Ideas For Fans Of The AMC Series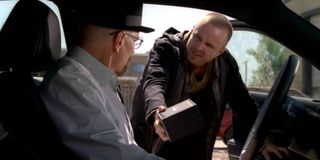 CinemaBlend participates in affiliate programs with various companies. We may earn a commission when you click on or make purchases via links.
The holiday season is a time meant to be shared with your family. Unfortunately, it appears that not every person is going to have that luxury this year since Covid-19 has made traveling an especially difficult challenge with the risk of spreading infection even further. If you ask me, the best ways families can forget about this drama is to remind each other that it could be worse by revisiting the ultimate family drama with Breaking Bad gifts that will cure the "blues" of die-hard fans of the series you may know.
The Emmy-winning crime thriller created by Vince Gilligan tells the story of Walter White (Bryan Cranston) who evolves from a meek family man and underachieving high school chemistry teacher to a ruthless crystal meth manufacturer, with the help of his former student (Aaron Paul), after being diagnosed with lung cancer. Few series have dared to touch the levels of darkness that Breaking Bad would reach during its consistently brilliant, heart-racing, and sometimes morbidly humorous five-season run. Despite this, it has inspired a great deal related merchandise that can be used for fun and practical uses alike.
I would actually be surprised if the "Breaking Baddie" (a nickname for fans that I actually just came up with, if you can believe it) in your life does not already own any of the 11 excellent gift ideas we have selected below. However, if they don't, you will certainly not be the one who breaks bad this Christmas if you put any of these in their stocking. Consider yourself in the empire business (of Christmas shopping) with the following items, including the coolest Blu-ray box set I have ever seen, personally.
Relive Breaking Bad With This Barrel Of Memories
While most Breaking Bad fans tend to rely on streaming for repeat viewings, they have probably dreamed of owning this special edition Blu-ray collection. Fittingly shaped like a barrel, the set includes the entire series with revealing bonus content on 17 discs and even comes with a few fun collectibles. I would also recommend throwing in a Steelbook copy of the 2019, feature-length Netflix original spin-off El Camino to complete the story (through Jesse Pinkman's eyes, at least).
Buy the Breaking Bad Complete Series Barrel Set on Amazon here (opens in new tab) and the El Camino Steelbook Blu-ray here (opens in new tab).
Become Heisenberg With This Breaking Bad Board Game
Another great way that your loved one can relive the story of Breaking Bad is if you actually give them the chance to live out the story, but with a better of chance of survival than adopting a real criminal lifestyle would guarantee. In fact, this board game (which even comes with playable crystal meth game pieces) gives players the option of representing either side of the law, as a member of one of the Albuquerque's top criminal factions or a DEA agent looking to crack down on your opponents' illicit operation. Either way, the object is to avoid falling into danger and instead be the danger.
Buy It On Amazon here (opens in new tab).
Relive Breaking Bad More Intensely With This In-Depth Literary Companion
On the other hand, if your loved one is the kind of fan who is more interested in what goes on behind-the-scenes in lieu of recreating the scenes themselves, this book, published in 2015, is a perfect addition to the Blu-ray box set bonus material. This hardcover expansion from the interactive e-Book Breaking Bad Alchemy includes an inside look into the making of the series' greatest moments, a timeline tracing Walter White's full story, and in-depth interviews between creator Vince Gilligan and editor David Thomson. It will quickly become apparent why this Breaking Bad companion is called The Official Book - it is the last one any fan of the show is going to need.
Buy It On Amazon here (opens in new tab).
Read Walter White's Favorite Poet In Leaves Of Grass
Actually, I take back what I just said about Breaking Bad: The Official Book being the last literary item a fan will need because exact copies of existing items that play a crucial part in their favorite work of fiction are what a true nerd goes nuts over. For instance, the hardcover, 150th Anniversary Edition of Walt Whitman's Leaves of Grass was chemist Gale Boetticher's (David Costabile) gift to Walter White that eventually became the key to Hank Schrader's discovery that "W.W." was not, in fact, "Willy Wonka." Give this legendary collection of loosely connected poems to your star, your perfect silence - but make sure they are careful to keep it in a safe place or it could fall into the wrong hands.
Buy It On Amazon here (opens in new tab).
Yeah, Magnets!
Speaking of poetry, your loved one could even be a "poet" of sorts themselves with this magnetic poetry set. However, these magnets are specially made for fans of Breaking Bad and feature specific words that are ripped right from series' most memorable, dialogue-driven moments. Whether they choose to reconstruct their favorite quotes (from "Say my name," to "Tread lightly," or any of Jesse Pinkman's various utterances of "bitch") or rewrite these iconic scenes in their own vision, these magnets make working in the kitchen a little more fun.
Buy It On Amazon here (opens in new tab).
Use This Breaking Bad Cutting Board For The Perfect Cook
Speaking of making time spent in the kitchen more fun, associating culinary arts with pop culture references can be a dream come true to some people who take both TV and food very seriously. Yet, that is exactly why the Breaking Bad fan in your life will never expect and be delighted to receive this cutting board with the words "Let's cook!" under a laser-engraved illustration of Heisenberg's face inscribed onto it. Made from durable, organic bamboo and measuring 11.5" x 8.7", this is great addition to your loved one's kitchen equipment - especially one with an excellent recipe for chicken.
Buy It On Amazon here (opens in new tab).
Everything Will Be To Your Satisfaction With This Breaking Bad Apron
Say, when it comes to cooking a bird as well as restaurant founder and CEO Gustavo Fring (the defining role of TV go-to villain, Giancarlo Esposito) might, it is best to wear the proper attire to protect your clothes from any accidents that could potentially happen in the kitchen. The best way to give your beloved Breaking Bad fan that advantage is with this yellow apron made of a polyester-cotton blend bearing the official logo for the Los Pollos Hermanos chain. If you wanted to help them feel like Gus even outside of the kitchen (without adopting a secret life as a cold-hearted drug lord), throw in a cotton T-Shirt also bearing the restaurant logo, which comes in either black or gray.
Buy the Los Pollos Hermanos Apron on Amazon here (opens in new tab) and the T-Shirt here (opens in new tab).
This Rock Candy Is Heisenberg Level
You know, that apron might come in handy when crafting a certain other kind of product, but I do not recommend nor endorse the manufacturing of such an item by any means no matter how immersed into the world of Breaking Bad your loved one may have become. Thus, I offer, as a safe and quite tasty alternative, this blue, cotton candy-flavored rock candy (much like what was used in place of "Blue Sky" on the show). The crystal comes in a pack of three 4" test tubes the each read "Respect the Chemistry" and are packaged in an Albuquerque police evidence bag that would really help sell a good Walter White or Jesse Pinkman cosplay come next Halloween or fan convention.
Buy It On Amazon here (opens in new tab).
Keep The Drinks Flowing No Matter What With This Breaking Bad Glass
Speaking of "Blue Sky," a key ingredient of Heisenberg's unmistakable, billion-dollar product is methylamine - which can identified on Breaking Bad by black barrels with a golden moth logo. While I may have said that nerds go crazy over exact replicas from crucial moments in pop culture, this sort of item would be particularly difficult to find and especially transport without attracting unwanted attention. So, as yet another gift alternative that is both safe and pleasing to the taste buds, I offer this officially licensed, barrel-shaped glass that does not hold gallons of an illegal substance, but can hold 12 ounces of your friend or family member's favorite beverage.
Buy It On Target.com here (opens in new tab).
Lawyer Up With This Breaking Bad License Plate
While we are also on the subject of the law, when it comes to discussing to ins and outs of the criminal underground, you really want to seem you like you know what your are talking about. Your beloved fan of Breaking Bad (or, especially, its hit prequel spin-off Better Call Saul, led by Bob Odenkirk) will look like the ultimate legal consultant with this replica of Saul Goodman's New Mexico license plate, which reads "LWYRUP." I would recommend using the aluminum, 12" x 6" plate as a well decoration instead of an actual vehicular tag, unless your friend really does have a good lawyer.
Buy It On Amazon here (opens in new tab).
Make This Breaking Bad RV Model Your Own Private Domicile
However, you know what that license plate would look really good on? The back of a 1986 Fleetwood Bounder, which is the same model as the RV that Walter White and Jesse Pinkman initially used as their mobile meth lab on Breaking Bad. Of course, you probably would rather not spend your life savings on one gift your loved, but this 1/64 scale, die cast model of the vehicle should suffice.
Buy It On Amazon here (opens in new tab).
What do you think? Will a miniature model of Walt and Jesse's first lab be good enough for your favorite Breaking Bad fan, or do they already own a 1986 Fleetwood Bounder and getting them a toy car would look like you weren't "applying yourself"? Let us know in the comments and be sure to check back for additional information and updates on this masterful television drama, as well as even more of our own gift guides for pop culture obsessed people in your life, here on CinemaBlend.

Jason has been writing since he was able to pick up a washable marker, with which he wrote his debut illustrated children's story, later transitioning to a short-lived comic book series and (very) amateur filmmaking before finally settling on pursuing a career in writing about movies in lieu of making them. Look for his name in just about any article related to Batman.
Your Daily Blend of Entertainment News
Thank you for signing up to CinemaBlend. You will receive a verification email shortly.
There was a problem. Please refresh the page and try again.