Every Major Grey's Anatomy Wedding, Ranked By How Romantic They Were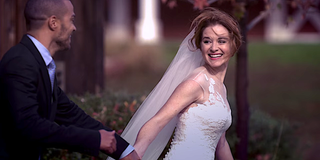 It's a tale as old as time: Girl has a one-night stand the day before starting a new job, only to find out the fling is, dun-dun-dun, her new boss! This was the origin story of Grey's Anatomy's MerDer, Meredith Grey and Derek Shepherd, and the series' initial hookup sent viewers a message: This may be a medical drama, but if the on-call room is rocking, don't come knocking. For all the casual flings we've seen at Seattle Grace-turned-Grey-Sloan Memorial, lots of relationships have gone the distance, and fans have been treated to quite a few Grey's Anatomy weddings.
From city hall to the big church, from Post-It promises to Vegas elopements, Grey's Anatomy has run the nuptials gamut in its 17 seasons. So who lasted, and who crashed and burned? Which surgeons sealed it with kiss on the best day of their lives, and which ones ended up blaming it on a brain tumor? Here are all of the Grey's Anatomy weddings, ranked from hot mess to happily ever after.
13. George And Callie (Season 3)
The series' first wedding was likely also its most ill-advised. The elopement between George O'Malley and Callie Torres in "Wishin' and Hopin'" was doomed from the start, as George's spontaneous proposal to Callie was just a grieving attempt to numb himself after his father's death. The marriage dissolved quickly, after George cheated on Callie with Izzie. The best thing to come from this marriage was the name Callie O'Malley. And she didn't even use it. Sigh.
12. Teddy and Henry (Season 7)
Teddy and Henry do a quickie wedding at the courthouse so he can get on her insurance in the episode "Disarm." This wedding wasn't really a smarter decision than George and Callie's, but instead of the relationship going downhill after the wedding, they actually grew to love each other before Henry died on the operating table.
11. Amelia And Owen (Season 12)
The wedding preparation in "A Family Affair" included quite a bit of Amelia questioning her own judgment and wondering why she wanted to marry Owen. Her family refused to attend, her brother Derek was dead, and Meredith still thought of Owen as Cristina's husband. Amelia decided to run, but changed her mind and went through with the wedding. She and Owen were happy for a while, but all those doubts came back to haunt Amelia when she learned she had a brain tumor that had caused her to make irrational decisions.
10. Callie And Arizona (Season 7)
In "White Wedding," Callie and Arizona bent over backward to try to make their parents comfortable with their lesbian union that included a child out of wedlock and baby daddy Mark Sloan. But after Callie's mom almost derailed the whole thing, Miranda Bailey came to the rescue, saying it was love and commitment — not a priest and a church — that made a marriage. The Calzona wedding itself was beautiful, but the parents' homophobia and rejection of McSteamy as an involved father stressed me out too much for this episode to be very enjoyable.
9. Richard And Catherine (Season 11)
Passion is the only word to describe Richard Webber and Catherine Fox. They love passionately, and they fight passionately. They did both of those things on their wedding day in "You're My Home." Catherine all but called off the wedding as the two argued loudly in the hospital before the ceremony, but as always, they worked it out. The ceremony was no fuss, no muss in the hospital chapel, naturally.
8. Cristina And Owen (Season 7)
Cristina and Owen decided to take the leap in the aftermath of the mass shooting at Seattle Grace, during which Cristina had to perform surgery on Derek at gunpoint. So the whole PTSD aspect could have put a damper on the wedding that happened in the episode "With You I'm Born Again." That said, Cristina got what she wanted with a small, casual ceremony, and she and Owen each fulfilled what the other needed at that time in their lives.
7. Bailey And Ben (Season 9)
One of Grey's Anatomy's most rock solid couples, Miranda Bailey and Ben Warren said, "I do," in the episode "Things We Said Today." When Bailey was late to her wedding because she was performing emergency surgery on Richard Webber's wife, she thought it was over, as her ambition is what led to the demise of her first marriage. But Ben showed up at the hospital, reassuring Bailey that he understood her drive, and that their mutual support was part of what made them work. We didn't get to see too much of the actual ceremony, but Ben said everything he needed to back in that hospital hallway.
6. Alex And Jo (Season 14)
As is typical in Grey's Anatomy weddings, nothing went right on Jo and Alex's big day, but the couple somehow had a blast through it all. In "All of Me," the guests went to the wrong venue, Jo and Alex got locked in a barn, and the wedding planner had a life-threatening allergic reaction. Jo said it best when she told Meredith, "At least I laughed a lot today." And their backup wedding — a picturesque ceremony on the ferry with Meredith as the minister — was arguably better than the original plan.
5. Maggie And Winston (Season 17)
We'll call this one COVID-romantic. Maggie and Winston experienced what many real-life couples have over the past year, and decided to postpone their wedding due to the pandemic. But it was worth the wait, as they tied the knot in a gorgeous beach ceremony, with all of their friends and family present. There was so much release for the doctors (and likely the actors too), as they danced the night away at a big reception that wouldn't have been possible eight months before.
4. Christina And Burke (Season 3)
After her wishes for a small ceremony fell on deaf ears, the day finally came for Cristina Yang to tie the knot with Preston Burke in the Season 3 finale, "Didn't We Almost Have It All?" Sandra Oh gave a hilarious and heart-breaking performance, as Cristina endured the Burke family choker (no subtle metaphor there) and inexplicably shaved her eyebrows. Though they didn't go through with the wedding, this still ranks high on the romantic scale, as Burke's vows proved why the two cardio gods were so compatible, but also why he ultimately had to let her go:
3. April And Matthew/April And Jackson (Season 10)
Okay, so it wasn't a very good day for Matthew. But for April, it was kind of the epitome of romantic fantasy. On April and Matthew's wedding day in "Get Up, Stand Up," Jackson had been thinking about Mark Sloan saying that if you love someone, you "say it loud and then you go from there." Jackson went the full mile, in a hilarious stand-up-sit-down-stand-up-again moment during the ceremony, and objected to that union in the most romantic way possible.
Of course she does! April literally ran out on her wedding to go marry Jackson, and when Cristina called it the coolest thing she's ever seen, I'd have to agree. April and Matthew gave it another go, getting married in Season 14's "All of Me," but come on, Matthew, you should have known Japril was #endgame.
2. Izzie And Alex (Season 5)
Man, this show loves a wedding switch-a-roo. It was supposed to be Meredith and Derek's wedding, but in "What a Difference a Day Makes," Izzie learned mere hours before the ceremony that she had another brain tumor, likely inoperable. Thinking Izzie's days were numbered, Meredith and Derek let Izzie and Alex take their wedding. The marriage didn't last, but Izzie survived, and years later Alex reunited with Izzie and their twins. This wedding had it all, as Izzie planned the ceremony down to the perfect detail, not even knowing it would be for her. It had the gut-wrenching emotion of Izzie being sick and Alex's sob-worthy vows.
1. Meredith And Derek (Seasons 5, 7, 17)
Of course the top spot goes to Meredith and Derek. They've got weddings on quality and quantity, but none was more romantic than the Season 5 Post-It wedding. In "Now or Never," after giving their big church wedding to Izzie and Alex, MerDer still wanted to tie the knot at city hall. But there was, er, a lot going on in the hospital that day, and they couldn't find the time to sneak away. So on the Post-Its that Cristina had given Meredith as her something old, new, borrowed and blue, Derek and Meredith wrote down their promises to each other. They each signed the Post-It, completing one of the best TV weddings ever.
In Season 7's "White Wedding," MerDer made it officially official at the courthouse in order to adopt baby Zola. No friends, no rings, but their giddy smiles were everything. And in the Season 17 episode "Good As Hell," Meredith renewed her vows, so to speak, with her late husband in her COVID-induced beach hallucination, in which Derek asked Meredith to torture herself less, before sending her back to their children in the conscious world.
So there you have it, every Grey's Anatomy wedding through seventeen seasons. With Season 18 coming this fall, who will be the next to walk down the aisle? My money's on the Owen hat trick, as he and Teddy got engaged at the end of Season 17, but anything could happen in the world of Grey-Sloan Memorial. In the meantime, you can relive any of these weddings, as all seventeen seasons are now streaming on Netflix (opens in new tab). And don't forget to check out our 2021 Summer TV schedule to keep up with all of your shows.
Mom of two and hard-core '90s kid. Unprovoked, will quote Friends in any situation. Can usually be found rewatching The West Wing instead of doing anything productive.
Your Daily Blend of Entertainment News
Thank you for signing up to CinemaBlend. You will receive a verification email shortly.
There was a problem. Please refresh the page and try again.