Joshua Jackson: 11 Movies And TV Shows To Watch If You Like The Dr. Death Star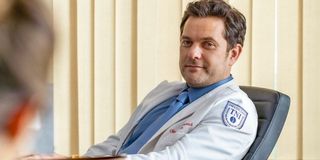 CinemaBlend participates in affiliate programs with various companies. We may earn a commission when you click on or make purchases via links.
Joshua Jackson has been acting since a very young age. This has led to Jackson starring in many beloved TV shows and films, including The Mighty Ducks, Dawson's Creek, and Fringe. Though Joshua Jackson has played many varied roles, from lovable best friend to werewolf, his most recent series, Dr. Death, has allowed the actor to take on a role like no other. He plays Dr. Christopher Duntsch, a man more butcher than surgeon and more narcissistic than most.
The role has been gaining Jackson a lot of buzz and winning him new fans. His fans may not need a recap of great Joshua Jackson movies and TV shows to watch, but everyone else may need some suggestions. Luckily, we have plenty of TV shows and movies for you if you're a new Joshua Jackson fan.
Dawson's Creek (Netflix)
Dawson's Creek was one of the WB's (now the CW) first major hit teen series. It followed Dawson (James Van Der Beek) and the Capeside crew as they dealt with coming of age, family drama, and love triangles. It was deliciously melodramatic.
Joshua Jackson first won over many of our hearts as Pacey Witter. Pacey was supposed to be Dawson's wisecracking, very horny sidekick, but he quickly became the leading man. Pacey somehow managed to charm not only Joey (Katie Holmes) but the audience. Admit it, you were totally Team Pacey by the end of Dawson's Creek.
Stream Dawson's Creek on Netflix.
The Affair (Peacock)
The Affair was a Showtime original series that followed an affair between Noah Solloway (Dominic West) and Alison Bailey (Ruth Wilson) and the consequences of their affair. When the show first begins, Noah is married to Helen (Maura Tierney) and Alison is married to Cole (Joshua Jackson). Neither couple is at a good place in their marriages.
Like with Dawson's Creek, Jackson managed to win over many The Affair fans and become a really well-liked character. This made his departure before The Affair ended particularly hard for some fans. Cole was a complex character who wasn't always likable but you understood his motives and found yourself rooting for him and his happiness.
The Mighty Ducks Movies (Disney+)
The Mighty Ducks follows lawyer Gordon Bombay (Emilio Estevez) as he's forced to coach a pee-wee hockey team as part of his community service. He turns the hopeless District 5 team into the champion The Mighty Ducks. The Mighty Ducks is a three-film series that was released in 1992, 1994, and 1996.
Joshua Jackson played eventual team captain Charlie Conway in all three films. Charlie became like a surrogate son to Bombay. The Mighty Ducks is Jackson's first major film and what helped launch his career. Though we have yet to see Jackson return to his Charlie Conway role, there is still hope he could lace up his skates for The Mighty Ducks TV show.
Stream The Mighty Ducks on Disney+.
Rent The Mighty Ducks on Amazon.
Little Fires Everywhere (Hulu)
Little Fires Everywhere is an original Hulu miniseries based on Celeste Ng's book of the same name. It stars Reese Witherspoon and Kerry Washington. Little Fires Everywhere focuses on Elena (Reese Witherspoon) and Mia (Kerry Washington), two mothers with very different backgrounds and philosophies.
Joshua Jackson plays Bill, Elena's lawyer husband. Little Fires Everywhere received lots of critical praises and a few Emmy nominations. The series has great performances by the entire cast and definitely leaves a lasting impression. It's one of Hulu's most popular shows for a reason.
Stream Little Fires Everywhere on Hulu.
Buy Little Fires Everywhere on Amazon.
When They See Us (Netflix)
When They See Us is Ava DuVernay's powerful miniseries based on the true-life story of the Central Park Five. It tells the story of five teenage boys of color who confess to the rape of a woman in New York's Central Park. However, the boys are found innocent years later after the real rapist confesses to the crime. The boys are intimidated and have fear tactics used on them to get the confession.
Joshua Jackson plays Michael Joseph, Antron (Caleel Harris)'s lawyer. Jackson only appears in a couple of episodes of When They See Us, but he comes across as someone who believes these boys' innocence, but knows he's up against a system that wants to see them pay for these crimes. When The See Us may not be a major role for Jackson, but the entire miniseries is worth watching for the powerful storytelling done by DuVernay and the entire cast and crew. It's just as good as some of the best movies on Netflix.
Stream When They See Us on Netflix.
Fringe (IMDBtv)
Fringe is a science fiction series created by J.J Abrams, Alex Kurtzman, and Roberto Orci. It follows the Fringe Division of the FBI, and the department basically investigates paranormal activity. Fringe stars Anna Torv, Joshua Jackson, and John Noble. The series aired on Fox from 2008 to 2013.
I would like to make a bold statement and say that Fringe is one of the best science fiction shows of the last ten years. It's funny, surprising, and easy to understand for those (like me) who don't really consider themselves science fiction smart. Joshua Jackson's Peter Bishop represents people who don't quite get all the science talk. He's charming and earnest in a way that makes you immediately adore Peter.
Gossip (Amazon)
Gossip is a 2000 thriller about a group of college students who decide to start a rumor to see what happens. Of course, the rumor spins out of control and someone possibly ends up murdered. Gossip stars an ensemble cast that includes James Marsden, Lena Headey, Norman Reedus, Kate Hudson, and Joshua Jackson.
Gossip is one of those movies that I saw when I was much younger and adored it so much. It may not hold up as well over 20 years later, but it's still one of the best Amazon Prime movies to rent if you want a good "gotcha" ending. Joshua Jackson plays a key role as Beau, the boyfriend of Kate Hudson's character, Naomi. He becomes the main subject of the rumor. Gossip also has a great cast of future stars.
Cruel Intentions (CineMax Go)
Cruel Intentions is one of the classic '90s teen movie dramas. It stars some of the biggest 20-something actors of the time, such as Reese Witherspoon, Ryan Phillippe, and Sarah Michelle Gellar. Also, keeping up with the '90s movie trend, it's based on the novel Les Liaisons Dangereuses, translated to Dangerous Liaisons. It follows step-siblings Kathryn (Sarah Michelle Gellar) and Sebastian (Ryan Phillippe), who enjoy engaging in cruel activity. They make a bet that involves Sebastian seducing the virginal Annette (Reese Witherspoon).
Sebastian bonds with Annette and it changes his whole perspective on his life and love. Joshua Jackson has a very small, but iconic, role as Blaine, a gay student who helps Sebastian by sleeping with another student so that Sebastian can then blackmail that student. Cruel Intentions has become a cult hit that's worth at least one watch, especially for the cast and Gellar's devilish performance as Kathryn.
Stream Cruel Intentions on CineMax Go.
Rent Cruel Intentions on Amazon.
Ronnie & Julie (Tubi)
Ronnie & Julie is a modern reinterpretation of Shakespeare's classic Romeo & Juliet. It's a Canadian movie that follows a young hockey player Ronnie (Joshua Jackson) and a figure skater Julie (Margot Finley) who fall in love. However, their families try to tear them apart because their parents are both competing to be mayor.
This is another movie that I loved in my younger days that doesn't quite live up to its '90s glory over 20 years later. However, Ronnie & Julie is a very sweet, simple, and cute teen romance movie. It also manages to at least feel like it understands Romeo & Juliet. It's not the best modern reinterpretation but it's definitely an enjoyable Romeo & Juliet-inspired film.
Stream Ronnie & Julie on Tubi.
Rent Ronnie & Julie on Amazon.
One Week (Amazon/Rent)
One Week is a movie about a man who discovers that he has cancer. Instead of undergoing treatment, he decides to hop on his motorcycle and travel across Canada. The journey makes that man reevaluate his life and relationships. The role won Joshua Jackson a 2010 Best Actor at the Genie Awards, a Canadian film and television award that honors Canadian cinema.
One Week is a film that's all about appreciating life and cherishing the big and small moments. It's also about being willing to buy the bike and take the ride. This is one of Jackson's best film roles because he really makes you care about his character.
Cursed (HBO Max)
Cursed is a 2004 movie that follows siblings Ellie (Christina Ricci) and Jimmy (Jesse Eisenberg), who are attacked by a ferocious beast one night. They later learn that the beast was a werewolf and they're slowly turning into werewolves. The Cursed cast also includes Milo Ventimiglia, Joshua Jackson, and Judy Greer.
Controversial opinion, but I found Cursed to be a very fun movie, and once again Kevin Williamson and Wes Craven showed they're good at cheeky horror films. Was it the best Wes Craven movie? No. Did it give us a great Kevin Williamson and Joshua Jackson reunion? Absolutely.
Joshua Jackson has many other great movies and shows available to rent or stream, so if you need some other suggestions, try Lone Star State, Urban Legends, or Skulls. You can currently watch Jackson on Dr. Death.
Spent most of my life in various parts of Illinois, including attending college in Evanston. I have been a life long lover of pop culture, especially television, turned that passion into writing about all things entertainment related. When I'm not writing about pop culture, I can be found channeling Gordon Ramsay by kicking people out the kitchen.
Your Daily Blend of Entertainment News
Thank you for signing up to CinemaBlend. You will receive a verification email shortly.
There was a problem. Please refresh the page and try again.