Beyond: Two Souls Leak Features Ellen Page's Character Nude [NSFW]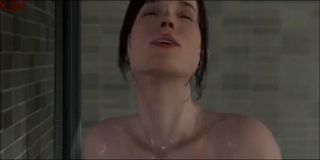 Update: "The images are from an illegally hacked console and is very damaging for Ellen Page. It's not actually her body," said a Sony spokesperson in an email to Gaming Blend.
Original article: It was bound to happen sooner rather than... well, it's not really later, but it was bound to happen once Beyond: Two Souls launched and anyone with a debug unit had time and effort on their hands to do the thinkable: look for a nude Ellen Page in the game.
When we originally wrote about Beyond: Two Souls leaking to torrents, it was mentioned that the shower scene was exceptionally bigger than some other clips, scenes and segments in the game. The reason why? Well, because a fully-rendered and completely nude Ellen Page is featured in the clip. Why is it there? Fan-service.
Anyway, according to Kotaku, owners of a debugged PS3 entered debug mode for the $27 million dollar Beyond: Two Souls. Usually debugged units are owned by developers, game reviewers and QA testers. There's also the off-chance someone managed to get a debug unit from eBay or that shady gray market known as Craigslist.
Well, when you play a game in debug mode you get some more options than what's available in standard retail units. Because of those debug menus a lone armchair warrior was able to enable free-camera and get a nice, good, juicy view of all the action... the action that contains a certain someone in their birthday suit. Just for context, here's the safe-for-work video of the shower scene in question, courtesy of Eskimo Press.
Now on to the goodies...
So Reddit user DJMockingJay managed to get some uncensored photos from the debug mode where free-camera mode was enabled, allowing the user to snap some pictures of Ellen Page's 3D alter ego, Jodie, completely and entirely in the buff.
The NSFW images are on an imgur page right here, showcasing a near photo-realistic 3D scanned rendition of Ellen Page, completely and entirely without any clothing.
This shouldn't come as much of a surprise given that the exact same thing happened with Quantic Dream's other mature rated game, Heavy Rain, where users used the debug mode to get one of the main characters, Madison, to rock nothing but her birthday suit in yet another shower scene. David Cage really loves his 1980s style superfluous shower scenes, eh?
Funnily enough, some users have been asking Page on Twitter if she actually did a full nude body scan for Beyond, but it doesn't look like there's a lot of responsive chatter about the now infamous scene. Debuggers, hackers and information pilfers aren't done sifting the likes of Beyond: Two Souls and some expect to get a little bit more out of a few extra titillating scenes featured in the game.
If you have a debug unit you can check out the free-camera mode for yourself by picking up a copy of Beyond: Two Souls, exclusively for the PS3 right now.
Your Daily Blend of Entertainment News
Staff Writer at CinemaBlend.