Glass Onion: 9 Behind-The-Scenes Facts About Netflix's Knives Out Sequel
Peering through the dense layers of this fun mystery.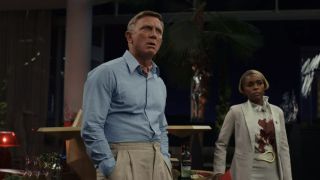 (Image credit: Netflix)
It is no mystery why the 2022 follow-up to Knives Out has won the hearts of most critics, become an enduring hit on Netflix's trending page, and received a 2023 Academy Award nomination for its screenplay. However, Glass Onion (which is how I will refer to it because writer and director Rian Johnson prefers it without the subtitle, A Knives Out Mystery), is not without its mysteries beyond the twisted murder case at the center of its story.
Related: Trending On Netflix: The Top 10 Lists For Movies And TV
Well, we decided to pull a Benoit Blanc and get to the bottom of some of the best kept secrets surrounding one of the best movies of 2022 (in our opinion) and one of the best movies released on Netflix in 2022 (or best movies on Netflix ever, for that matter). Regardless of how much you agree with those statements, you may not be able to deny that there are fascinating behind-the-scenes facts to reveal about Glass Onion and we have compiled our most interesting favorites below.
A Beatles Song Inspired The Title, Glass Onion
As a fan of The Beatles, I was just as surprised as Rian Johnson to learn how few people made the connection between Glass Onion and the Fab Four's eponymous track off of 1968's The White Album when the film's title was officially announced in 2022. In fact, the filmmaker has an interesting story that he revealed to Deadline as to how the song that plays during the end credits inspired the name:
Knives Out is also synonymous with a Radiohead song, but Johnson insisted to the Los Angeles Times that the connection ends at the name and that he -- a massive fan of the band -- had the phrase in his head at the time he was writing. It makes me wonder what tune the franchise's upcoming third installment could be named after if the filmmaker goes in that direction again.
Netflix Spent Millions For The Streaming Rights To Glass Onion
With all of the cancelled series it has picked up (i.e., Manifest) and nostalgic favorites it has revived (such as That '90s Show, a continuation of That '70s Show), Netflix is becoming the Number One place to — not necessarily start, but — continue a franchise. One of the most famous and expensive examples of this is when it acquired distribution rights to Glass Onion.
In 2021, according to The Hollywood Reporter, a "discreet" auction that competitors like Amazon and Apple participated in was closed out when Netflix became the home to the Knives Out sequel (and the series' upcoming third installment) for $469 million. That is the kind of money that suspects of Benoit Blanc's cases often kill for.
Daniel Craig Had To Relearn Benoit Blanc's Accent
Speaking of Benoit Blanc, the gentleman sleuth is known for speaking in a unique "Foghorn Leghorn Southern drawl" as Chris Evans' Ransom Drysdale describes in Knives Out. However, recapturing that distinct accent for Glass Onion proved to be a challenge for Daniel Craig.
The British former James Bond actor revealed to Empire that he had forgotten how to speak like the astute private eye since he first originated him in 2019. So, in the hope of avoiding doing a "pastiche," he worked with an accent coach for months to make sure he sounded as authentic as possible.
Kaley Cuoco Auditioned For Kate Hudson's Role
While a part of us wishes we could have seen more of the Knives Out cast reprise their roles alongside Craig in the sequel, that would have meant we wouldn't have gotten Glass Onion's wonderful ensemble, which also includes Janelle Monae, Edward Norton, and Dave Bautista. Someone who really wanted to be in the sequel, as she recalls in the excerpt from a Glamour interview below, was Kaley Cuoco:
I would certainly agree that Kate Hudson — who also got to reunite with Kathryn Hahn nearly two decades after How to Lose a Guy in 10 Days — did a wonderful job as Birdie Jay. Yet, I can also imagine an alternate reality in which the former Big Bang Theory cast member kills it as the self-absorbed fashion designer.
Some Cast Members Had A Say In Their Characters' Costume Design
Speaking of fashion, the wardrobe choices for the characters in Glass Onion are so exquisite and on-point, that it is surprising that costume designer Jenny Eagan did not get an Oscar nomination as well. Then again, if her designs had been recognized, she technically would have had to share the nomination with the actors.
An official behind-the-scenes featurette about Glass Onion's costume design released on YouTube reveals that the clothing choices were a collaborative effort between Eagan and some of the cast members. For instance, Daniel Craig based his look off Cary Grant in To Catch a Thief and Leslie Odom Jr. wanted Lionel's wardrobe to subvert that of your typical movie scientist.
Stephen Sondheim Helped Get Angela Lansbury In Glass Onion
Another eye-popping element of Glass Onion is all the epic cameos — such as Hugh Grant as Blanc's husband, Philip, Joseph Gordon-Levitt (a frequent collaborator of Johnson's) as the voice of "The Hourly Dong," and, of course, all of the detective's famous friends. Those appearing as themselves in that group over a Zoom call include Johnson's Poker Face star Natasha Lyonne, NBA legend Kareem Abdul-Jabbar, Stephen Sondheim, and Angela Lansbury.
The late theatre icon apparently had a hand in convincing the three-time Oscar-nominated Murder, She Wrote actor — who also passed away in 2022 — to show up in Glass Onion. Johnson recalled to the The New York Times mentioning to Sondheim that he wanted to get Lansbury, to which he said, "Oh, Angie — I'm friends with her. Tell her I'm doing it. She'll do it." That was that.
The Captain Of Miles' Yacht Was Played By The Real Yacht's Captain
Also starring in Glass Onion as himself, apparently, is the captain who runs Miles Bron's yacht and cheekily refers to the billionaire's dock as a "Pisceshite." This man is not a professional actor, but the actual captain of the yacht used in the movie, as Leslie Odom Jr. mentions during a cast reunion video also shared to the Still Watching Netflix channel on YouTube.
In fact, Johnson points out in that same video that the captain — who goes unnamed in the video and unmentioned in the film's credits, too — "begrudgingly" took on the role, wanting no part of it despite being very familiar with was being asked of him. It is actually not unusual for non-actors to appear as themselves — such as most of the cast of Nomadland — and we are honored to include him on that list, regardless of his reluctance.
Exterior Footage Of Miles' Estate Was Shot At A Real Greek Villa
Another member of the Glass Onion crew whom I was surprised did not receive any recognition from the Academy this year was production designer Rick Heinrichs, especially for the extremely luxurious appearance of Miles Bron's (Edward Norton) beautiful Greek private Island. That was, however, until I learned that the estate was not a product of Heinrichs' mind, but already existed before production.
In a featurette found on the Still Watching Netflix channel on YouTube about Glass Onion's production design, Johnson talks about how the first half of principal photography was done at a real estate in Greece called "Villa 20." A quick look at the villa's official website (opens in new tab) will show that Miles Bron's pool, eclectic garden, and general exterior design are all part of the retreat. The titular glass structure that sits atop the estate was added digitally, however.
A Scrapped Post-Credits Scene Almost Changed The Mona Lisa's Fate
What makes the conclusion of Glass Onion so explosively entertaining — SPOILER ALERT — is the way Helen Brand (Janelle Monae) really hits Miles where it hurts by also fulfilling his dream of ensuring he will be remembered in the same breath as the Mona Lisa… by burning the real painting (which Bron had rented) to a crisp. This shocking sight could have been a little less devastating had Johnson stuck with his original plan.
In an interview for Empire's Spoiler Special podcast (via ComicBook.com), Johnson shared that the movie almost had a post-credits scene revealing that iconic art piece was actually still being held safely at the Louvre and that Bron had unwittingly been given a fake. However, the filmmaker says that, instead of "[pulling] a punch," he prefers the idea that the Benoit Blanc Universe's version of the Mona Lisa actually is no more.
As a fun, bonus behind-the-scenes fact, in a feature-length behind-the-scenes video on the Still Watching Netflix channel, Outer Banks cast member Madelyn Cline recalls hearing Johnson giggle behind the camera, which Craig would point out means that they had a good take. If only he could hear his fans giggle at Glass Onion, he would know just how much they thought he did another good job with this one.
Your Daily Blend of Entertainment News
Jason has been writing since he was able to pick up a washable marker, with which he wrote his debut illustrated children's story, later transitioning to a short-lived comic book series and (very) amateur filmmaking before finally settling on pursuing a career in writing about movies in lieu of making them. Look for his name in just about any article related to Batman.