13 Horror Movies to Watch on Netflix This Halloween Season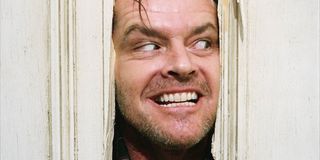 It's Halloween, which only means one thing: Candy! Well, and costumes, of course. And mischief. Oh, and awkward office parties. Okay, Halloween means a lot of things, but chief among them -- and most relevant to us -- is scary movies. Nothing says October like a good scary movie, and there are hundreds of horror films for all kinds to watch. Thanks to the emergence of streaming, it's never been easier to find your favorite scary movie in time for the holiday, and as far as Netflix is concerned, there are a lot of good ones on there.
Netflix has a large library to comb through, so it's impossible to include every single horror movie on one list. This list features what we think is a solid mix of timeless classics, new favorites, and maybe even some stuff you haven't checked out yet. The point is to watch good movies that give the chills before Halloween, so sit back and check out these 13 spooky flicks that are all available on Netflix.
The Shining
Let's start off with the double whammy of a Kubrick classic AND a Stephen King adaptation. The Shining is an iconic horror movie with some of the most memorable moments in cinema. Who can forget Red Rum, the freaky twins in the hallway, the river of blood, or Jack Nicholson poking his head from the door and shouting "Here's Johnny!"? It's a must-watch for any horror fan, and Nicholson gives an unhinged and excellent performance. Fun fact: Stephen King hates this movie. He did not agree with the direction Stanley Kubrick took the story. Whose side do you take?
The Witch
One of the more recent horror movies on this list, The Witch (or The VVitch, if ya nasty) was released in 2015 to rave reviews. The indie flick told the story of a 17th-century New England family that becomes plagued by witchcraft. The movie slowly builds up the terror and tension as each minute grows more unsettling. The Witch is thoughtful and takes care in everything from lighting to set design, and it doesn't rely on jump scares to get the job done. You get hooked on the fact that something terrible is happening and director Robert Eggers creates a film that excels in every category.
Hush
Hush is easily a film that could have been labeled as a gimmick and then sunk into obscurity. However, it has grown in popularity over the years because it uses that "gimmick" as an authentic storytelling device to heighten the suspense to Chew-Your-Fingernails-Off levels. The film follows a deaf woman living in an isolated house who becomes the target of a killer. Obviously, she can't hear him outside or inside of her home, and once the action ramps up, it becomes a game of cat and mouse as the audience is left likewise left in the dark. Hush didn't gain a ton of attention when it first premiered on Netflix, but it's been climbing up the list of best modern horror movies.
It Follows
Part of what's great about the horror genre is that the films are reflections of broader issues. For example, The Wolfman symbolizes the animal nature hidden in men, while Get Out is about racism (which is oversimplifying it, but still valid). It Follows is unsubtly about sex, but it examines it in a thoughtful and visually interesting way. The movie follows a girl who becomes the target of a supernatural entity that gets passed on through sex with the previous holder of the curse. Basically, it's an STD, but It Follows is often insightful, earnest, and scary -- all without being preachy. Plus, the monster is extremely creepy.
The Conjuring
James Wan created a massively successful franchise of horror films, and it all began with The Conjuring. Made with a $20 million budget, the movie earned $319 million worldwide, ultimately cementing The Conjuring's place as one of the most successful modern horror franchise. The film follows Patrick Wilson and Vera Farmiga as ghost hunters who investigate a family that has become the target of a malevolent spirit. Not only did the film satisfy audiences and critics, but it helped to establish the success of modern horror filmmaking: a smaller budget with limited digital effects, but creating tension through creepy scares. The Conjuring should be seen at least once by any fan of the genre.
The Babadook
The horror genre has moved away somewhat from building franchises around movie monsters, but sometimes you just can't beat a good monster. Enter The Babadook, another indie darling that earned highly positive reviews for its filmmaking techniques and genuine horror. The story followed a widow trying to protect her some from a mysterious beast known as the Babadook. The movie was praised as on of the best films of 2014 and it that it was incredibly scary. Interestingly enough, The Babadook has become popular in LGBT circles after an internet meme about the Babadook being openly gay went viral.
The Ritual
This Netflix horror film boasts one of the coolest looking movie monsters in the past decade. The film follows a group of friends who go on a backpacking trip through the wilderness of Sweden to spread their friend's ashes. They venture off the recommended path (always a mistake) and soon find that they have become the target of a horrendous monster as a part of a twisted ritual. It's a very suspenseful film that plays mind games with the viewer as things rapidly begin to unravel for these four friends. Again, the creature is the star of the show and it has one of the most original designs in the genre.
The Sixth Sense
M. Night Shyamalan's first, and arguably most successful film, The Sixth Sense is an extremely well-known horror movie. There's a very good chance that you already knew the big twist before even seeing the movie, and while that twist is a huge part of it, it's not the sole reason the movie is good. It's a slow but well-paced supernatural horror that stars Bruce Willis as a child psychologist helping a young boy who claims to see dead people. Sometimes dead people aren't so nice and the movie builds to one of the most iconic climaxes in cinematic history. Not only was this one of the most financially successful horror films, but it was nominated for six Academy Awards, including Best Picture.
Train to Busan
It wouldn't be much of a horror list without at least one zombie movie. Train to Busan isn't scary, but it's pure entertainment. The 2016 South Korean film tells the story of a group of passengers trapped on a train to Busan as the zombie apocalypse breaks loose. The film takes a while to get started, but once the zombies get on the train, it's a non-stop thrill ride as these random passengers come together to battle the undead. Not only does the movie have great physical acting for the zombies but it features an incredibly entertaining sequence where three of the best characters have battle their way to the front of the train through zombie-infested cars. Plus, it almost captures the feeling of what commuting is like.
Oculus
While it wasn't as hotly received as a lot of other movies on this list, Oculus is an underrated flick that more people should check out. Directed by Mike Flanagan, the plot follows a family through two different time periods. In the past, a family buys an antique mirror that drives the parents insane, and then in the future, the now adult children must find a way to destroy. The two storylines are told in parallel, and the flashbacks slowly reveal the twisted game at work. Oculus has solid performances all around with a decent plot and some good scares to keep you clutching your chair am.
The Children of the Corn
While not the best adaptation of Stephen King's work, Children of the Corn is nevertheless a classic. Based on King's short story of the same name, a bickering couple finds themselves stranded in the town of Gatln, Nebraska, home to a cult of devout children who don't take kindly to adults. Things go from bad to worse, but they never get as bleak as King had intended in his story. The movie likely angers King diehards, but if creepy kids are your horror bread and better, then this film is not to be missed.
Apostle
Easily the youngest film on this list, Apostle came out just this month on October 12. Starring Dan Stevens, the plot follows a former missionary named Thomas who sneaks onto an island of cultists in order to rescue his kidnapped sister. It's not a spoiler to say that things don't go smoothly for Thomas and things get pretty grizzly on that island. Apostle has gotten some good reviews out of the gate, with critics praising its visuals, cinematography, performances, and unique blend of horror genres.
The Invitation
The dinner party from hell subgenre usually make for solid horror movies where the cast is trapped in a bottle ready to crack at any moment and the same is true for The Invitation. Without giving too much of the plot away, the film features a seemingly straightforward premise of friends and ex-lovers reuniting for a dinner party and then all hell breaks loose. The Invitation can be a tense thriller and slowly unravels itself to reveal the darkness that's growing at this dinner party. Some might say that it's too slow, but if you stick with it until the end you might not be disappointed.
Your Daily Blend of Entertainment News
Matt has lived in New Jersey his entire life, but commutes every day to New York City. He graduated from Rowan University and loves Marvel, Nintendo, and going on long hikes and then greatly wishing he was back indoors. Matt has been covering the entertainment industry for over two years and will fight to his dying breath that Hulk and Black Widow make a good couple.