Top Gun Maverick: An Updated Cast List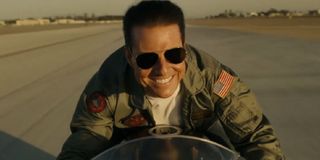 2020 is upon us, and with the dawning of the new year we're just one more day closer to seeing Tom Cruise firing up a fighter jet in the long awaited sequel Top Gun: Maverick. Reteaming with Oblivion collaborator, director Joseph Kosinski, the legendary military action drama will take to the skies once more, in a plot that's still pretty tightly under wraps.
What isn't so secretive though is the list of new and exciting cast members that are joining Tom Cruise on his return to the wild blue yonder. And while some classic characters are either uncertain prospects, or just aren't returning at all, there may be a familiar face or two in the list below that promise to leave their mark on a new generation of fans in Top Gun: Maverick.
The tarmac is clear for takeoff, and the need for speed is rising. It's time to head back to the Danger Zone and check out the cast of Top Gun: Maverick!
Tom Cruise
It goes without saying, without Tom Cruise's return as Captain Pete Mitchell, there probably wouldn't be a Top Gun: Maverick to speak of. Reprising one of those iconic roles from his early career, Cruise's Maverick sees a new group of Top Guns coming in under his wing, and has questionably held the rank of Captain without promotion throughout 30+ years of service. Surely in-between alcohol soaked singalongs and beach football, Top Gun: Maverick will explain why this mysterious fate came to be.
Jon Hamm
As an added challenge to Tom Cruise's status as the handsome/charming alpha status in the cast of Top Gun: Maverick, Mad Men's Jon Hamm will be on deck to push our fame protagonist around maybe just a little. Not much is known about Hamm's character, except that he may be a Vice Admiral, putting him a good three ranks above Tom Cruise, who is a Captain.
Ed Harris
If we're pulling rank at this point, it's a good time to define who just might be the top of the pile when it comes to Top Gun: Maverick's chain of command. And in another stroke of brilliant casting, Westworld's Ed Harris looks to be one of the top dogs, as he's playing a Rear Admiral that serves as Pete Mitchell's direct superior. However, there's actually one more party that's even higher than Harris' unnamed character.
Val Kilmer
With a brand new Top Gun adventure comes its own compliment of brand new pilots to take to the skies. But thankfully, there's another returning veteran of the original film returning for Top Gun: Maverick, as Val Kilmer's Tom "Iceman" Kazansky will be present and accounted for in this latest film. And, if current reports are any indication, it looks like Iceman is not only a higher rank than Maverick, he's a Vice Admiral – making him the highest ranking character we know of, thus far.
Jennifer Connolly
As sure as Top Gun: Maverick is going to have its own version of the barroom sing-along that saw Tom Cruise and his pals crooning some golden oldies in a packed room, the next generation has already been given their own venue for such a rite of passage to take place. And Academy Award winner Jennifer Connelly has been pegged as the woman to run this new bar, as well as playing a brand new love interest for Capt. Mitchell to try and win over.
Miles Teller
Playing the son of fallen Top Gun pilot Nick "Goose" Bradshaw (played by Anthony Edwards in the original film,) Miles Teller's Bradley "Rooster" Bradshaw is one of the pilot trainees that Captain Pete Mitchell will have to whip into shape in Top Gun: Maverick. And from the brief glances we've gotten in the trailers, not only is Rooster a bit of a hot head, he might still be carrying some unresolved issues involving Mitchell's survival and his father's death.
Glen Powell
With a call sign of "Hangman," Scream Queens star Glen Powell will also be part of the young group of pilot trainees that Tom Cruise's Pete Mitchell oversees in the film. While his is another character that isn't exactly defined as of yet, Powell is one of those actors that has the natural look of a Top Gun cast member. So not only is his inclusion in the film's cast welcome, it's pretty fitting.
Monica Barbaro
Recently seen on shows like Lethal Weapon and Stumptown, Monica Barbaro is probably best known for her role of Assistant State's Attorney Anna Valdez in Dick Wolf's Chicago universe. But in the world of Top Gun: Maverick's high flying intrigue, the actor has a new name she goes by, as her call sign is "Phoenix," something we'll more than likely see an explanation for in due time when watching the film.
Jay Ellis
Going by the name of "Payback" in this new class of Top Gun recruits, Jay Ellis is another fresh and familiar face that's getting a pretty big jump in the world of movies by being part of Top Gun: Maverick's cast. Better known as Lawrence, Issa Rae's on again/off again love interest on the HBO show Insecure, Ellis had a pretty big hit with this year's unexpected success Escape Room.
Danny Ramirez
A fun fact to note about pilot trainee Fanboy, played by The Gifted star Danny Ramirez: it's pretty clear what franchise this Top Gun: Maverick pilot is a fan of. Looking at the font on his helmet in the most recent trailer, it's obvious the man is a Star Trek fan; meaning Paramount is getting more bang for their buck by reviving one historic franchise with a clever nod to another.
Manny Jacinto
You totally recognize Manny Jacinto as his goofy alter ego, Jason Mendoza, from NBC's The Good Place. So it might come as a pleasant shock to know that he'll be playing a character known as Fritz in this new Top Gun sequel. We're not totally sure if he's a new pilot or not, but what's clear is that if he is going to jump into a fighter jet and protect democracy, his call sign should totally be "Bortles." It's natural law.
Lewis Pullman
Rounding out the cast for Top Gun: Maverick is another up and comer with a pretty fantastic reference on his resume. Actor Lewis Pullman, son of Bill "Lone Star" Pullman, has seen himself credited in films such as The Strangers: Prey By Night and Bad Times at the El Royale, the latter of which saw him already working with co-star Jon Hamm. But now, in the role of Bob, Pullman looks to be following in his father's Independence Day footsteps, and see himself playing a fighter pilot as well.
Top Gun: Maverick is still a couple of months away, with a June 26th 2020 release date marked on the calendar. But if we're going to start 2020 off right, let's get ready to feel the need for speed yet again, and promise never to lose that lovin' feeling ever again.
CinemaBlend's James Bond (expert). Also versed in Large Scale Aggressors, time travel, and Guillermo del Toro. He fights for The User.
Your Daily Blend of Entertainment News
Thank you for signing up to CinemaBlend. You will receive a verification email shortly.
There was a problem. Please refresh the page and try again.