What To Watch On Amazon Prime If You Love The '80s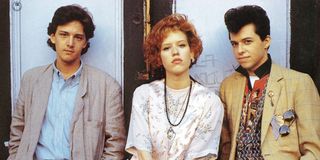 CinemaBlend participates in affiliate programs with various companies. We may earn a commission when you click on or make purchases via links.
When it comes to film, every decade is unique. But when it comes to American cinema, no decade is probably as distinct as the '80s. You know what I'm talking about. Spielberg, the two Johns (Hughes and Carpenter) the two Coreys, Freddy Krueger. The decade just had so many highlights, both in general and in people's hair. And if you happen to love the '80s as much as I do, then you're in luck, since Amazon Prime has an amazing selection for you to watch right now. In fact, it's one of the best.
I've already covered '80s movies on Netflix and Hulu, so it was only a matter of time before I jumped on over to other major streaming service. And the thing is, there's actually a lot more '80s movies that you can buy or rent on Amazon Prime if you're willing to spend the money, so this list is only a fraction of what's on there. But the movies and TV shows on this list are available to stream right now with no additional cost if you already have Amazon Prime. So, with that said, let's head on back to the past and look at some of the great movies and TV shows streaming on Amazon Prime that are either from or set in the 1980s.
Heathers
Heathers is a very dark film. It's also a hilarious one. A girl named Veronica (played by Winona Ryder) wants to get out of her clique because she feels that it's stifling her individualism. Standard teen drama stuff, right? Yeah, well, that's before kids start dropping dead once a sociopath named J.D. (played a very charming Christian Slater) starts killing them off and covering them up as suicides.
Heathers is such a popular cult film that it's not even a cult film anymore at all. It transcended its decade and even became a Broadway play as well as a TV show. If you're one of the few people who wasn't really big into the schmaltzy John Hughes stuff of the '80s, then you'd be doing yourself a favor to give Heathers a watch.
Stream Heathers on Amazon Prime.
Pretty in Pink
Speaking of John Hughes (because you can't have a discussion about '80s cinema without mentioning his name at least once), Pretty in Pink is basically a story about the rich and the poor from a teen perspective, and whether they can couple up given their different social standings. Molly Ringwald plays Andie, a spunky teen with two crushes—one rich and insecure (played by Andrew McCarthy), and the other her best friend (played by Jon Cryer).
It's a sweet story, and there are a lot of emotions throughout. The soundtrack is also amazing, so you have that to enjoy as well. Honestly, everything's ducky (Or rather, Duckie) with this movie. It's an '80s classic and essential to any '80s movie marathon.
Stream Pretty in Pink on Amazon Prime.
Some Kind of Wonderful
Aaand, another movie written by John Hughes, but one of his less-popular stories. Some Kind of Wonderful is actually kind of a gender-swapped version of Pretty in Pink, so it makes for a good companion piece. In this story, a mechanic named Keith Nelson (played by Eric Stoltz) wants to exit his lower social standing and tries to do so by dating the most popular girl in school, played by Lea Thompson.
While this is happening though, his best friend, Watts (played by Mary Stuart Masterson), is kind of in love with him, too. Cue the love triangle! Some Kind of Wonderful is arguably not as beloved as Pretty in Pink, but if you weren't fond on how that film ended, then you might prefer this movie instead.
Stream Some Kind of Wonderful on Amazon Prime.
Paranormal Activity 3
While many of the the titles on this list came to us from the '80s, we're trying to offer you great options on Amazon Prime if you love the '80s. So while Paranormal Activity 3 came out in 2011, its setting is definitively the '80s (1988, to be exact). So it counts!
In this third movie in the found-footage series, sisters Katie and Kristi become good friends with a ghost (seriously!) only to find that it's not the Casper kind of ghost, but rather, the kind that terrorizes their house. The clothes and house scream '80s, so if you put yourself in the right mindset, this film will take you to that magical decade.
Stream Paranormal Activity 3 on Amazon Prime.
The Heavenly Kid
And since we're on the topic of ghosts, let's talk about a cool one. A greaser named Bobby (Played by Lewis Smith) dies in a car accident during a game of chicken. But in order to go "uptown" to Heaven, he has to help a nerdy kid become the cool kid like he once was when he was still alive. But there's a twist involving this nerdy kid that might have a connection to Bobby's own past!
It's a silly story, but there's a lot of genuine emotion pulled from such a ridiculous plot. Honestly, the story probably could have come from one of the later seasons of Happy Days (You know, the show where we got the expression, "Jump the shark") if that show had continued to go on its zany course.
Stream The Heavenly Kid on Amazon Prime.
Dream a Little Dream
Enter the two Coreys. The plot of Dream a Little Dream may be even more bonkers than The Heavenly Kid. In this late '80s gem, a teen named Bobby (played by Corey Feldman) accidentally bumps into an old professor (played by Jason Robards) in a deep meditative state, and they swap consciousnesses. Corey Haim plays Bobby's friend, Dinger.
The rest of the movie plays like your typical '80s teen film, but it has the whole dream element to it, too, since teen Bobby is trapped in the old man's dream state. So it's sort of Freaky Friday meets Inception. Plus, Corey Feldman pretends to be Michael Jackson in it, so that's a thing.
Stream Dream a Little Dream on Amazon Prime.
Magnum P.I.
If you'd like to spend a bit more than an hour and a half in the '80s, might I suggest the TV series, Magnum P.I.? All 8 (!) seasons are currently streaming on Amazon Prime.
Thomas Magnum (played by Tom Selleck) is the definition of cool. He drives a cool car, has a cool mustache, and lives a cool lifestyle. He also solves cases every now and then. It was a popular show in the '80s, and it still holds up today. Give it a shot.
Stream Magnum P.I. on Amazon Prime.
Red Oaks
Like Paranormal Activity 3, Red Oaks is not from the '80s, but rather, takes place during the decade. All 3 seasons of the Amazon Prime exclusive show are available to watch right now.
The story is basically about a college student named David (played by Craig Roberts) who wants to be a director in New York, but finds himself working at a country club in New Jersey instead. As a New Jerseyan myself (eh, yo, eh!) I can appreciate the attention to detail to the country club. And the '80s vibe is just the icing on the cake.
Stream Red Oaks on Amazon Prime.
Clue
But here's what really happened… The greatest movie based on a board game ever (Not even debatable), Clue is an extremely fun and funny film that takes the board game to new heights and makes it feel much more alive than it ever did in the comforts of your living room.
It's an ensemble cast (but, you know, Tim Curry as Wadsworth for the win) that involves six strangers who are all possible murderers. The fun, just like in the board game, is trying to figure out who the murderer could possibly be. There are multiple endings, so it's also kind of like a choose your own adventure book. It's just a great movie in general. Watch it if you haven't already.
Stream Clue on Amazon Prime.
Mr. Mom
As the legend goes, a lot of people were upset that Michael Keaton was cast as Batman because he also starred in a movie called Mr. Mom. But that just shows that people are idiots, because Mr. Mom is awesome and especially relevant in this day and age (oh, and as a side note, Robert Pattinson is going to kill it when he plays the Caped Crusader himself. I mean, have you seen Good Time?!)
This is yet another movie on this list written by John Hughes, but it's one of his more interesting films, like Planes, Trains, and Automobiles, since it doesn't involve teenage shenanigans. Instead, it's about an engineer (Michael Keaton) who loses his job and becomes a stay-at-home dad once his wife gets a job in advertising. As a stay-at-home dad myself right now, due to the current pandemic, I have to tell you. Mr. Mom is as real as it gets.
Stream Mr. Mom on Amazon Prime.
And those are just some of the best '80s movies and TV shows currently streaming right now. But as I mentioned up top, the beauty of Amazon Prime is that you could rent or even own pretty much any '80s movie you want as long as it isn't too obscure. Like the greatest '80s movie of all time, Big Trouble in Little China (yes) is available to rent right now (opens in new tab). But I thought I would give you some of the freebies since times are tough right now. Thankfully, entertainment is plentiful, and the '80s are a nice time period to transport yourself back to, especially given today's dire times.
Rich is a Jersey boy, through and through. He graduated from Rutgers University (Go, R.U.!), and thinks the Garden State is the best state in the country. That said, he'll take Chicago Deep Dish pizza over a New York slice any day of the week. Don't hate. When he's not watching his two kids, he's usually working on a novel, watching vintage movies, or reading some obscure book.
Your Daily Blend of Entertainment News
Thank you for signing up to CinemaBlend. You will receive a verification email shortly.
There was a problem. Please refresh the page and try again.