Following Hubie Halloween, Adam Sandler's Next Netflix Movie Is Adding Some Huge Names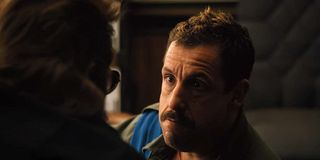 Adam Sandler's not taking a break after Hubie Halloween. The famous actor/comedian is already filming his next big movie for Netflix, and he won't be alone. This feature is adding some pretty huge names to its cast.
The Sandman's new movie is called Hustle (not to be confused with Anne Hathaway's The Hustle), and it's about a washed-up basketball scout who discovers an incredible street basketball player in China, lifting his hopes that he could make it back in the NBA. Netflix has taken to social media to announce Hustle's all-star cast. Check it out:
While these aren't the typical actors Adam Sandler works with, it's still a killer cast that should help raise the profile of the movie a bit. Hustle is being directed by Jeremiah Zagar, written by Taylor Materne and Oscar nominee Will Fetters, and produced under Adam Sandler's banner, Happy Madison Productions, as well as Lebron James' and Maverick Carter's SpringHill Entertainment.
After Netflix acquired Hustle from Legendary, the company pitched it to Adam Sandler, who came on after Will Fetters cleaned up the script and Jeremiah Zagar signed on as the director. As you might already know, Adam Sandler and Netflix have a strong working relationship together. This will be Adam Sandler and Lebron James' first time working together, although Uncut Gems did see Sandler starring opposite Kevin Garnett, another NBA all-star.
It's hard to say if Hustle will lean more toward drama, like Uncut Gems, or if it'll be a solid mix between comedy and drama. It certainly doesn't look like his latest goofball comedy Hubie Halloween. Considering the dramatic cast, I'm betting Adam Sandler will play the comedy part, while Robert Duvall, Queen Latifah, and Ben Foster will lean into the dramatic roles they've been known for.
Queen Latifah has primarily been working on a variety of TV series, with the latest being the mini-series Hollywood. For Robert Duvall's part, this will be his latest movie since 2018's Widows. Ben Foster had recently been seen in the movies Galveston and Leave No Trace.
One thing you might have noticed from the photos above is Adam Sandler suddenly rocking a full beard. He's had facial hair before, of course, but this beard takes it up a notch. We reported earlier this month that Adam Sandler admitted no one liked his beard very much, but he was doing it for an upcoming role. Well, now we know the beard is for his role in Hustle.
There's no word yet on when Hustle will be available on Netflix. Considering they're just getting started filming now, it's likely not going to land anytime soon. For more updates on Hustle, stay tuned to CinemaBlend.
Your Daily Blend of Entertainment News
Your Daily Blend of Entertainment News
Thank you for signing up to CinemaBlend. You will receive a verification email shortly.
There was a problem. Please refresh the page and try again.