Ben Affleck And George Clooney Could Finally Be Teaming Up For A Movie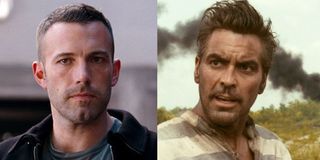 When it comes to Hollywood leading men, some would place Ben Affleck and George Clooney into the 'iconic' category. Both actors have had award-winning careers spanning multiple decades and genres, and they've both played Batman! While they have each had the opportunity to work with some of the most talented individuals in the business, they've never actually shared time on the big screen. That all may be changing though, as the pair could finally team up for a movie.
The Oscar-winning duo may find themselves sharing some screen time as Ben Affleck is reportedly in talks to lead in George Clooney's next directing project, The Tender Bar. According to Deadline, Ben Affleck is in negotiations to appear in the upcoming Amazon adaption of the novel by J. R. Moehringer. The Tender Bar follows a young man who grapples with his dysfunctional family as he searches for the father he's never met. George Clooney is set to direct, and it would be the first time the pair has worked together, at least in a director-actor capacity.
George Clooney was a co-producer for Argo, which Ben Affleck directed and starred in, but he never appeared in the critically acclaimed film. Even though Clooney will be in the director's chair for The Tender Bar, there is always the possibility that he will get in front of the camera as he did for his latest project, Netflix's Midnight Sky.
Ben Affleck is no stranger to working behind the scenes in addition to snagging the spotlight, as he has directed and starred in three of his own films. His work on Argo earned a whopping seven Academy Award nominations, taking home three, including the coveted Best Picture.
If the negotiations work out, it will be another project in the packed schedule of Ben Affleck, who has kept busy with a number of projects on the horizon. He recently penned a deal to direct a Keeper of the Lost Cities adaptation for Disney. He's also gotten back into writing for the star-studded The Last Duel, in which he also produced and appears in.
As for George Clooney, he is fresh off his Netflix debut with Midnight Sky. The film reportedly put up pretty impressive numbers in its first month, bolstering his already impressive directorial lineup.
Only time will tell if we finally get to see the pair share the limelight, but I have a hunch that George Clooney won't pass up on the opportunity. They have both proved they are flexible enough to switch gears, even in their own films, so it wouldn't be a surprise to see them together in some fashion.
Besides, who wouldn't want to see a former pair of Caped Crusaders on the big screen? While they won't be turning on the Bat-Signal for this project, it would still be a treat to finally see them working together. Let's just make sure we leave the bat-nipples at home this time.
Your Daily Blend of Entertainment News
Into tracksuits by Paulie Walnuts, the Criterion Channel and Robert Eggers.