Jared Leto Movies Streaming: What To Watch If You Like The Joker Actor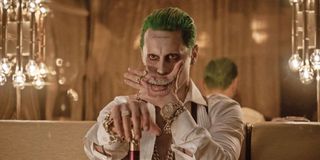 When it comes to celebrities who have truly stood the test of time, Jared Leto is one of the first names to come to mind. If we're talking about range, this Oscar-winning actor has some of the best out there. If you want to see him as a mega-supervillain? He has done that. In a role that completely transforms him? He'd have no trouble doing so.
But with a career that has spanned decades, Jared Leto has so many films to check out, from Suicide Squad to some of his earlier hits, like Girl, Interrupted. The actor has more to come in the next couple of years, like Morbius and House of Gucci. So if you're looking forward to seeing this legendary actor flex his acting chops more in the future,
Blade Runner 2049 (HBO Max)
Starting out our list, we take a look at a sequel that was more than 30 years in the making. Blade Runner 2049, the long-awaited sequel to the cult classic Blaze Runner from the 1980s finally hit movie screens back in 2017. The story follows a Nexus-9 replicant, who uncovers a dark secret that ends up threatening to destabilize all of society, as well as civilization in general.
Jared Leto, while his role was a bit smaller in this film, was extremely important as Niander Wallace. Even so, if you're a fan of sci-fi thrillers and amazing cinematography, Blade Runner 2049 is certainly for you. Jared Leto is superb as usual with his performance, and with an A-list cast alongside Leto, including Ryan Gosling, Harrison Ford, Ana de Armas, and more, this is certainly a film to watch if you haven't already.
Stream Blade Runner 2049 on HBO Max (opens in new tab).
Rent Blade Runner 2049 on Amazon. (opens in new tab)
Dallas Buyers Club (Showtime)
If you're a fan of Jared Leto, it would be a crime if you didn't know this film. Dallas Buyers Club tells the tale of Ron Woodroof (Matthew McConaughey), a patient who has AIDS and was diagnosed during the 1980s when HIV/AIDS was under-researched. Because of this, he smuggled drugs to treat his symptoms as well as others, calling it the "Dallas Buyers Club."
Not only did this film win several Academy Awards, Jared Leto was among them, having won Best Supporting Actor for his role as Rayon, a fictional trans woman with HIV, who also helps Woodroof with his business on the side. The movie has gotten amazing reviews and responses for a reason. If you haven't seen it, check it out.
Stream Dallas Buyers Club on Showtime.
Rent Dallas Buyers Club on Amazon. (opens in new tab)
Mr. Nobody (Tubi)
Now, if you want a film that will really make you think, look no further than Mr. Nobody. This science-fiction drama covers the story of Nemo Nobody, a man who is 118 years old and is the last mortal on earth after the human race has basically achieved being "quasi-immortal."
I know, it sounds crazy, but trust me, it's super interesting. As someone who has always wondered what it would be like if we were to be living in a world where humans might be immortal, this film basically straight-up answers that and more. There are so many interesting intersecting plotlines and really cool stories about what life could have been. It's truly the definition of what science-fiction can be. I hope you all can enjoy it as much as I did.
Rent Mr. Nobody on Amazon. (opens in new tab)
Chapter 27 (Tubi)
Moving on over to biographical films (I'm telling you, this man is a shapeshifter with how many roles he can play), we take a look at Chapter 27. This drama film tells the story of the tragic story that was the death of John Lennon, by Mark David Chapman, to which Jared Leto plays.
Not only did Leto really try and commit to this role (he gained 67 pounds to play the shooter), but he does an amazing job. The story itself is true to what happened and really captures the worldwide grief that hit everyone when the famous Beatles member was shot to death, and Leto really shows two different sides of the murderer, something we never quite get to see when it comes to people like this. It's a penetration of the mind at some of its best.
Rent Chapter 27 on Amazon. (opens in new tab)
Lord Of War (Crackle)
You know, I never knew there was a movie with both Nicolas Cage and Jared Leto in it until I really started to dig deep into this list. And honestly now, I don't regret it one bit. In the crime drama Lord of War, we follow the story of an illegal arms dealer, which was apparently inspired by the real-life stories of arms dealers and smugglers.
Nicolas Cage and Jared Leto both do a really great job in this film, showing off their skills as dramatic actors while also adding on a certain amount of fear with the crime aspect of this. Since this film is based on true stories, it's very intriguing to see how the minds of criminals operate, and how they change on a day-to-day basis, especially since this takes place in the 1980s.
Stream Lord of War on Crackle.
Rent Lord of War on Amazon. (opens in new tab)
Panic Room (Starz)
Thriller films have always sort of been my guilty pleasure because, I don't know, I love being scared. And this is one of the best ones out there. Directed by the Academy-Award winning David Fincher, Panic Room follows the story of a mother and daughter whose new home is invaded by burglars.
I know it sounds like such a typical thriller film but if you haven't seen this one before, I'm here to tell you that it's not the case. Jared Leto is one of the thieves in this movie and let me tell you he does a fantastic job. I can almost feel the unease dripping from the television screen. But not only him – seriously everyone in this film is awesome. Forest Whitaker is fantastic, Jodie Foster is amazing – even Kristen Stewart is awesome in one of her very early roles all the way back in 2002. For fans of thrillers and David Fincher, this is one of the best films you can watch.
Stream Panic Room on Starz. (opens in new tab)
Rent Panic Room on Amazon. (opens in new tab)
Requiem For A Dream (Cinemax)
Okay… if you've never seen Darren Aronofsky's Requiem For A Dream, you might want to sit down for this one.
Are you sitting? Good, because this movie will mess with your mind so much that you'll be sitting down for the next couple of hours or days afterward. Requiem for a Dream follows the stories of four different characters, and the different effects that drug addiction has on them, and how it alters their physical and emotional states and starts to cause major problems in their intertwined lives.
It's… a very heavy film. Even as a film buff, I've only ever seen it once and that's because there are several serious subjects that they explore deeply. But that doesn't mean it's still not an amazing watch. Jared Leto really shines in this role, and it exposed his amazing acting talents earlier in his career. But he's not the only one who really does so well in this. All of them (Ellen Burstyn, Jennifer Connelly and Marlon Wayans) perform their roles exceptionally, creating a mind-numbing and yet brilliant masterpiece by the impeccable Darron Aronofsky.
Stream Requiem for a Dream on Cinemax.
Rent Requiem for a Dream on Amazon. (opens in new tab)
American Psycho (Pluto TV)
Okay, let's switch back over into something fun – more thrillers! And American Psycho hits that nail right on the head. This black-comedy film is all about murder, as you would expect. In the 1980s, Patrick Batemen (Christian Bale), a self-proclaimed "American Psycho," looks like your typical New York City banker, but slowly it is revealed that he may indeed be a serious serial killer, preying on several different types of people.
I can't go off about this film enough for people to go and watch it. It's such a great movie. Bateman is fantastic in it, and Leto again really shows off his ability to adapt to different types of genres no matter what he is given – a man that understands the assignment thoroughly, even if for the small time he was in the film. Not only that, but it's super riveting to think about the plot of this movie and American Psycho's ending - makes you think who else out there is the same as Patrick Bateman secretly.
Stream American Psycho on Pluto TV.
Rent American Psycho on Amazon. (opens in new tab)
Girl, Interrupted (Starz)
Jared Leto isn't featured super long in this movie, but I can't not put it on this list. Girl, Interrupted is a psychological drama film that is set in the late 1960s and follows the story of a young woman who, after a suicide attempt, ends up in a psychiatric hospital, spending 18 months there.
It's a great movie for many reasons. All of the stars (and trust me, there are a lot, from Winona Ryder to Angelina Jolie) stand out in their performances and give a truly remarkable show for you to enjoy. Leto, for the time that he is in it, is almost the complete opposite of some of the characters in this film but it's so cool to see that interesting divide between the ones that live in this mental hospital to the ones that don't. Truly, it's a movie to see, that is for sure.
Stream Girl, Interrupted on Starz. (opens in new tab)
Rent Girl, Interrupted on Amazon. (opens in new tab)
Suicide Squad/Zack Snyder's Justice League (HBO Max)
I can't have a Jared Leto article without talking about his time at the Joker in both Suicide Squad and Zack Snyder's Justice League. I'm going to be honest – his Joker wasn't my favorite of all time. It's like a solid tie between Heath Ledger and Joaquin Phoenix for me. But even so, I still have to respect the man for taking on such a different take of the Joker and performing it to the best of his ability. And in Zack Snyder's Justice League, he sort of takes a turn with that version of the Joker.
Plus, if you like superhero movies or just DC in general, these films are great for you. They're certainly not my favorite of all time but I can appreciate them from a fan's point of view.
Stream the DC movies on HBO Max here. (opens in new tab)
Rent Suicide Squad on Amazon. (opens in new tab)
While we're focusing on movies here, this wouldn't be a Jared Leto list without at least a mention of My So Called Life. The '90s teen drama series is available streaming on Hulu right now (opens in new tab).
With so much to watch, I'm shocked you're still here. Be sure to check out the best movies that are on Netflix or the best movies that are on Amazon. Who knows? You might just stumble across another Jared Leto classic.
Your Daily Blend of Entertainment News
Big nerd and lover of Game of Thrones/A Song of Ice and Fire. Will forever hate season eight. Superhero and horror geek. And please don't debate me on The Last of Us 2, it was amazing!
Your Daily Blend of Entertainment News
Thank you for signing up to CinemaBlend. You will receive a verification email shortly.
There was a problem. Please refresh the page and try again.