Netflix's Gunpowder Milkshake: Where You've Seen The Cast Before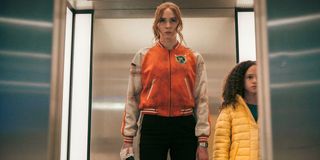 Of all the Netflix movies to come out in the summer of 2021, few, if any, feature a group of actors more talented and well-known than the Gunpowder Milkshake cast. Navot Papushado's action thriller about an assassin reconnecting with her estranged mother while also protecting a young girl has everyone from Karen Gillan to Lena Headey and Michelle Yeoh to Angela Bassett, and then some. But after watching the action-packed thrill-ride with more twists and turns than some can handle, you are probably wondering where you've seen the members of the cast before.
Well, if you are a fan of shows like Game of Thrones and Doctor Who or movies from the Marvel Cinematic Universe and the James Bond franchise then you'll surely recognize some, if not all, of the impressive Gunpowder Milkshake cast. In case you forgot, or maybe you've never seen any of those movies or shows, we've put together a quick yet comprehensive rundown of the cast and where they've been.
Karen Gillan (Sam)
Leading off the Gunpowder Milkshake cast is Karen Gillan who portrays the master assassin known as Sam. Before she was carrying out jobs for The Firm, trying to save a young girl, and attempting to reconnect with her estranged mother, Gillan made a name for herself on the iconic British sci-fi series Doctor Who where she portrayed the Time Lord's companion Amy Pond. It wasn't long after Gillan's star-making performance that she ended up portraying the conflicted Nebula in Guardians of the Galaxy, a role she has portrayed multiple times since and will continue to bring to life in a number of upcoming Marvel movies.
Outside of the Marvel and Doctor Who universes, Karen Gillan has also cemented her legacy in pop culture with starring roles in Jumanji: Welcome to the Jungle and its sequel Jumanji: The Next Level, with hopefully more of that franchise on the way.
Lena Headey (Scarlet)
To some (okay, most of us), Lena Headey will forever be remembered as the conniving, vindictive, and power-hungry Cersei Lannister on Game of Thrones, even a few years after the Queen of the Seven Kingdoms met a brutal death in the destruction of Kings Landing. The actress, who plays Scarlet, Sam's estranged mother and the leader of a sisterhood of assassins in Gunpowder Milkshake, has a lot more to her name than eight seasons of the HBO fantasy series.
Leaving Westeros behind, Lena Headey has played pivotal roles in everything from Zack Snyder's eye-catching adaptation of the Frank Miller graphic novel 300, the 2005 action-horror film The Cave, The Purge, and Fighting with My Family. And prior to landing one of the most memorable roles on Game of Thrones, Headey had a starring role on Terminator: The Sarah Connor Chronicles where she played the titular heroine.
Chloe Coleman (Emily)
The youngest member of the Gunpowder Milkshake cast, Chloe Coleman, takes on the role of Emily, the young girl under Sam's protection after the latter kills the former's father. Despite her young age, Coleman has already built up an impressive filmography in film and television. Over the course of the past few years, Coleman has had notable roles on shows like Big Little Lies, Upload, and Kinderwood.
One of her biggest movies to date — 2020's My Spy — saw her team up with Karen Gillan's Guardians of the Galaxy (and Stuber) co-star Dave Bautista in the latest version of the "big man paired with little kid" action movie trope. It doesn't look like Coleman is slowing down anytime soon as she will soon appear in Avatar 2 and Dungeons and Dragons.
Michelle Yeoh (Florence)
Florence, one of the members of the lethal sisterhood of assassins in Gunpowder Milkshake is portrayed by the incomparable Michelle Yeoh, who has been a fixture of international cinema for years at this point, turning out memorable role after memorable role in a number of different genres. Depending on when you were born, you will either recognize Yeoh from movies like Tomorrow Never Dies, Crouching Tiger, Hidden Dragon, Memoirs of a Geisha, or Crazy Rich Asians, to name only a few films credited to the talented actress.
A Fixture of the Star Trek universe since joining the cast of Star Trek: Discovery in 2017, Michelle Yeoh's television credits are impressive, and it doesn't look like she's slowing down anytime soon. With a list of upcoming shows that includes an untitled Star Trek series, Ark: The Animated Series, and The Witcher: Blood Origin, expect to see Yeoh on the small screen a lot in the near future. And then there's her upcoming movies like Shang-Chi and the Legend of the Ten Rings, Minions: The Rise of Gru, Avatar 2.
Angela Bassett (Anna May)
Angela Bassett, another member of the Gunpowder Milkshake cast who has a history in the Marvel Cinematic Universe, portrays the assassin known as Anna May in the Netflix action thriller. One of the most talented actresses who surprisingly doesn't have an Academy Award to their name (this really needs to change), Bassett has received recognition performances in movies like Black Panther, How Stella Got Her Groove Back, What's Love Got to Do with It (which earned her a Golden Globe), Malcolm X, and Mission: Impossible — Fallout.
Expect to see Angela Bassett reprise her role of Ramonda in Black Panther: Wakanda Forever, which is near the top of the list of most anticipated 2022 movies. Bassett was also originally slated to return as CIA Director Erika Sloane in Mission: Impossible 7 but she was forced to drop out of the movie due to schedule conflicts brought on by the COVID-19 pandemic.
Carla Gugino (Madeleine)
Taking on the role Madeleine, the third member of the sisterhood of assassins (the one with an affinity for Agatha Christie novels and large weapons), is Carla Gugino, whose contributions to the world of cinema goes beyond being impressive. Over the years, Gugino has showed up in family comedies like Night at the Museum and the Spy Kids franchise while also popping up in multiple Zack Snyder films including Watchmen, Sucker Punch, Man of Steel, Batman v. Superman: Dawn of Justice, and Zack Snyder's Justice League.
Carla Gugino's list of television credits is equally as impressive with small roles on classic shows like Who's the Boss?, The Wonder Years, and Quantum Leap before landing larger spots on the likes of Spin City, Chicago Hope, and Entourage. More recently, Gugino has lent her talents to Netflix's The Haunting of Hill House and The Haunting of Bly Manor, as well as Manhunt: Deadly Games.
Paul Giamatti (Nathan)
Taking on the role of Nathan, the head of The Firm's HR department and father-like figure of Sam, is two-time Golden Globe winner Paul Giamatti. Over the years, the son of the former MLB Commissioner A. Bartlett Giamatti (who wrote what is possibly the most beautiful essay about baseball) has turned into one of the most talented actors of his time, turning out one amazing performance after another. Whether it's lead roles on TV shows like the HBO limited series John Adams (his first Golden Globe) or Showtime's Billions or one-off appearances on Downtown Abbey or 30 Rock, Giamatti's done a little bit of everything.
And then there's Paul Giamatti's film contributions. With Barney's Vision (his second Golden Globe), an Academy Award-nominated performance in Cinderella Man, or Alexander Payne's Sideways, it isn't all that difficult to make a case for Giamatti being at the upper echelon of living actors.
Ralph Ineson (Jim McAlester)
Ralph Ineson shows up in Gunpowder Milkshake as Jim McAlester, the leader of the crime organization who makes it his mission to take out Sam, Emily, and anyone else in his way. Before playing an over-the-top villain in the Netflix action flick, Ineson appeared in two of the biggest fantasy franchises of the 21st Century: the Harry Potter films (Amycus Carrow) and Game of Thrones (Dagmer Cleftjaw). Ineson also portrayed William in The Witch.
Outside of fantasy and supernatural films and series, Ralph Ineson has also lent his talents to various comedy programs over the years, most notably the original British version of The Office, in which he appeared as Chris Finch. Over the years, he's also popped up on The IT Crowd and Drunk History. Oh, and let's not forget his brief role in Chernobyl or Guardians of the Galaxy.
Adam Nagaitis (Virgil)
Taking on he role of Virgil, one of the master assassins sent to kill Sam in Gunpowder Milkshake, is Adam Nagaitis. Prior to landing a spot the Netflix action thriller, Nagaitis showed up in movies like Suffragette, The Man with the Iron Heart, and The Commuter. Over on the television side of things, Nagaitis has been a part of shows like The Terror, Chernobyl, and A Christmas Carol in addition to smaller roles on programs like Law and Order: UK, Outlaws, and The Courtroom.
Michael Smiley (Dr. Ricky)
And then there is Michael Smiley, who portrays Dr. Ricky, the chief of the secretive assassins clinic in Gunpowder Milkshake. With roles in movies like The World's End, Rogue One: A Star Wars Story, The Lobster, and The Nun to his name, chances are you've seen Smiley at least once over the past couple of decades. His television credits are just as impressive with everything from Doctor Who to Luther and Black Mirror to Wire in the Blood making him a recognizable face.
This is just the main portion of the Gunpowder Milkshake, as The Witcher's Freya Allan appears as a young Sam, Doctor Who's Samuel Anderson shows up as Emily's dad, and not to mention all the random assassins that show up throughout the movie.
Your Daily Blend of Entertainment News
Philip grew up in Louisiana (not New Orleans) before moving to St. Louis after graduating from Louisiana State University-Shreveport. When he's not writing about movies or television, Philip can be found being chased by his three kids, telling his dogs to stop barking at the mailman, or yelling about professional wrestling to his wife. If the stars properly align, he will talk about For Love Of The Game being the best baseball movie of all time.