5 Marvel Characters Tom Cruise Would Be Perfect To Play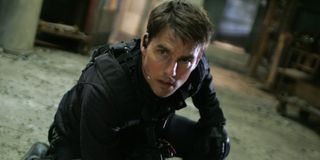 CinemaBlend participates in affiliate programs with various companies. We may earn a commission when you click on or make purchases via links. -
If you ever wondered how it is possible that Tom Cruise has never starred in any superhero movies before, I am sure it is not for a lack of trying. The 59-year-old, Oscar-nominated action star has actually crossed the comic book movie star threshold a couple times (Oblivion is based on director Joseph Kosinski's unpublished graphic novel and the manga All You Need Is Kill inspired Edge of Tomorrow), Ethan Hunt from the Mission: Impossible movies is pretty much a superhero without a colorful uniform, and he has been considered for a role in both the Marvel movies and the DC movies a few times in the past. Because we certainly would be interested to see Cruise play a superhero sooner than later, we have a few Marvel characters for him to play in mind, including one who has at least one thing in common with one of his more popular characters.
The Thing
Tom Cruise will finally return to fulfill his need for speed when the sequel to director Tony Scott's 1986 box office smash Top Gun hits theaters in November 2021. Oddly enough, Cruise's experience playing the titular Navy pilot from Top Gun: Maverick (helmed by his Oblivion director Joseph Kosinski) could actually turn out to be a great way for him to prepare to play a coveted role in another long-awaited blockbuster.
Before cosmic radiation turned Ben Grimm into the hulking superhero known as The Thing, he was an astronaut and test pilot for the United States Air Force, essentially making him a rock-skinned Maverick, if you will. For that reason alone, I think it would be really fun to see Tom Cruise join the Marvel Cinematic Universe as the resident aviation expert of Marvel's first superhero family in the highly anticipated, upcoming Fantastic Four reboot from director Jon Watts. Not to mention, Ben Grimm is also a character defined by his ability to endure through life-changing struggles, much like Jerry Maguire does in Cameron Crowe's 1996 classic.
Corsair
On second thought, Tom Cruise may be better suited to (and might even rather) play Reed Richards (a.k.a., the flexible Mister Fantastic) if he were asked to join the Fantastic Four cast for the MCU reboot. However, there is another Marvel character with a similar need (a need for speed) and a pilot's license, but instead of military aircraft, this hero pilots vehicles that fly far beyond Earth's atmosphere.
Christopher Summers is better known by the name Corsair and as the leader of the Starjammers - a group of space pirates somewhat similar to Guardians of the Galaxy, but with more of a genuine swashbuckler's fashion sense. The cosmic commander is also the biological father of Scott Summers, who is better known as Cyclops from the X-Men movies, meaning this could not be a better time for this character to join the MCU now that Disney owns the property. Plus, Tom Cruise has never crossed "pirate" off his character bucket list, so taking this role would be killing so many birds with one stone.
Chameleon
Despite never sailing the seven seas (yet), Tom Cruise has still played a large variety of characters, yet is not commended enough for his ability to truly disappear into a role. For instance, when he went gray-haired and hair-brained in 2004 as a hitman for Michael Mann's Collateral or when he stole the show as the hilariously sadistic studio executive Saul Grossman in 2008's Tropic Thunder in a truly chameleonic performance.
Speaking of "chameleonic," a Marvel character who is often noted for his ability to truly disappear into a role is Dmitri Nikolaievich Smerdyakov - a Spider-Man villain aptly better known as the Chameleon. A little detail about the character more casual comic book fans may not know is that Chameleon is the half-brother of fellow Spidey villain Kraven the Hunter, who will be brought to life by former MCU actor Aaron Taylor-Johnson in his own movie. I think a perfect opportunity to put Tom Cruise's range of talents on full display would be to make him the Chameleon in Sony's own shared universe of comic book movies.
Clay Quartermain
Speaking of shared universes, remember when Tom Cruise tried to be the star of his own shared universe by kicking off the Dark Universe with The Mummy in 2017? You have to admit, seeing Universal's latest attempt to bring their monster movie IP back into the limelight crumble so soon and so dramatically was a little sad. Therefore, I say we give Cruise a second chance at being the head honcho in a monstrous assembly by casting him as a Marvel character with that exact job description.
S.H.I.E.L.D. has its own unit paranormal (like the BPRD from Hellboy or DC's Justice League Dark) known as the Howling Commandos, which is made up mostly of creature-esque characters like Blade, Groot, or the Abominable Snowman. One of the team's most notable leaders is Clay Quartermain - a former United States Air Force pilot noted for being arrogant and hard to work with. Tom Cruise has played both of those character types extremely well in the past, which must be why he was also considered for a different Marvel role once.
Alternate Iron Man
I mentioned in the intro how both DC and Marvel have reportedly had their eye on Tom Cruise before. With DC, it was to potentially play Hal Jordan in the long awaited Green Lantern Corps movie and with Marvel, it was to play Tony Stark in 2008's Iron Man before Robert Downey Jr. took the role and officially kicked off the MCU. Well, what if I told you that there was still a chance that Cruise could put the armor on?
There is a rumor that Marvel Studios was eyeing to cast Tom Cruise as a version of Tony Stark from an alternate dimension in Doctor Strange in the Multiverse of Madness. Now, admittedly, this is probably nothing to take seriously, but you would be lying if you had not imagined how the franchise might have turned out if Cruise had been cast in the role. The chance to see that happen by making him an alternate Iron Man from somewhere else in the Marvel Multiverse just sounds too cool to pass up.
To be clear and perfectly honest, I am more in the camp that believe that the character of Iron Man should be officially retired in the MCU following his sacrificial demise in Avengers: Endgame, but it is still an intriguing concept, nonetheless. Even if you do not think Tom Cruise would ever make a good Tony Stark, is there a Marvel movie character you would be curios to see him bring to life?
This poll is no longer available.
Jason has been writing since he was able to pick up a washable marker, with which he wrote his debut illustrated children's story, later transitioning to a short-lived comic book series and (very) amateur filmmaking before finally settling on pursuing a career in writing about movies in lieu of making them. Look for his name in just about any article related to Batman.
Your Daily Blend of Entertainment News
Thank you for signing up to CinemaBlend. You will receive a verification email shortly.
There was a problem. Please refresh the page and try again.