5 Other Marvel Characters Sophie Turner Should Play Following Jean Grey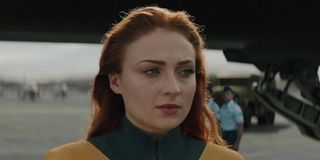 One of the biggest stars to come out of the Game of Thrones cast is Emmy nominee Sophie Turner, who also made a name for herself on the big screen (even before the long-running HBO fantasy series ended) the same way most people do these days: by starring in superhero movies as Jean Grey.
Most agree her performance as the telekinetic mutant (previously played by Famke Janssen) is among the strongest elements of both X-Men: Apocalypse and X-Men: Dark Phoenix - the latter of which would be the end of her stint as the character and one of the last X-Men movies in Fox's original franchise. While it is more likely that Jean Grey will be recast when the Marvel movies reboot the property, that does not mean Turner should not be included in some way and, perhaps, one of the following five characters could be her ticket in.
Athena
When looking for additional Marvel characters for Sophie Turner, I wanted wanted to look to her Game of Thrones character, Sansa Stark, for inspiration. While there are not very many notable characters who fall under the medieval fantasy category in Marvel Comics, there is one who, like Thor, was inspired by ancient mythology and even has a few characteristics in common with the Queen in the North. However, the real reason I picked her was actually for the characteristics she does not share with Sansa.
Stan Lee and Jack Kirby's iteration of the Greek goddess Athena is not so different from her original mythological counterpart, with the exception of her eventual affiliation with S.H.I.E.L.D. and the Avengers. The Olympian is a strong, resilient, calculative leader bred out of a life of trauma and oppression, much like Sansa Stark's Game of Thrones arc. However, you really never saw Sophie Turner engage in battle as Sansa, but she could as Athena, who could also be a great opportunity to bring yet another badass female warrior into the MCU.
Elsa Bloodstone
Of course, Sophie Turner does not necessarily need to dress in period garb again to play a badass female warrior in the Marvel Cinematic Universe. In fact, I am anxiously awaiting for the MCU to bring in one extremely resilient, British woman whose unique family history has played a major part in her evolution. The biggest difference would have to be her modern weaponry.
Ruthless monster hunter Ulysses Bloodstone was sure to secure a spot for his young daughter, Elsa, in the family business before she would eventually become an independent vigilante, and even form an alliance with Deadpool at one point. This character has many opportunities for Sophie Turner right off the bat, including the chance to work with Ryan Reynolds as the Merc with the Mouth and to continue expanding on the action star reputation that she earned with Survive before Quibi went under. Plus, she will get so much more screen time with large CGI beasts than Sansa Stark did with the dragons on Game of Thrones.
Spider-Woman
Another fan-favorite female Marvel hero whose big screen debut has been a major point of interest for a while is Jessica Drew - a government agent with arachnid-like abilities she developed at a young age due to her father's experiments. Well, we reportedly will not have to wait too much longer for her to be given the live action treatment. In 2020, Booksmart director Olivia Wilde was tapped by Sony to make a Spider-Woman movie as one of her upcoming feature-length efforts from behind the camera.
There are many different iterations of the superhero, but it is most likely that Jessica Drew will be the one this upcoming film focuses on. Honestly, though, even if it was Gwen Stacy's Spider-Woman she would end up trying out for, I think that Sophie Turner would nail the performance either way. No matter which variant, at her core, Spider-Woman is a superhero defined by her ability to endure through damaging situations and reinvent herself into a person of great strength, which we have already established as a characteristic the actress has mastered onscreen.
Mystique
The plan at Marvel Studios seems to be giving the X-Men movies a clean slate in the MCU (even though the Marvel Multiverse crossover that appears to be happening in Spider-Man: No Way Home suggests they technically could bring some actors back to reprise their roles. Sophie Turner has said she would "kill to go back" and revisit the character of Jean Grey in another film. Even if the MCU gets a new Jean Grey, I would say that Turner should not be denied the chance to be part of the new X-Men if she wants.
I have two ideas of how that could be made into a reality. The first solution would be to make her the new Mystique, following in the footsteps of her co-star Jennifer Lawrence, because it is clear that Sophie Turner reveled in playing a villain in X-Men: Dark Phoenix (like anyone else would) and the shapeshifter would be another great, complex role to bring out her bad side again. She recently went back to red hair, so all she'd need is the blue makeup.
Madelyne Pryor
On the other hand, I would understand if Sophie Turner were to feel weird about succeeding a role from her friend and collaborator. Not to mention, it seemed more like she reveled in playing Jean Grey herself in the X-Men movies than she did playing a villain. Well, once again going by the assumption that Marvel Studios would recast the role, it is still possible that Turner could return to the character in another way that could also be really fun.
Once when Jean Grey was presumed dead in Marvel Comics, the X-Men were surprised to see her return, only to discover she was really an evil clone created by Mister Sinister and named Madelyne Pryor. Obviously, this character's introduction would likely need to happen a little ways down the road after the new MCU iteration of Jean Grey was well established, but I think having Sophie Turner play her would be an amusing callback to the original franchise, on par with Evan Peters' WandaVision cameo as a faux Quicksilver.
Perhaps you might be one of the people who was not too impressed with that strange little fake-out on the Disney+ original TV show and would rather Marvel Studios not pull something like that again. Well, there is always a chance for a part in the DC movies, and Sophie Turner could make a great Poison Ivy. But, if you still hope to see the Games of Thrones alum join the MCU (or the universe Sony has in progress), do you have preferences from above?
This poll is no longer available.
Jason has been writing since he was able to pick up a washable marker, with which he wrote his debut illustrated children's story, later transitioning to a short-lived comic book series and (very) amateur filmmaking before finally settling on pursuing a career in writing about movies in lieu of making them. Look for his name in just about any article related to Batman.
Your Daily Blend of Entertainment News
Thank you for signing up to CinemaBlend. You will receive a verification email shortly.
There was a problem. Please refresh the page and try again.