Olympic Skier Lindsey Vonn Strips Down To Promote Her Healthy Living Book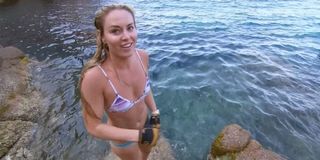 Mild NSFW warning: This article contains some nudity.
Lindsey Vonn has clearly been eating her fruits and veggies! The world champion skier is showing off the incredible body that healthy eating and exercise has gotten for her in a promotional photo for her new health and lifestyle book Strong Is the New Beautiful. The Olympian appears in the photo completely nude while demonstrating her alpine skiing form with two poles.
I wouldn't suggest trying that on the actual slopes. Brrrr!
Strong Is the New Beautiful is Lindsey Vonn's first book, and it was released this Tuesday. The autobiographical health and wellness guide includes the exercise routines and diet regimens that Vonn uses to stay in shape. In her Instagram caption, Vonn writes that she is finally comfortable with her body for the first time in her life, and was confident enough to show it off in the promotional photo. She poured all of the fitness tips and tricks that it took her to reach this point into the new book, she told PEOPLE.
Lindsey Vonn has become the face of alpine skiing in America after breaking records at the World Cup and at the Winter Olympics. She became the first American woman to take gold in the downhill event at the Olympics in 2010, and has set the all-time women's record for number of World Cup wins with 76 in total. Unfortunately, injuries kept Vonn from competing for a stint in 2013 and 2014, but she's been back on the slopes for the past couple of years now.
In addition, Lindsey Vonn's success has also made her a media figure, and she appears regularly on talk shows. In 2010, Vonn appeared in both the Sports Illustrated Swimsuit Edition and on Maxim's Hot 100 list. She's also appeared on shows like Law & Order, Project Runway, and recently on Running Wild with Bear Grylls, and even starred in her own pair of documentaries: 2013's Lindsey Vonn: The Return and 2015's Lindsey Vonn: The Climb.
Lindsey Vonn has also received some media attention for her dating life. She married fellow Olympic skier Thomas Vonn in 2007, but they wound up getting a divorce in 2013. As she had already received widespread recognition under the name Lindsey Vonn, Lindsey decided to keep her ex-husband's last name following their divorce (Kildow is her given surname). Shortly after the divorce was finalized, Vonn began dating golfer Tiger Woods in 2013. This was a few years after Woods was dominating the news cycle with constant reports of his infidelity to then-wife Elin Nordegren. Vonn and Woods broke up in 2015.
Lindsey Vonn's new book Strong Is the New Beautiful is available now (opens in new tab).
Your Daily Blend of Entertainment News