American Born Chinese: Premiere Date, The Story And Other Things We Know About The Upcoming Disney+ Adaptation
This show is about to be magical.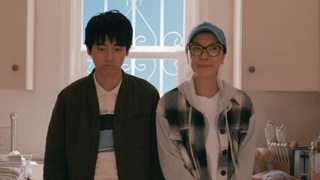 (Image credit: Disney+)
Since the beginning, Disney+ has done an excellent job of offering plenty of fresh and diverse ideas for their original TV shows. Whether it be a continuation of a famous franchise such as The Mandalorian, which just started airing its Season 3, or a fresh idea like Diary of a Future President, Disney+ has been making some awesome shows for some time now – and a new one, called American Born Chinese is on its way.
From its star-studded cast that features some amazing Asian representation to its plotline, we have some idea of what is going to come with this new Disney+ original show. Here is what we know so far.
What Is The American Born Chinese Premiere Date?
The premiere date for American Born Chinese is going to be on May 24th, according to Variety. Originally, it was announced at the D23 Expo in 2022 (via Deadline) that the new series was set to come out at some point this year, but now we have an official premiere date for the end of May.
The 2023 TV premiere schedule has been stacked to the brim with new and returning shows, and Disney+ is no exception to that. In 2023 alone, it's going to have several big titles such as the new Marvel television show, Secret Invasion, a new series called The Muppets Mayhem, and plenty of other shows renewed. It's set to be a packed year for the popular streaming site.
Michelle Yeoh And Ben Wang Star
Starting off strong with the cast, we can confirm that Michelle Yeoh, as well as Ben Wang, are set to star in American Born Chinese. As confirmed by Disney, Wang is a newcomer to Hollywood who will be playing Jin Wang, a high school student struggling with typical teenage things, such as fitting in and his own home life. Yeoh, however, will play Guanyin, a Chinese mythological goddess.
2022 was a huge year for Michelle Yeoh, as she starred in the mega-hit, Everything Everywhere All At Once, which garnered her critical acclaim. She won a Golden Globe award for her performance, and has now won the Academy Award for Best Actress, being one of the first Asian American actresses in decades to win the award. It's no wonder that she's going to be the star of this series.
Yeoh actually talked about her role in the series at the Television Critics Association winter press tour (via Gold Derby) during the American Born Chinese panel, saying that a lot of love and care went into portraying the goddess – especially when it came to fight sequences:
It's so cool to hear her talk already about her character in the show – and I, for one, can't wait to not only see Michelle Yeoh back in action, but back on a television screen as well.
Ke Huy Quan, Jimmy Liu, And More Will Co-Star
Besides Michelle Yeoh and Ben Wang in their pretty big starring roles, there are several other stars that have been confirmed. According to Deadline, Yeo Yann Yann, Chin Han, Ke Huy Quan, Jimmy Liu, Sydney Taylor, and Daniel Wu are also in roles for the show.
There are several reasons to get excited about the castings. One of which is seeing Ke Huy Quan, originally known for his role as Short Round in the Indiana Jones movie, Indiana Jones and The Temple of Doom, back on screen. He also co-starred with Yeoh in Everything Everywhere All At Once, so it'll be great to see them together on screen again. He also won the Academy Award for Best Supporting Actor thanks to his performance in that role.
Yeo Yann Yann is a prominent Malaysian actress who has been in several international films including Wet Season, Ilo Ilo and more, so it's great to see her in a television show such as this one.
There are so many reasons to get excited for this cast, and I can't wait to see them all together when the series premieres.
Several Other Stars Are Set To Guest Star
While we already know many of the stars that are set to be in the show, we can also confirm that American Born Chinese is going to have a sick amount of guest stars. Released in a teaser to their YouTube channel, Disney+ teased the long-list of guest stars that are set to appear in the show.
Some of which include Stephanie Hsu (who was also in Everything, Everywhere, All At Once), Ronny Chieng, Rosalie Chiang, James Hong, Poppy Liu, Lisa Lu and others. There's truly no stopping the amazing Asian representation that this series is going to have.
Check Out The Teaser For American Born Chinese Down Below
Be sure to check out the teaser trailer down below that was released during the Academy Awards. It features several of the key stars, including Michelle Yeoh, Ke Huy Quan and more, as well as some sick battle sequences and beautiful cinematography.
American Born Chinese Is Based On The Graphic Novel Of The Same Name
If you're wondering exactly what American Born Chinese is going to be about, you're in luck. According to the official Disney page on it, the series is based on the graphic novel of the same name by Gene Luen Yang. The story follows Jin Wang, a normal teenager who is surviving high school and his family, but one day, a new international student comes to school.
Jin decides to make friends with this person – and by doing so, he finds himself intertwined in the world of Chinese gods and a battle between these entities that he never thought he would experience.
I mean, just from that description it already sounds like this is going to wind up as one of my favorite shows of 2022. I'm always down for watching mythical beings in television shows, from Greek mythology to Norse gods, so I'm here for this portrayal of Chinese mythological gods – especially if one of the said gods is played by Michelle Yeoh.
Destin Daniel Cretton Is Directing The Series
Another fun thing to know is that Destin Daniel Cretton is set to both direct and executive produce the new Disney+ show, according to Disney. The reason behind this being significant is that he is also responsible for another work of Asian representation recently, and that was 2021's Shang-Chi and the Legend of the Ten Rings.
Cretton was the director of the popular Marvel film, which was released to great reviews and a good 2021 box office haul. It's great to see him helm something else for Disney, and one that's as great-sounding as American Born Chinese.
Yeoh Says American Born Chinese Will Have A Lot Of Magic And Badass Action
From the premise, we already know that this is going to include a battle between mythological Chinese gods, but just how much is going to be badass action? Michelle Yeoh says that it's going to have plenty.
In an "In Production" video from D23 (via YouTube), she sat down to talk about the series, and said that it was going to have plenty of magic and badass action for fans to love and follow:
Filming Finished In 2022
With the premiere date of the show looming closer and closer at the time of updating this in March 2023, one can only wonder when filming ended. Thankfully, we can confirm that filming for the show actually wrapped pretty early last year – specifically, July 2022.
Ke Huy Quan posted a great picture to his Instagram on July 6th, 2022 to commemorate the cast and crew of American Born Chinese, thanking them all in the process.
Truly, it's so fun to see him back on a movie set after years of staying out of the spotlight – and I can't wait to see him in this show being a badass like usual.
There's so much to look forward to with this upcoming show, and now that we know the premiere date, I'm counting down the days until American Born Chinese makes its way to our televisions. Can May get here any sooner?
Your Daily Blend of Entertainment News
Big nerd and lover of Game of Thrones/A Song of Ice and Fire. Will forever hate season eight. Superhero and horror geek. And please don't debate me on The Last of Us 2, it was amazing!