Vikings Season 6: Seven Things That Need To Happen In The Final Season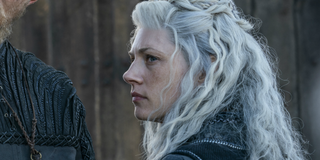 (Image credit: Jonathan Hession / History)
Vikings Season 6 is almost upon us! There is a lot that the final season has to get through. First is the seemingly confirmed fate of one of its original characters, and then there is that massive war between Ivar and Bjorn. Yes, the brothers already had one big battle, but the final season is gearing up for an epic re-match.
What are the things that need to happen in Vikings' final season? Six seasons have been building to a defining moment for many. In truth, all of its currently living characters will probably not survive it. Pictures have teased some of what to expect, but these are the seven things that need to happen in Season 6. I need:
Lagertha To Bond With Her Grandchildren
Lagertha has done a lot of things in her time on Vikings. From being a farmer's wife to being a queen, and now the mother of the king, it has been an incredible journey. Vikings' creator has already teased what is in store for her, and I hope part of that includes a new focus on her life as a grandmother.
Whenever Vikings has focused on Lagertha as a mother, it is has hit pure gold. Focus on her as a grandmother has been a bit more muted, though. I want to see Lagertha go all-in mentoring Bjorn's children as she did with him. It would be a beautiful full circle story that takes us from the first season to the final one.
Ragnar To Get Some Sort Of Nod
While there is an interesting fan theory that has some hoping Ragnar will return alive, I think that is doubtful. Still, Vikings owes so much to its original lead that I would like to see him come back in some way. Not as a ghost, but preferably in a flashback.
Vikings skipped forward quite a few years while Ragnar was still alive, and it's a setup that should give the show a chance to include a "never-before-seen" scene of Ragnar from the past. It would be moving to see him talk about his sons' futures or reminiscence about the past one last time. Either way, I cannot imagine Vikings' final season without Ragnar appearing.
Ivar To Experience A Change
Vikings' creator has teased that fans would learn more about Ivar in the final season. To this point, he has been focused on having power, getting revenge, and being ruthless in his pursuit of both. I would like to see a new side to this character. One that has nothing to do with any of those things.
If there is one season to do that, it is Vikings' final one. I am incredibly curious to see what is going to happen with the doppelganger of Ivar's wife (who he murdered). Could she hold the key to unlocking new layers? It is possible. Season 6 will hopefully be one that sees Ivar end it differently than he began it.
Bjorn And Ivar To Have A Decisive Battle
Bjorn and Ivar battled it out for Kattegat last season, and it was a big deal. Ivar is not going to let things go and find a new life for himself somewhere else. He may not have had a plan for where he was headed at the end of Vikings' penultimate season, but he is going to want a re-match with Bjorn.
I am ready for the battle that ends it all, and I hope it happens in the first half of Vikings Season 6. The back-and-forth is interesting, however, I am uncertain it can sustain an entire season. It would be cool if Vikings had them go ahead and battle it out for keeps.
A Wrap-Up For Rollo
Oh Rollo! Ragnar's brother returned last season on Vikings to reveal a major paternity bombshell. Unable to get Lagertha and Bjorn to return with him to Frankia, a solemn Rollo took off. Vikings has not followed Rollo since then, and I would like the show to do a wrap-up for his story with some sort epilogue.
A way to acknowledge what became of him, without necessarily having to do much, but I would gladly accept a deep dive, of course. Vikings' showrunner had an interesting answer regarding whether Vikings has seen the last of Rollo. I really want to see him back, even if he does not say anything and viewers just see Rollo looking on morosely.
Bjorn To Rule Kattegat Indefinitely
Bjorn is King of Kattegat, and I am ready to see him rule for quite a while. There have been hints that have made me concerned about Bjorn's future. He took it upon himself to reclaim Kattegat, and he succeeded. Vikings seemed to open the chapter of his rule for the final season.
It has been a long time coming. Fans have seen Bjorn building to this time in his life for quite a while, and it is finally here! I am ready for him to reign long-term, hopefully to the end of the series. Vikings has set up Ivar and Harald as potential threats, though, so time will tell if that can happen.
Prince Oleg To Get A Lot Of Airtime
I am not typically one of those fans that welcomes the introduction of a new character into a final season. However, Vikings is causing me to make an exception in Season 6. It is on the verge of introducing an intriguing character that could warrant his own spinoff.
In the final season, Vikings will introduce actor Danila Kozlovsky as Rus ruler, Prince Oleg of Novgorod. He will be sharing scenes with Ivar after the latter's journey takes him to Rus. I am curious to see how Vikings approaches this character and what his interaction with Ivar will include. The story has a chance to be something really fresh for Vikings and Ivar.
Is all of this possible? I am not entirely sure. Obviously, history is going to have some bearing on what takes place in Vikings' final season. Although myth and legend play a role that could see some malleability. Not to mention, Vikings has played with certain aspects of history before. Coming into Season 6, I do not feel that much is set in stone.
Lagertha's ultimate fate is the only issue that seems entirely settled. Thankfully, there is that super-exciting Netflix spinoff to look forward to as the sadness over Vikings coming to an end sets in. Season 6 should be an emotional ride, and I hope Vikings takes a moment to sit with the finality of its journey when all is said and done. It has earned it.
See how the final season begins when the two-hour premiere of Vikings Season 6 arrives as one of this winter's premieres. Season 6 premieres Wednesday, December 4, at 9 p.m. ET on History. The Vikings: Season 5 Volume 2 Blu-ray/DVD set is out now!
Like a contented Hallmark movie character, Britt happily lives in the same city she grew up in. Along with movies and television, she is passionate about competitive figure skating. She has been writing about entertainment for 5 years, and as you may suspect, still finds it as entertaining to do as when she began.
Your Daily Blend of Entertainment News
Thank you for signing up to CinemaBlend. You will receive a verification email shortly.
There was a problem. Please refresh the page and try again.