Lucifer Season 5: 6 Things That Need To Happen In Part 2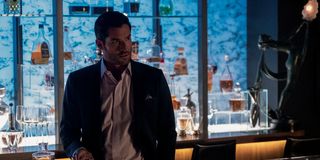 The first half of Lucifer Season 5 was a rollercoaster ride of emotion, noir-filled fun, and a rocky sibling relationship between Tom Ellis' Lucifer and his evil twin brother Michael. While there was certainly a whole lot of angst, Season 5 did finally give fans the Chloe and Lucifer hook-up that they've been waiting for since the beginning of the series.
However, things came to a head as Michael continued interfering in Lucifer's life. The first batch of Lucifer's 16-episode Season 5 ended on a cliffhanger that finally saw the introduction of God. His sudden appearance was enough to stop Lucifer, Michael, and Amenadiel from a celestial battle, that's for sure. With so much going on in Part 1, here are six things that I think need to happen in Season 5 Part 2.
Lucifer Needs To Tell Chloe He Loves Her
These two have been will-they/won't-they for several seasons now. After a number of false starts and Michael's brief meddling, Lucifer and Chloe finally got together for real in the first half of Season 5. Things were going well for a while and the pair were relishing in their newfound relationship, especially now that there were no more secrets between them.
However, Michael planted seeds of doubt in Chloe's mind about the extent of Lucifer's affections for her. She pointed out that he had yet to tell her he loves her, which is an oversight because Chloe told him she loved him at the end of Season 4. It sounded like Lucifer was finally about to say the "L" word in Season 5's midseason finale before being interrupted. After waiting for so long for this relationship to happen, Lucifer needs to tell Chloe he loves her once and for all in Part 2 or possibly risk losing her.
God Should Reveal Why He Finally Showed Up
To say that Lucifer has had a contentious one-sided relationship with his father would be the biggest understatement. Lucifer has told anyone who will listen (and even those who don't want to) about how God sees fit to punish him or teach him some unknown lesson. I, like Lucifer, figured that God would stay firmly out of the picture, carrying on as a silent guiding hand. But, God finally made his debut in the form of 24 alum Dennis Haysbert in Season 5.
As you might expect, there's a lot of mystery surrounding God's arrival. He's been gone so long and I'm sure Lucifer and Amenadiel have a lot of questions to ask him. However, after centuries of silence and ignoring his kids, I think God should first explain why he suddenly decided to show up after so long. What was the reason for his visit to Earth? Was it to stop Michael? Did he actually want to confront Lucifer? Inquiring minds would like to know.
Lucifer Losing His Mojo Needs To Be Further Explored
Lucifer has prided himself on being able to work his mojo on anyone to get answers. "What is it you truly desire?" is a question the devil constantly asks while looking deeply into the eyes of others. This angelic gift has never worked on Chloe. However, after they have sex for the first time in Season 5, Lucifer's mojo is somehow transferred over to her.
Chloe is delighted and rubs it in Lucifer's face at every turn. Meanwhile, he's frustrated because he thinks his mojo is a big part of his identity and can't stand the fact that he lost it. However, Lucifer regains his mojo by the end of the episode with absolutely no explanation. There was no official transfer before his mojo came back easy peasy. I think the show needs to tackle this concept head on and explore it further. Otherwise, the unexplained mojo swapping is nothing short of confusing.
Maze Should Successfully Obtain A Soul
Maze has been having a hard time in Lucifer Season 5. Following Lucifer's return to Earth, she was angry with him for leaving her behind again. Maze was also struggling to come to terms with her mother's abandonment. The demon was truly coming into her own and was scared of being left behind and ceasing to exist altogether. The only way she could ensure her return to Hell was if she had a soul.
Maze's yearning for a soul is a big part of the reason why she joined Michael, as he promised her one. However, apparently demons can't get a soul, which throws a wrench in Maze's plans. That said, I doubt that the season will end without addressing this storyline. Maze needs a win after so much heartache and disappointment and I think Season 5 would be that much more hopeful if she finally and successfully obtained a soul for herself.
Ella Needs To Finds Out That Lucifer Is The Devil
Over the course of the show, nearly everyone in Lucifer's inner circle has learned that he is actually the devil. Starting with Linda in Season 2 and, more recently, Detective Douche (I mean Dan) in Season 5, the reactions to Lucifer's identity have varied. However, it's nice that more of the main characters are in on the secret.
That said, the only person besides Trixie (who's still a child) who doesn't know about Lucifer is Ella. The optimistic forensic scientist has long believed that Lucifer is merely a method actor who takes his job very seriously. While Lucifer's Aimee Garcia loves that Ella doesn't know the devil's secret, I think Ella finding out about Lucifer's secret is long past due.
Michael Should Explain His Endgame Plans
Michael started Season 5 by pretending to be his devilish twin brother. Initially, his plan was to simply upend Lucifer's life. Following Lucifer's return from Hell, Michael decided to be more forthright in his manipulations. By the end of the first half of Lucifer Season 5, Michael was closer to turning his brother's friends against him.
What's a bit murky is why Michael has been scheming against his brother. Michael hates Lucifer with a passion and he hasn't been shy about that. But, beyond his petty disdain for his twin, Michael's endgame goal is still unclear. With God now in the picture, I hope that Michael will be forced to reveal why he finally decided to show up and what he really has in store for Lucifer.
The second half of Lucifer Season 5 doesn't yet have a premiere date, but the cast and crew have resumed production on the season's final episode and will continue filming into Season 6. Stay tuned to CinemaBlend for updates. In the meantime, the first half of Season 5 is currently streaming on Netflix. For more on what to watch, be sure to check out our 2020 fall TV premiere guide.
Your Daily Blend of Entertainment News