After Landing CSI Sequel, Friday Night Lights' Matt Lauria Is Joining Josh Brolin's New TV Show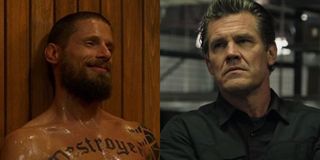 Matt Lauria is pretty much killing the game right now, and it appears that he is really turning into a seasoned series veteran. Not only has the Friday Night Lights star signed on for the limited series reboot of CBS's CSI, but he is also joining the cast of Outer Range, Josh Brolin's new Amazon Prime series, which Brolin both stars in and has had a hand in producing.
You may recognize Matt Lauria from Friday Night Lights or Kingdom, but he has been a recurring actor in a decent amount of other series, like Tell Me A Story and Dickinson. It was recently announced that he would be joining the CSI reboot along with a couple other returning faces from the original series. According to TVLine, Lauria has snagged a spot alongside Josh Brolin in Outer Range, a mysterious western.
At this point Matt Lauria is very at home working on TV series, but for Josh Brolin Outer Range will be a project with a little bit of a different direction. Brolin has seen major success in a lot of iconic films. Besides portraying Thanos in the MCU and killing half of the universe with just a snap of his finger, Brolin is Cable in another Marvel film Deadpool 2 and will appear in the reboot of Dune. Outer Range will mark one of the only series the Inherent Vice actor has appeared in.
One of the only things we really know about Outer Range, other than who will be in it, is that Josh Brolin plays the lead, which is that of ranger Royal Abbott in the backcountry of Wyoming protecting his home when he stumbles across an odd mystery. Matt Lauria, on the other hand, will appear as a recurring character of the rival Tillerson family and will possibly be the series' main antagonist. The two rival families are neighbors and apparently always at odds with each other.
Outer Range, in addition to Matt Lauria, has cast a number of other actors who have worked on notable TV series. Noah Reid, who appeared in the highly successful Schitt's Creek, and Shaun Sipos, known for Krypton and Dark Matter, are joining the new project as members of Lauria's Tillerson family. Lewis Pullman, who appeared in the Catch-22 series, will join Outer Range on the side of Josh Brolin's character's Abbott family.
The new project is still in the early stages, and there is no telling when the series will be ready to be released on Amazon Prime. For right now, the people behind the project are keeping pretty much everything except the cast list under wraps, especially the apparent mystery that Josh Brolin's character stumbles upon. Much like the state of the project, we will just have to wait it out and see how the mystery unfolds.
Constantly thinking about books, coffee, and the existential dread I feel from Bo Burnham's Inside. While writing I'm also raising a chaotic toddler, who may or may not have picked up personality traits from watching one too many episodes of Trailer Park Boys.
Your Daily Blend of Entertainment News
Thank you for signing up to CinemaBlend. You will receive a verification email shortly.
There was a problem. Please refresh the page and try again.