Manifest's Josh Dallas, Other Cast Members React After Efforts To Save The Show From Cancellation Fail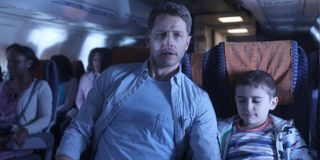 Following NBC drama Manifest's devastating cancellation after that twist-filled Season 3 finale cliffhanger, fans remained hopeful that the show would continue on elsewhere. While it dominated Netflix's charts soon after the first two seasons dropped on the streamer, the platform surprisingly passed on the series, breaking the hearts of fans everywhere yet again. Josh Dallas, Melissa Roxburgh and more of the show's stars reacted to the news of the missing plane drama's official cancellation, reflecting on their time on the series.
Josh Dallas played Ben Stone, an 828 passenger who essentially is behind trying to solve the biggest mysteries of the flight that disappeared for 5 ½ years. The actor took Twitter shortly after news broke that Netflix would not pick up Manifest for a fourth season and expressed his gratitude to the series, cast, crew, studio and the fans, who call themselves Manifesters. He also included a picture of him and on-screen sister Melissa Roxburgh:
Having played NYPD Detective Michaela Stone, a fellow 828 passenger who is also a big part of figuring out the Callings, Melissa Roxburgh also tweeted out her feelings about her time on the show and let the fans know just how much the last three years have changed her life. She also included a picture of herself with Josh Dallas and creator, Jeff Rake:
One of the biggest twists in the Season 3 finale was Grace Stone's death at the hands of 828 passenger Angelina. Even though fans, and the rest of the Stone fam, will sadly not experience the aftermath, Mama Stone herself, Athena Karkanis, reflected on her Manifest journey on the series on Instagram. The actress, much like everyone else, is "gutted" that Manifest flew in sooner than intended, but she quoted Dr. Seuss at the end and as always, the doc is right:
Older Stone twin Luna Blaise simply thanked Jeff Rake. As she put it, Olive Stone will be as part of her forever and will also remain with fans everywhere:
Meanwhile the younger twin, Jack Messina, who also had an exciting Season 3 finale and an unknown future for his character, Cal, shared a sweet picture to Instagram with the cast and creator during the filming of the latest season and also expressed his gratitude. And although the story was cut short, Messina is still fighting for the continuation of Manifest:
Matt Long, who played Zeke Landon, Michaela's husband who had his own Death Date and survived despite not being on the plane, shared similar photos to his Instagram and mentioned the fight for a fourth season. He mourned alongside fans about the fact that Zeke's story, and everyone else's, has come to an end:
New to the Manifest family for Season 3, Holly Taylor portrayed 828 passenger Angelina, whom Michaela saved. The Stone family took her in, but Angelina's innocent intentions soon turned dangerous and she deemed baby Eden her guardian angel. The finale also left her future unknown, after she stabbed Grace and took Eden. Taylor expressed her gratitude for the series and also thanked the Manifesters for their support:
Although fans may not fully recover following Netflix's decision to pass on the series (even if they are releasing some questionable ones), the mystery of Flight 828 shall never rest and will always be with Manifesters and the cast forever. And who knows? Maybe Netflix will pull a Reverse Uno and change their minds or it will get some kind of closure like Timeless.
Seasons 1 and 2 of Manifest are streaming on Netflix and Season 3 is currently streaming on Hulu.
Your Daily Blend of Entertainment News
Passionate writer. Obsessed with anything and everything entertainment, specifically movies and television. Can get easily attached to fictional characters.