Lifetime Announces Season 4 Premiere Date For Drop Dead Diva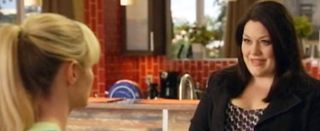 Lately, news related to the female-driven network Lifetime has been all over the relative success of freshman drama The Client List, making it difficult to remember that Lifetime does, in fact, have a couple of other popular shows in its rotation. High on this list is Drop Dead Diva, which was renewed by the network for a fourth season back in September. In the time since, the network has been gearing for a big fourth cycle, even nabbing reality star Kim Kardashian for a multi-episode story arc.
With all of the hullabaloo surrounding Kardashian's appearance in the Season 4 premiere as relationship advice-giver Nikki LePree, it has seemed like Drop Dead Diva has been on the brink of airing new episodes for months. Unfortunately, fans still have a while to wait to see their favorite smiling faces, but on the bright side, Lifetime has now figured out a premiere date. According to THR, Drop Dead Diva will return on June 3.
Besides adding Kardashian to the cast for several episodes, the 13-episode season will feature a slew of other guest stars, including Serena Williams, Patty Duke, Megyn Price, Jake T. Austin, Emily Ruthorford, and John Ratzenberger. It's looking like it will be a big year for the diva, but you'll have to tune in to decide for yourself.
Drop Dead Diva premieres Sunday, June 3 at 9 p.m. ET on Lifetime.
Your Daily Blend of Entertainment News
Thank you for signing up to CinemaBlend. You will receive a verification email shortly.
There was a problem. Please refresh the page and try again.