MTV's TwentyFourSeven Premieres This Wednesday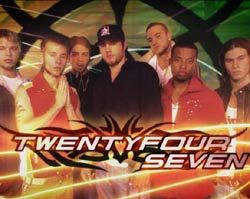 MTV's new series, 'TwentyFourSeven' is set to air this Wednesday evening. The show could be compared to 'The Real World' in that it centers on seven people but that's where the similarity ends. Rather than "seven strangers", these guys are already friends and they're motivated by the desire to succeed in a lot more than just club-hopping, getting trashed and hooking up with random hotties.
The show will chronicle the lives of seven friends, each with a goal to succeed in a different career path. They will work together and apart, virtually non-stop 24 hours a day to see their goals achieved. 'TwentyFourSeven' will premiere Wednesday, December 6th at 10:30pm on MTV.
Below is a list of the guys as well as their aspiration and description:
Greg - The Entrepreneur
This ambitious business prodigy has already taken major steps toward conquering Hollywood. He's produced a feature film, launched a line of energy drinks, partnered in club openings, and started a production company. Greg is determined to launch his family and friends into super-stardom, even though the boys, especially his brother Chris, don't always make it easy.
Chris - The Rock Star
The lead singer of The Prom Kings is a lot more interested in hot women and hard living than he is in making it big, at least for now. Lucky for Chris, his little brother Greg has his back and with a little of Chris's help, The Prom Kings has been featured in Rolling Stone and Billboard. If he can follow his brother's lead and stay out of trouble, Chris's future is as good as gold, and maybe even platinum.
Frankie - The Club Promoter
In less than two years in town, Tijuana native Frankie Delgado has taken the Hollywood party circuit by storm. Now a big name club promoter, Frankie has joined forces with Greg Carney to take his parties to the next level. Known to roll around town with the ladies, especially when it's time to pack a club, Frankie always lets his crew dip into his star-studded Rolodex.
Cipes - The Musician
The spiritual surfer known by his last name, floats through his days on good vibes. His cartoon voice, free-loving nature, and laidback sense of humor have given him a lucrative career in voiceovers and acting, but he's looking to make it with his reggae band, Cipes And The People. He's also a hit among the Venice Beach locals—everybody knows his name. If producer Greg Whitman has anything to say about it, Cipes will turn out to be much more than comic relief for the group.
Ty - The Filmmaker
This writer, director, and star of the independent film "Miles From Home" is doing everything to break into Hollywood. He's given up his car, moved in with his parents, and memorized a whole slew of bus schedules so he's chasing his dream via public transportation. If the support of his friends and family is any indication of his talent, Ty won't be stuck at the bus stop for long.
Matt - The Actor
Since giving up his vices, including sex, this actor has started to rake in the roles. Already in American Pie 4, and with more serious roles as his goal, the budding star is hungry to make his mark on Hollywood. With his lifelong friends the Carney brothers by his side, Matt's success is only a matter of time.
Whitman- The Record Producer
Greg Carney's best friend, roommate and business partner is a talented multi-instrumentalist, a self-taught sound engineer and a passionate music fan. When he's not helping Greg keep The Prom Kings on track, Whitman produces music for Cipes. His only dilemma—finding a quality girl in Hollywood.
For more information about "Twentyfourseven," visit twentyfourseven.mtv.com.
Kelly joined CinemaBlend as a freelance TV news writer in 2006 and went on to serve as the site's TV Editor before moving over to other roles on the site. At present, she's an Assistant Managing Editor who spends much of her time brainstorming and editing feature content on the site.
Your Daily Blend of Entertainment News
Thank you for signing up to CinemaBlend. You will receive a verification email shortly.
There was a problem. Please refresh the page and try again.