The Walking Dead Coming To Netflix Along With Other AMC Shows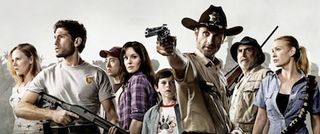 If you've been enjoying AMC's Mad Men and Breaking Bad on Netflix, there's good news. There's more where that came from! The network that brought you these shows, plus some other TV series, including that zombie show you may have heard of, has signed a multi-year deal with the streaming video service.
The announcement we received says The Walking Dead will be available on Netflix today. (I just checked and I don't see it there just yet, but it's still early). The agreement AMC and Netflix have made will make prior seasons of AMC's original series available to Netflix members in the U.S. and Canada. Future seasons of TWD, which is will be available exclusively through Netflix, and AMC's other programming will be made available streaming on Netflix not long before the premiere of the new season(s). This deal also applies to some Sundance Channel programming.
While The Walking Dead and AMC's other TV shows might be the bigger selling point here, Netflix has also licensed non-exclusive rights in the U.S. to some other TV series, among which is IFC's excellent comedy series Portlandia. As that series returns for Season 2 in January, we should probably expect to see Season 1 show up on Netflix at some point before then.
Also among the mentioned series that will be available on Netflix are The Increasingly Poor Decisions of Todd Margaret, WE tv's Braxton Family Values, My Fair Wedding, and Bridezillas. Also Sundance Channel's All on the Line with Joe Zee and Girls Who Like Boys Who Like Boys.
Your Daily Blend of Entertainment News
Thank you for signing up to CinemaBlend. You will receive a verification email shortly.
There was a problem. Please refresh the page and try again.