Country Dance All-Stars Full Soundtrack List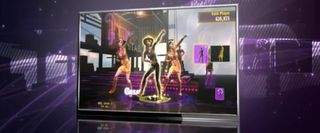 GameMill Entertainment sent out the complete list of songs that will be available in their upcoming Xbox Kinect title, Country Dance All-Stars. In addition to announcing the full soundtrack list for the game, GameMill also let loose a new preview trailer for the upcoming rhythm and dance title.
The trailer doesn't really show off anything you may not have already seen before but if you just want to watch some nice looking motion-captured 3D avatars dance, prance and strut their stuff across the screen then you can do so by checking out the video below.
All right, now that you're all riled up for some good 'ole fashioned line-dancing action, you can check out the complete list of songs that will be on the Country Dance All-Stars soundtrack below. The game is rated 'E' for Everyone and is expected to land on retailer shelves next month, in early March for the Xbox 360 and Kinect. Need to learn more? The Official Website is where you'll want to go.
COUNTRY DANCE ALL STARS SETLIST:
• Alan Jackson – "Good Time"
• Ashton Shepherd – "Look It Up"
• Billy Currington – "People Are Crazy"
• Blake Shelton – "All About Tonight"
• Brad Paisley – "Water"
• Brooks & Dunn – "Boot Scootin' Boogie"
• Carrie Underwood – "Cowboy Casanova"
• Chad Brownlee – "Carried Away"
• Chris Heers – "Dirt Rich"
• Dierks Bentley – "What Was I Thinkin'"
• Easton Corbin – "Roll With It"
• Eric Church – "Hell On The Heart"
• Gwyneth Paltrow – "Shake That Thing"
• Hayley Mclean – "Good Time Bone"
• Jake Owen – "Barefoot Blue Jean Night"
• Johnny Cash – "Ring of Fire"
• Josh Kelley – "Georgia Clay"
• Josh Thompson – "Beer on the Table"
• Josh Turner – "Why Don't We Just Dance"
• Katie Armiger – "Best Song Ever"
• Keith Urban – "Better Life"
• Kellie Pickler – "Tough"
• Lady Antebellum – "Lookin' For A Good Time"
• Laura Bell Bundy – "Giddy On Up"
• Little Big Town – "Little White Church"
• Luke Bryan – "Country Girl (Shake It for Me)"
• Miley Cyrus – "Hoedown Throwdown"
• Miranda Lambert – "White Liar"
• Rascal Flatts – "Life Is A Highway"
• Sugarland – "Stuck Like Glue"
• The Last Ride – "Take You Down"
• Tim McGraw – "Felt Good on My Lips"
• Trace Adkins – "Honky Tonk Badonkadonk"
• Zac Brown Band – "Chicken Fried"
Your Daily Blend of Entertainment News
Staff Writer at CinemaBlend.
Your Daily Blend of Entertainment News
Thank you for signing up to CinemaBlend. You will receive a verification email shortly.
There was a problem. Please refresh the page and try again.