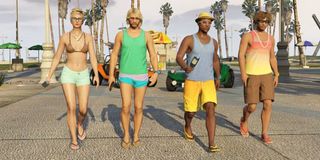 Update: The Beach Bum pack is now available for download on Xbox 360. When you boot up the game, you'll be prompted to download a 64MB title update that unlocks the new content. The PS3 version of the DLC should arrive this afternoon.
Original article:
The first downloadable content for Grand Theft Auto V will go live on November 19th. The Beach Bum DLC provides new diversions for the game's multiplayer and will be free to download.
The new Jobs included in the Beach Bum update range from deathmatches to races to parachute challenges. Rockstar detailed a few of them today:
"Grass Route II" (Race): In this sequel to the original popular Grass Route Race, go off-road in an epic heat starting on the North bank of the Zancudo River through the treacherous wetlands with a triumphant finish on the beach in North Chumash.
"Survival on Del Perro Pier" (Survival): Skip the ferris wheel for a deadlier kind of thrill ride as you take on waves of relentless enemies at this beachfront attraction.
"View of Vespucci" (Parachuting): This leap sends you from 2,980 feet, down towards Vespucci Beach, weaving through palm trees to land on the basketball courts of the rec center. If you've got skills, it's possible to freefall through the first few checkpoints before even opening your chute.
"Paleto Beach" (Team Deathmatch): The locals complain that not a lot happens in this sleepy town, so do them a favor and wake 'em up with a barrage of gunfire exchanged between you and a rival team. This Team Deathmatch takes place right on the romantic shoreline for 4-8 players.
"Sundae Driving" (Bike Race): Sure to be a new fan-favorite motorbike race, menace Vespucci Beach on your two-wheel rocket, taking breakneck corners as you try and best the competition.
Players will have four new vehicles to choose from when the Beach Bum update goes live: the BF Bifta dune buggy, the Canis Kalahari off-road truck, the Bravado Paradise beach camper van, and the Speeder speedboat. All four are available to your characters in multiplayer as well as single-player for no cost.
The Beach Bum provides some appropriate customization options as well. You can dress up your character with board shorts, neon surfer duds and more. You can also give them tribal tattoos or shaggy hair to complete the surfer look.
Rockstar also threw in two new weapons with this update. The SNS Pistol and Broken Bottle don't really fit the beach theme but should be handy nonetheless. Each weapon is free in-game. You'll find it in your character's inventory in Story Mode and in any Ammu-Nation store in GTA Online.
"This is just the first of many new content updates we're working on for Grand Theft Auto Online in the weeks and months ahead," Rockstar said. "Please stay tuned here at the Newswire for word on the forthcoming Content Creator, full on cooperative Heists, and GTA Online's take on Capture the Flag - plus info on some exciting new Story Mode updates as well."
Image 1 of 3
Your Daily Blend of Entertainment News
Staff Writer at CinemaBlend.