Hearthstone's Golden Naxxramas Cards Explained By Blizzard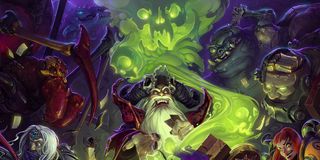 Hearthstone expansion pack Curse of Naxxramas allows players to earn a new set of golden cards. On Wednesday, Blizzard explained how they can be acquired.
Originally the golden versions of Naxxramas cards were earned through Heroic mode, a harder difficulty level. Heroic mode is unlocked for a wing after beating all of the bosses in it. The initial idea is that players would have to beat Heroic versions of bosses to earn the right to craft them with arcane dust.
However, community manager Neriyah said on Hearthstone's forums that there was a "lot of negative feedback" to this plan from internal testers. Heroic Mode bosses are too difficult for some players, preventing them from ever being able to get these cards. Blizzard felt that this was too frustrating and "didn't feel like a good reward for beating a Heroic Mode boss in Naxxramas."
The golden cards are still only available through crafting. However, players won't have to beat bosses on Heroic mode first. Instead, they just have to acquire the non-golden versions of the cards through Normal mode. This gives them the ability to then craft the golden cards once they have enough arcane dust.
Some players were hoping that the gold cards would simply drop from Heroic bosses. That would make acquiring them much quicker - or at least give players a way to earn them that doesn't burn through their supply of dust. However, Neriyah says that this was never an option through Curse of Naxxramas' development.
It doesn't really bug me if Naxxramas' golden cards are just a long arcane dust grind. They're just cosmetic items, after all. These cards give players a long-term goal to shoot for once they've unlocked everything else meaningful.
The original batch of golden cards take a significant time investment as well. Each of the golden hero cards requires you to win 500 games in Ranked Play mode with a specific class. I'd argue that that's a much more frustrating goal to strive for than collecting mountains of arcane dust.
Curse of Naxxramas lets players earn 30 new cards, both neutral and class-based. The neutral cards, some of which are Legendary, will be earned through competing wings and defeating bosses. Class cards can be unlocked by completing challenges.
Blizzard announced the pricing structure for Curse of Naxxramas earlier this week. Players can unlock individual wings by spending gold or real-world cash. Several wings can also be purchased in bulk for a discount. The full list of prices can be found here.
Naxxramas, the first single-player expansion for the game, will launch later this month. Blizzard will roll out the expansion's five wings on a weekly basis. The company hasn't announced release dates yet, though.
This poll is no longer available.
Your Daily Blend of Entertainment News
Staff Writer at CinemaBlend.
Your Daily Blend of Entertainment News
Thank you for signing up to CinemaBlend. You will receive a verification email shortly.
There was a problem. Please refresh the page and try again.