Megan Fox And Machine Gun Kelly Have Been Quiet Online Lately. What's Reportedly Going On Behind The Scenes
What's going on with MGK and Megan Fox?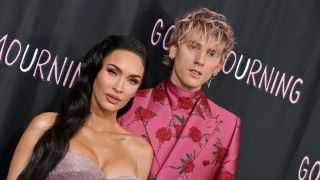 (Image credit: Photo by Axelle/Bauer-Griffin/FilmMagic)
When Machine Gun Kelly and Megan Fox first started going out, it seemed like these two were on the same unique wavelength. After it was announced the two were engaged, they both agreed to have a non-traditional ritual planned for their wedding ceremony and drank each other's blood. They would also post a lot about their coordinated outfits and love for each other on their respective Instagrams. It's like these two were made for each other, right? However, recent rumors about their relationship being on the rocks led to this loving couple being quiet on the internet lately. According to an inside source, there's a reason the Bloody Valentine couple has been keeping quiet as they work on their relationship.
Rumors have been running rampant for a few weeks now about MGK and Megan Fox breaking up. The rumor mill got started last month when the Transformers actress posted a cryptic caption that quoted Beyoncé's lyrics: "You can taste the dishonesty/ it's all over your breath." Those theories about the couple being in a rough patch started getting stronger when fans noticed she stopped following her fiancée on Instagram, deleted all photos of him on her account, and then deactivated her Instagram account altogether. An inside source told ET that this couple reportedly has a lot of relationship repair work to do before moving forward as husband and wife, and that's why they've been so quiet lately.
This source also told ET that the couple allegedly got into "a big argument" that left the Jennifer's Body actress "very upset." Not long after, it was reported that the two were seen leaving a couple's counselor's office together. Despite the conflict MGK and Fox have reportedly been going through, this source made sure to point out that this duo has a deep love for each other, and they are willing to work through any of their issues together.
Cheating rumors escalated further when Megan Fox took down her Instagram account not long after a fan asked her if Sophie Lloyd, Machine Gun Kelly's guitarist, had anything to do with their possible break-up. Lloyd's rep quickly dispelled these rumors, saying they're based on "meritless accusations based on social media." Plus she has a boyfriend of her own, drummer/sound engineer Christopher Painter, who she just celebrated her five-year anniversary with.
Sophie Lloyd may not have anything to do with any cheating rumors regarding MGK, but there was still something off about his relationship with Megan Fox considering she was seen without her engagement ring. However, last month, Fox returned to Instagram to address the cheating rumors, saying that there is "no third-party interference." An insider explained that Fox backtracked her statement, and regrets making the issue public, noting that she was really upset at the moment.
As of right now, Megan Fox and Machine Gun Kelly have reportedly been going to great lengths to repair their relationship by giving counseling a try. While they've been quiet on socials, it seems like behind the scenes they are working hard on their relationship. As we wait to see if the couple stays together or calls off their engagement, check out our 2023 movie releases to see the artists' upcoming projects.
Your Daily Blend of Entertainment News
Just your average South Floridian cinephile who believes the pen is mightier than the sword.