6 Marvel Characters Timothee Chalamet Would Be Perfect To Play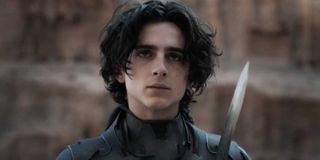 It seems to me that Timothée Chalamet is living the kind of life any aspiring actor would want. The 24-year-old New Yorker is already a top A-lister who has worked with some of the most respected names in Hollywood, has an Oscar nomination under his belt for Call Me By Your Name, and as young he is, his options for films roles are practically unlimited at this time. Needless to say, I think it would not be far fetched to assume that Marvel movies may be in his future.
Of course, it is easy to say that about any celebrity of Timothée Chalamet's magnitude, but I am not the only one who has considered his chances at a spot in the MCU or the characters he would have a good shot at. Not only has he been subject to rumors of playing Adam Warlock in a Guardians of the Galaxy sequel or imagined as a younger version of Loki in viral fan art, but he was actually among the many young actors considered to play Spider-Man before Tom Holland landed the part in Captain America: Civil War.
Any of those costumed heroes (and villain) would have been a sensational choice for the actor to make his comic movie debut with, but we have a few other ideas that sound even more fun and maybe even more fitting for someone who prefers to keep things low-key like Timothée Chalamet. Such a mindset is what led us to choose the following six characters from the pages of Marvel Comics for him to consider bringing to life on the big screen, starting with one who has technically made his debut already.
Artie Maddicks (X-Men)
Remember in X2: X-Men United when a little girl sticks her tongue out at a boy who responds with his blue, forked tongue? That child, played here and in an uncredited reprisal in X-Men: The Last Stand by iZombie star Bryce Hodgson, was actually the live action debut of Arthur "Artie" Maddicks - a mutant who, in the comics, is just as quiet after his telepathic abilities left him mute, but with a more overtly inhuman appearance, as if he is from another planet. He is also famous for losing his powers to Scarlet Witch in the House of M conclusion (rumored to be a major MCU plot point), which could mean an even greater chance to see Timothée Chalamet (who knows a few things about living on a distant planet from Dune) in a proper and, most likely older, portrayal of the character.
Wiccan
Speaking of House of M, signs that the upcoming WandaVision series is either loosely based on the iconic Marvel storyline or the first chapter in an overarching MCU adaptation of it also give me reason to suspect an appearance of Scarlet Witch's son… technically speaking. You see, Wanda Maximoff uses her reality-altering powers to create twin boys (Billy and Tommy) for her and Vision who are later absorbed out of existence by Mephisto before being reincarnated later, with Billy developing powers similar to his "mother's" and joining the Young Avengers as Wiccan.
The wizarding wonder is also an important LGBTQ+ superhero icon, and is married to his Young Avengers teammate Hulkling, which is just one of the many character traits that would make Call Me By Your Name star Timothée Chalamet an ideal choice to play him.
Cullen Bloodstone
A Marvel character whom Timothée Chalamet could take inspiration from his roles in both Call Me By Your Name and Dune to play is Cullen Bloodstone. The youngest member in a family of monster hunters (which Chalamet's Dune character Paul Atreides could also technically qualify as given his experience with Sandworms on Arrakis) also struggles with a few intriguing secrets, including being the host of a monstrous parasite he hides with an enchanted ring and his crush on his male friend Aiden, otherwise known as Anachronism.
Chalamet certainly has the range to bring Cullen's unique, multilayered story arc (from aspiring hero to villain) to the MCU, which has been taking strides to expand beyond straight, traditional superhero types anyway.
Human Torch
Of course, there is nothing wrong with playing an old fashioned costumed crimefighter and I imagine Timothée Chalamet would not mind expanding his horizons into that world either at some point. In fact, I think that Johnny Storm - the young, rebellious, pyrokinetic member of the Fantastic Four - would be would be great fit for the actor. He has certainly proven throughout his career thus far that he has the charm and incendiary personality to match the Human Torch for whenever Marvel's first family is finally inducted into the MCU, yet there is another character related to that group who might be an even more intriguing role to seek his teeth into.
Franklin Richards
In 1968, Reed and Susan Richards (or Mr. Fantastic and Invisible Woman) had a son they named Franklin, whom you might assume would have been born with a combination of super-elasticity, invisibility, and force field projection, which is certainly capable of. In fact, he is capable of anything you could think of, being an omega-level mutant with a nearly unparalleled arsenal of reality-altering abilities that make him one of the most powerful (and fearsome) individuals in the entire Marvel universe even at such a young age.
I actually Timothée Chalamet should take the part only after the MCU introduces Galactus to see the god-like planet eater and Franklin, who are actually really good friends, interact on screen, which would be absolutely insane and wonderful to witness.
The Beyonder
Speaking of Galactus, many fans believe he should be the next big villain to succeed Thanos in the MCU, but I think this Marvel baddie, whom Timothée Chalamet actually looks a lot like, would be an even more fascinating inclusion. Like Galactus, the Beyonder is a mischievous, omnipotent being, but unlike Galactus, he is the living manifestation of an entire reality in the Marvel multiverse who passes the time studying human behavior by challenging them to barbaric fights to the death. A role that juicy is one that would require someone as dynamic and talented as Chalamet, who would crazy not to be interested in playing a villain as complex and literally larger than life as this.
What do you think? Is the Marvel Cinematic Universe the next big step for the Dune star or do you see him more as a young Robin (or even Nightwing) for the DC Extended Universe? Let us know in the comments and be sure to check back for additional information and updates on Timothée Chalamet, as well as even more hypothetical comic book movie casting sessions, here on CinemaBlend.
Your Daily Blend of Entertainment News
Jason has been writing since he was able to pick up a washable marker, with which he wrote his debut illustrated children's story, later transitioning to a short-lived comic book series and (very) amateur filmmaking before finally settling on pursuing a career in writing about movies in lieu of making them. Look for his name in just about any article related to Batman.