What The Saving Private Ryan Cast Is Doing Now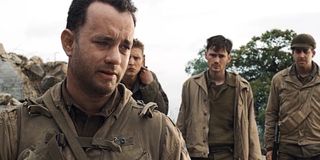 Saving Private Ryan is considered one of the greatest war movies of all time. It's action-packed but has an emotional element that gives the film its heart and soul. Saving Private Ryan also has a wonderful cast lead by Tom Hanks, and the cast includes big names like Matt Damon and Vin Diesel.
Tom Hanks is one of the biggest names in Hollywood, and he seems to become more respected and loved every year. Saving Private Ryan is just one in a long line of Tom Hanks films, but it's one of his most well-known roles. The film premiered over 20 years ago, and since then, many of the cast members have had very successful acting careers. Let's revisit your favorite Saving Private Ryan characters and the actors who played them to see what they've done since the movie, and what projects they have coming up.
Tom Hanks - Captain Miller
Tom Hanks plays Captain Miller, the man in charge of leading his men on a mission to find Private Ryan (Matt Damon). Miller starts Saving Private Ryan off a little detached from his situation, but as the movie progresses, he opens himself up more to his men.
After Saving Private Ryan, Tom Hanks appeared in three more Toy Story films as the voice of Woody. The same year as Saving Private Ryan's release, he appeared alongside Meg Ryan in the romantic comedy classic You've Got Mail. The Green Mile, Cast Away, Catch Me If You Can, The Polar Express, The Da Vinci Code, and Captain Philips are just a few of the major films that Hanks has appeared in from 1998 to 2020.
This year Tom Hanks appeared in another war movie called Greyhound. On Christmas Day, Hanks fans can catch him in News of the World. He also has two upcoming projects, BIOS and Elvis, which are both expected to be released in 2021.
Tom Sizemore - Sergeant Horvath
Sergeant Horvath (Tom Sizemore) was the second in command and a very dedicated and loyal soldier. He believed in Captain Miller even when others in the unit questioned his authority. Sizemore has a lot of film credits. His most notable movie credits include Pearl Harbor, Black Hawk Down, Dreamcatcher, Mark Felt: The Man Who Brought Down The White House, Get Carter, and Big Trouble.
Sizemore's TV credits include appearing in an episode of CSI: Miami, Southland, Entourage, It's Always Sunny in Philadelphia, and Lucifer. He has had series regular or recurring roles in the series Shooter, Twin Peaks, Law & Order: Special Victims Unit, Hawaii Five-O, and Crash. Sizemore fans can see him in a film called Adam that was recently released and stars Aaron Paul, Jeff Daniels, and Tom Berenger. He also has a movie coming out called The Getter.
Edward Burns - Private Reiben
Edward Burns plays Private Reiben, a man who often questions authority. He doesn't see why he has to risk his life to save Private Ryan. In 2001, Edward Burns wrote, directed, and starred in Sidewalks of New York. The film follows the lives and interlocking love stories of New Yorkers. Sidewalks of New York's cast includes Rosario Dawson, Dennis Farina, and Heather Graham. In the early 2000s, Burns appeared in Life or Something Like It, Ash Wednesday, The Holiday, and 27 Dresses.
Burns has had recurring and guest roles on Will & Grace, and Entourage. Burns also played Bugsy Siegel in the TNT series Mob City. Burns's recent work includes Summertime. He wrote and directed this film. It is set in 1983 and follows a group of young people as they worked summer jobs in Long Island. He also directed and wrote another film called Beneath the Blue Suburban Skies. It's about a suburban housewife and her mother's desire to escape the monotony of their lives. He also appeared in an episode of Apple TV's Amazing Stories.
Jeremy Davies - Corporal Upham
Corporal Upham is new to the team. He's only brought on it because he knows German and French. He's never seen combat before joining Miller's team. His role is kind of a mix between an observer and the moral compass of Saving Private Ryan. Jeremy Davies has been working consistently since Saving Private Ryan, but doesn't have many major movie credits.
He appeared in the films Secretary, The Laramie Project, Solaris, Dogville, The House That Jack Built, and It's Kind of A Funny Story. However, his TV credits are quite extensive and impressive. He played Dr. Daniel Faraday in ABC's Lost.He played Dickie Bennett in Justified, and Malcolm Dreyfuss in Sleepy Hollow. Jeremy Davies has also appeared in the series Twin Peaks, American Gods, The Flash, Arrow, Supergirl, FBI, Lucifer, Constantine, Hannibal, and The Rookie.
Barry Pepper - Private Jackson
Private Jackson (Barry Pepper) is the expert sniper on Miller's team. He often talks to god before a kill. Pepper reunited with Tom Hanks in The Green Mile. He also appeared in the films Enemy of the State, Battlefield Earth, 25th Hour, Seven Pounds, and True Grit. Barry Pepper also played Bobby Kennedy in the 2011 mini-series The Kennedys and the 2017 follow-up The Kennedys: After Camelot. He plays Vince in the Maze Runner films.
Pepper plays Dave in Crawl. He also appeared in the films Snitch, Kill the Messenger, The Painted Bird, and Running with the Devil. Pepper has two upcoming films. The first is called Awake and stars Gina Rodriguez and Jennifer Jason Leigh. The second is called Solitary. It's written, directed, and produced by Nate Parker. The cast includes David Oyelowo.
Adam Goldberg - Private Mellish
Private Mellish is part of Miller's team and has a strong dislike of Nazis, because who doesn't, and also because of his Jewish heritage. Among his notable film roles in the '90s was the role of Mike in Dazed and Confused. Many Friends fans may recognize Adam Goldberg as Eddie, Chandler's (Matthew Perry) crazy temporary roommate. He appeared in Friends a little before his Saving Private Ryan role. Post-Saving Private Ryan, he appeared in the TV series The Outer Limits, Will & Grace, Law and Order: Criminal Intent, and Joey (but not as Eddie apparently).
Goldberg has also appeared on the series Lore, Taken, God Friended Me, White Collar, Entourage, My Name Is Earl, and Medium. He will appear in the upcoming CBS series The Equalizer. It's a remake of the 1980s series of the same name. Queen Latifah stars in this one. Adam Goldberg has also appeared in the films EDtv, Waking Life, All Over the Guy, A Beautiful Mind, How to Lose A Guy in 10 Days, Zodiac, and Running with the Devil. He will appear alongside Russell Crowe, Sam Worthington, David Hyde Pierce, and Jimmi Simpson in the upcoming horror thriller The Georgetown Project.
Giovanni Ribisi - T-4 Medic Wade
Giovanni Ribisi plays T-4 Medic Wade. He's the medic with Miller's team and one of the moral compasses of the film. Ribisi appeared in many major films, including The Virgin Suicides, The Gift, Boiler Room, Gone in 60 Seconds, Lost in Translation, and Avatar. He also appeared in Selma, Ted and Ted 2. Public Enemies, Gangster Squad, and A Million Little Pieces. Ribisi will appear in future Avatar movies.
Ribisi appeared in the series My Name is Earl, Entourage, Robot Chicken, and Friends as Phoebe's brother Frank Buffay Jr. Ribisi had the lead in Sneaky Pete, which ended too soon in 2019. He also had a lead role in the series Dads. Ribisi directed and appeared in a few music videos. He appeared in Keane's "Crystal Ball" and Jon Spencer Blues Explosion's "Talk About the Blues." He directed The Kills' "Siberian Nights" and Jonsi's "Exhale" videos.
Vin Diesel - Private Caparzo
Vin Diesel plays Private Caparzo. He's the only one who thinks he has figured out Captain Miller's hometown and occupation. He also has a soft spot for children. Saving Private Ryan was one of Vin Diesel's first films. He then went on to voice The Iron Giant in The Iron Giant. Soon after that he appeared in Boiler Room and xXx. In 2017, xXx would get a sequel. Most of Vin Diesel's career involves him starring in franchises.
Of course he is the lead of the very popular Fast and Furious movies. The main series currently has eight films that have been released, a 9th due out in 2021 called F9. There could be two final Fast and Furious movies planned for the franchise, bringing the series' total to eleven, not counting spin-off movies. Diesel has been part of the Marvel world since 2014 as the voice of Groot.
He'll revise that role for Guardians of the Galaxy 3. The film's release date is still unknown. Diesel also has another major franchise with the Chronicle of Riddick movies, with three films in total. In 2019, Vin Diesel also joined the cast of Avatar and will appear in the second and third films. Fans of Diesel can catch him in his recently released Bloodshot.
Matt Damon - Private Ryan
Matt Damon plays Private Ryan, the man that Miller and his crew risk their lives to save. Following Saving Private Ryan, Damon appeared in a series of films that got him critical praise.: Rounders, Dogma, The Talented Mr. Ripley, The Legend of Bagger Vance, and All the Pretty Horses. In 2001, he appeared in Ocean's Eleven, and then he returned for the sequels Ocean's Twelve and Ocean's Thirteen. In 2004, he had one of the best cameos of that year by appearing in Eurotrip and rocking "Scotty Doesn't Know."
2002 was also the year that Damon started his Jason Bourne ride appearing in The Bourne Identity and then three other Bourne films. Some of Matt Damon's other films include Confessions of a Dangerous Mind, The Departed, True Grit, We Bought a Zoo, Interstellar, and The Martian. He had another great cameo in Thor: Ragnarok.
He also gained more critical acclaim for his role in Ford v. Ferrari. Matt Damon has four major projects coming soon. He'll be producing a Netflix anthology series called The Green Beret's Guide to Surviving the Apocalypse. His upcoming films are The Last Duel, Stillwater, and No Sudden Move.
Many of the Saving Private Ryan cast have worked together on other projects, so either they all have the same agent, or many of them enjoyed working together enough that they do it again sometimes. Saving Private Ryan is available to rent or purchase on your favorite VOD platform. Rent it here (opens in new tab).
Spent most of my life in various parts of Illinois, including attending college in Evanston. I have been a life long lover of pop culture, especially television, turned that passion into writing about all things entertainment related. When I'm not writing about pop culture, I can be found channeling Gordon Ramsay by kicking people out the kitchen.
Your Daily Blend of Entertainment News
Thank you for signing up to CinemaBlend. You will receive a verification email shortly.
There was a problem. Please refresh the page and try again.