Polka-Dot Man's David Dastmalchian: What The Suicide Squad Star Is Doing Next And How To Watch His Past Movies And Shows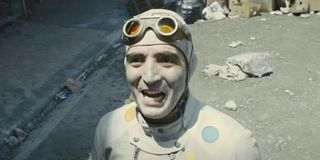 CinemaBlend participates in affiliate programs with various companies. We may earn a commission when you click on or make purchases via links.
I do not know if there has ever been a more prolific actor in the history of superhero movies than David Dastmalchian. With joining The Suicide Squad cast as the obscure villain Polka-Dot Man, the Dune star has officially appeared in four DC movies and two DC TV shows as a different character each time (not counting the two-part Batman: The Long Halloween movie), in addition to his role in the Marvel movies, as well. While we are not sure what more comic book adaptations could appear in his future, there are plenty of other upcoming David Dastmalchian movies to look forward to, such as his long, long awaited reunion with director Denis Villeneuve.
Upcoming David Dastmalchian Movies
Dune (2021)
David Dastmalchian has had the honor of working with some of the most celebrated filmmakers in Hollywood, including David Lynch for Showtime's Twin Peaks revival, Kevin Smith for Jay and Silent Bob Reboot, James Gunn for The Suicide Squad (of course), and Denis Villeneuve. His third collaboration with the Academy Award nominated visionary is the sci-fi epic Dune, in which the actor plays Piter de Vries - a sadistic but calculative member of the House Harkonnen, which rivals the heroic Paul Atreides' (Timothée Chalamet) family. The adaptation of author Frank Herbert's classic novel (and one of the most highly anticipated 2021 movies) is currently set to be released on October 22, both in theaters and on HBO Max.
Last Voyage Of The Demeter (2023)
If you thought Dune was taking a while to come out, this other literary adaptation on David Dastmalchian's upcoming resume has been in development for almost two decades and is based on just one excerpt of a legendary novel. Chapter 7 of Bram Stoker's Dracula is told from the perspective of the captain of a Russian cargo ship, which was discovered at the English port town of Whitby without a trace of the entire crew on board. From Scary Stories to Tell in the Dark director André Øvredal and Fear Street: Part Two - 1978 co-writer Zak Olkewicz, Last Voyage of the Demeter is expected to hit theaters on January 27, 2023, and sounds like a must for fans of victorian horror movies to check out.
The Killing Kind (TBA)
A thriller with a more grounded, modern day setting that is still currently in development is The Killing Kind, which John-Michael Powell - best known as an editor for Netflix's Dear White People TV show - is attached to direct. According to The Hollywood Reporter, David Dastmalchian signed on for in the drama alongside former Breaking Bad cast member Aaron Paul, who plays a man seeking revenge for the murder of his fiancée. That was last we heard anything about the film, meaning a release date or production start date is anyone's guess at the moment.
Hide Your Eyes (TBA)
Also in 2017, as reported by Deadline, David Dastmalchian and producers Steven P. Wegner and Mali Elfman tapped filmmaker Laura Moss to direct a movie that the actor actually wrote himself, supposedly inspired by his own past struggles with addiction. The horror film is called Hide Your Eyes and follows a young Midwestern woman who finds herself haunted by a malicious unseen entity after experimenting with drugs. At the moment, there is no word on if Dastmalchian will also appear in a role, who else has been cast, or when the film (which was supposed to start shooting in the summer of 2017) will be released.
Girls Will Be Girls 2012 (TBA)
The title of this comedy, Girls Will Be Girls 2012, suggests that it was meant to come out nearly a decade ago, but it looks like they may need to change it if it still has a chance. A Kickstarter campaign was launched for this sequel to the 2003 cult favorite Girls Will Be Girls - starring three male actors (Jack Plotnick, Clint Leupp, and Jeffrey Roberson) as actresses struggling with life, love, and their careers - in 2010 and was last updated in 2015. Whether or not David Dastmalchian's role in the movie as Toby Speed will ever see the light of day remains to be determined.
Movies And Shows To Watch If You Like David Dastmalchian
The Dark Knight (2008)
David Dastmalchian's career as a film actor began with a wordless, but still memorable, appearance in one of the most critically and commercially successful films of all time. Christopher Nolan changed his life when he cast him in The Dark Knight as Thomas Schiff - a paranoid schizophrenic and former Arkham Asylum patient whom an angry Harvey Dent (Aaron Dent) interrogates over the disappearance of Rachel Dawes (Maggie Gyllenhaal) until Batman (Christian Bale) intervenes. Obviously, this would not be his last comic book adaptation, nor would it be the last of his Batman movies either.
Stream The Dark Knight on HBO Max.
Rent/buy The Dark Knight digitally on Amazon.
Batman: The Long Halloween (2021)
David Dastmalchian actually exchanges words with the Caped Crusader in both halves of the animated adaptation of Jeph Loeb's acclaimed graphic novel Batman: The Long Halloween, which came out one month apart. In fact, he lends his voices to both Penguin and Calendar Man - the latter of which, ironically shows up in The Suicide Squad (Sean Gunn) insulting Dastmalchian's Polka-Dot Man. Of course, this would not be the first time the actor played multiple DC villains in the same year.
Rent/buy Batman: The Long Halloween, Part 1 digitally on Amazon.
Rent/buy Batman: The Long Halloween, Part 2 digitally on Amazon.
Gotham (2017)
The second time that David Dastmalchian (technically) played a follower of the "Clown Prince of Crime" was in two episodes of Gotham's third season. His character, an employee of Arkham Asylum's experimental Indian Hill facility named Dwight Pollard, was discovered to be keeping Jerome Valeska (Cameron Monaghan) from dying by freezing his body before resurrecting him to wreak more havoc on the city. His maniacal performance really is a testament to how much better he can play a villain when you give him dialogue.
Stream Gotham Season 3, Episode 12 on Netflix.
Stream Gotham Season 3, Episode 13 on Netflix.
Rent/buy Gotham Season 3 digitally on Amazon.
The Flash (2017, 2021)
In the same year he guest starred on Gotham as Dwight Pollard, David Dastmalchian made his Arrowverse debut as Abra Kadabra in a The Flash Season 3 episode of the same name. The actor goes platinum blonde as the villain, who comes from the 64th Century with nanotechnology built into his body that allows him to appear as if he has magical powers. He would reprise the role for The Flash Season 7 in 2021, which has clearly been a huge year for his career in comic book adaptations, but even outside of the the DC Multiverse.
Stream The Flash Season 3, Episode 18 on Netflix.
Stream The Flash Season 7, Episode 4 on Netflix.
Rent/buy The Flash Season 3 digitally on Amazon.
Rent/buy The Flash Season 7 digitally on Amazon.
The Ant-Man Movies (2015, 2018)
David Dastmalchian put on a Russian accent to star in 2015's Ant-Man as Kurt, a hacker who helps Scott Lang (Paul Rudd) steal a self-shrinking suite that would become his superhero uniform. The character returned three years later in 2018's Ant-Man and the Wasp as a reformed security consultant for the company he starts with Luis (Michael Peña) and Dave (Clifford "T.I." Harris). It appears that Kurt will not be a part of Ant-Man and the Wasp: Quantumania, but Dastmalchian is reprising him on What If…? for Disney+.
Stream Ant-Man and the Wasp on Disney+.
Rent/buy Ant-Man digitally on Amazon.
Rent/buy Ant-Man and the Wasp digitally on Amazon.
The Belko Experiment (2016)
Before he was cast in The Suicide Squad, David Dastmalchian's first time working with James Gunn was on this twisted horror flick that appeals to the psychological thriller fan, the gorehound, and the office drone in all of us. While helmed by Wolf Creek director Greg McLean, Gunn wrote The Belko Experiment, in which eighty corporate employees become locked inside their office building where they are forced into a deadly challenge to become the last person standing by any means necessary. Dastmalchian and his The Suicide Squad co-star Michael Rooker have a lot of screen time together as a pair of maintenance workers roped into the carnage.
Stream The Belko Experiment on Pluto TV.
Rent/buy The Belko Experiment digitally on Amazon.
Prisoners (2013)
Before he was cast in Dune, David Dastmalchian's first time working with Denis Villeneuve was on this twisted thriller that appeals to the desperate parental intuition in all of us. In the French-Canadian filmmaker's first English-language feature, Prisoners, Hugh Jackman plays a man who goes to extremes in hopes to find his missing daughter. In another example of his reputation for small appearances with big outcomes, Dastmalchian received rave reviews for his role as a suspected child killer.
Rent/buy Prisoners digitally on Amazon.
Blade Runner 2049 (2017)
David Dastmalchian would reunite with Denis Villeneuve for the first time in this stunning, dystopian sci-fi epic that makes us question what humanity lurks within the inhuman. In Blade Runner 2049, the acclaimed sequel to Ridley Scott's 1982 classic, Ryan Gosling plays a cop tasked with hunting down and "retiring" artificially created beings known as Replicants who makes a discovery that shakes his world to its core. Without giving too much away, David Dastmalchian makes a couple of appearances as an LAPD lab technician who helps Gosling's character make said discovery.
Stream Blade Runner 2049 on HBO Max.
Rent/buy Blade Runner 2049 digitally on Amazon.
From small screen superhero spectacles to big screen epics of huge tonal variety, David Dastmalchian's career is truly to die for.
Jason has been writing since he was able to pick up a washable marker, with which he wrote his debut illustrated children's story, later transitioning to a short-lived comic book series and (very) amateur filmmaking before finally settling on pursuing a career in writing about movies in lieu of making them. Look for his name in just about any article related to Batman.
Your Daily Blend of Entertainment News
Thank you for signing up to CinemaBlend. You will receive a verification email shortly.
There was a problem. Please refresh the page and try again.