13 Big Celebrity Instagram Moments of 2016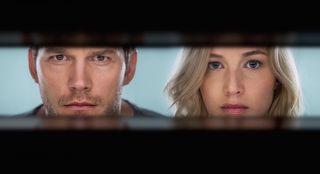 From Kardashian nudes to Chris Pratt shenanigans, Instagram gave us all a lot to look at in 2016. Now that the year is officially over, let's look back at some of the most captivating photos that had us all logging into Instagram multiple times a day.
Kim Kardashian and Emily Ratajkowski stand up to haters
Back at the start of 2016, Kim Kardashian posted the social media moment that everybody was talking about. Her controversial topless photo drew considerable public attention, and outcry from celebrities like Bette Midler and Pink. Rather than back down, Kardashian defended her choice to post topless selfies by teaming up with fellow nudity-friendly social media star Emily Ratajkowski for a f--- you post to all her naysayers.
Ryan Reynolds' face at Taylor Swift's party
Ryan Reynolds had a lot to smile about in 2016, from his blockbuster success in Deadpool to the birth of his second daughter with Blake Lively, but he certainly wasn't smiling at Taylor Swift's fourth of July party this summer. Seated right beside Swift getting snuggly with her boyfriend at the time Tom Hiddleston, Reynolds looked forward with a blank stare instead of trying to get into the romantic theme of the shot with Lively. Reynolds later clarified that he didn't realize the photo was being taken and that's just how his face normally looks, but it still provided Instagram viewers with a bunch of laughs and shadiness theories.
Selena Gomez grabs a Coke, and 6 million likes
For all the social media drama that 2016 brought us, the year's most popular image was actually a bit of sponsored content! A simple photo of Selena Gomez drinking a bottle of Coca Cola was the year's most popular post, garnering over 6 million likes. According to Newsday, among the most liked Instagram photos of the year, Gomez also took the number 2 through 5 slots!
Chrissy Teigen gets her baby in the Halloween spirit
Chrissy Teigen has always been a social media pro, but it was her newborn daughter Luna that really caught our attention this year. Teigen dressed her daughter in a whole host of Halloween costumes for her Instagram followers, each more adorable than the last! If you didn't die from cuteness after looking at that hot dog outfit, check out little Luna as a banana and Minnie Mouse as well!
Ryan Lochte announces he's going to be a dad
2016 definitely wasn't a great year for Ryan Lochte's public image, but a lot of blessings in his personal life at the very end of the year kept him saying "Jeah" into 2017. A few weeks after announcing his engagement to model Kayla Rae Reid, the couple announced that Reid was expecting in a beautiful underwater photoshoot.
Chris Pratt trolls Jennifer Lawrence and all of us
Leave it to Chris Pratt to give us some of the best laughs on his Instagram account. While on his publicity tour with Jennifer Lawrence for their movie Passengers, Pratt played an ongoing prank on Lawrence where he cropped her out of all of his photos. After weeks of the gag, Pratt finally showed Lawrence's face in a photo along with an apology for messing with her, although of course he did it in the most hilarious way possible.
The Obamas celebrate their anniversary
Although Barack and Michelle Obama are preparing to leave the White House in just a few days, they squeezed in one last joyful, romantic moment in their home for the last eight years and captured it with an adorable photo to celebrate 24 years together.
Skylar Astin and Anna Camp get married
And love wasn't just in the air for the Obamas --- Pitch Perfect costars Skylar Astin and Anna Camp looked aca-mazing on at their wedding earlier this year.
The Pope joins Instagram
One of the biggest new members of Instagram during 2016 was the Pope himself. Vatican City finally logged on this year when Pope Francis set up an IG account, making his first post a photo of himself praying.
Emma Watson puts her mitts up
Her character of Hermione fought evil with a wand, but Emma Watson took a more hands-on approach towards the end of 2016 when she laced up a pair of boxing gloves to take a self defense class for women.
Chris Hemsworth flies into a belly flop
Thor wouldn't fear a little bit of pain, and neither does his actor. Chris Hemsworth captured a majestic moment of flight right before what was sure to be a pretty painful belly flop at a pool earlier this year.
Kylie Jenner gets "Dirrty"
Kylie Jenner gave early-'00s kids a spot-on throwback for Halloween this year. The youngest member of the Kardashian-Jenner empire dressed up not only as Christina Aguilera, but specifically Christina Aguilera's dreadlocked, chaps-wearing look from her 2002 "Dirrty" music video.
JLo shows off her curves
Jennifer Lopez may have ended her five-year relationship with backup dancer Casper Smart this year, but one look at this recent Instagram is more than enough proof that she can get any man she wants, if she feels like it. No wonder Drake is cuddling up next to her now!
Your Daily Blend of Entertainment News
Thank you for signing up to CinemaBlend. You will receive a verification email shortly.
There was a problem. Please refresh the page and try again.