Paris Jackson Shared A Photo With Brothers Blanket And Prince On Christmas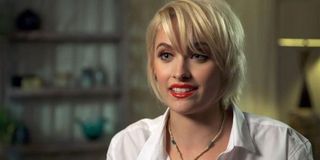 Paris Jackson wished her social media followers a "happy Christmas" this year. Her brothers, Blanket Jackson and Prince Jackson, joined her and a friend for the photo, in which the group coincidentally did not look "happy" at all. Although Paris Jackson and company did not smile for the festivities, it was great to see them together. The 19-year-old daughter of late pop music legend Michael Jackson looked lovely, and it was great to see her with loved ones, especially 15-year-old Blanket Jackson, who does not make many public appearances. Have a look:
It was lovely to see Paris Jackson and her brothers spending time together for the holidays. In fact, USA Today (opens in new tab) says the last time Blanket Jackson made a public outing was sometime around 2013, and he still is rocking the long hairstyle he had then. Evidently, Blanket Jackson legally switched his name to Bigi in 2015, and now he lives with his grandma, Katherine Jackson, in California. Blanket, whose dad was MJ and whose mom was an unidentified surrogate, is the half-sibling of Prince Jackson and Paris Jackson, who share the same mom, Debbie Rowe. (Also, the other guy in the photo is Paris Jackson's rapper friend, Omer Bhatti, whom the heiress has indicated is like her brother.)
After sharing the group picture with her nearly 3 million Instagram followers, Paris Jackson then posted a photo of herself holding a white dove. Take a look:
Recently, Paris Jackson has stepped into the limelight as Hollywood's latest It Girl, so say various entertainment news outlets. Jackson signed a lucrative contract with Calvin Klein and became the newest face of the brand. She played a small role on a part on Lee Daniels' series Star and Jackson even landed a part in a film with Charlize Theron, David Oyelowo, and Amanda Seyfried. While setting up a career in Tinseltown, Jackson worked to change the world through social media.
Before talking about Paris Jackson's positive social media presence, it is worth noting that not all of the news from the Jackson family camp was warm and fuzzy this year. For example, there were stories about Janet Jackson getting a divorce from her billionaire husband, Wissam Al Mana, not long after she had her first child after her fiftieth birthday. Similarly, there were negative stories about Katherine Jackson squabbling in a complicated situation with a nephew whom she filed a restraining order against in the spring.
Paris Jackson, however, kept the news mostly upbeat. For example, she posted about getting matching yin and yang tattoos with Prince Jackson. She posted a bunch of topless photos ostensibly to assert her body positive beliefs, and share her ideas about feeling comfortable in her skin. Furthermore, Paris used her social media presence to spread joy and love. In fact, her Instagram is a pretty hippie-dippie place. The debutante uses it to send happy vibes to the world with memes of quotes by spiritual leaders, pictures of her overlaid on classic photos of Paul McCartney and John Lennon back in the late 1960s, poetry, and a mix of moments in her Bohemian life. So, this amusing Christmas photo with loved ones fits right in with all of Paris Jackson's other happy posts, even if she and her group were only smiling on the inside.
Your Daily Blend of Entertainment News
Thank you for signing up to CinemaBlend. You will receive a verification email shortly.
There was a problem. Please refresh the page and try again.