People Can't Get Enough After Kanye West Posts Picture Of Eating Chick-Fil-A With Steve Harvey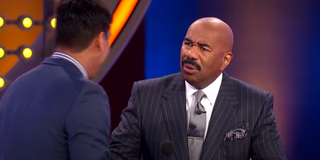 Kanye West has been on a very public emotional roller coaster the past several weeks, with many fans have truly hoping that he'd be able to get some help soon. Now, after talk of trying to incorporate his love for Indiana Jones into his home with a Raiders of the Lost Ark-style boulder door, we see that the embattled hip hop star / mogul has, at least, taken some time out to dine with a friend. And, by "dine with a friend" I mean hit up Chick-fil-A with Family Feud host Steve Harvey. I'm not mad at it, but believe me when I saw that many fans do not share my opinion.
To be quite honest, I didn't even realize that Kanye West and Steve Harvey were buddies, especially not in the "Hey, man, let's go grab a chicken sandwich and some waffle fries" kind of way that would lead me to assume that a meeting such as this would both occur, and need to be captured for posterity. But, who among us really knows the life of Kanye West, right? At any rate, the picture he posted to Twitter seems innocuous enough, but fans have found plenty to talk about after peeping the photo. So, let's take a look and dive into some of what's being said after. Here we go!
I mean, come on. That's a pleasant enough photo, right? That's a big, bright smile from Steve Harvey; even if he is, as one reply noted, dressed like he's about to go on safari. But, why don't we start with the caption, because some (OK...a lot of) people are taking exception with it:
I know! I was really stunned by the number of people who took time to reply to Kanye West's tweet who were simply not in the mood for creative use of incorrect English. He probably fired off this tweet pretty quickly (he likely wanted to dig into his food, you guys) and thought that this caption, as opposed to "Steve Harvey and I were hungry," helped to make the post fun, snappy and completely free of the drama and controversy that many of his recent posts have elicited. Alas, it appears that Mr. West will need to try again.
If you can imagine it, there were people who were not impressed at all that West and Harvey were hanging out, to the point of what seems to be at least mild disgust...
Now, I don't know if that response is because the tweeter dislikes Steve Harvey, or doesn't like that Harvey and West are friends, but there are also some fans who are seriously disappointed at their choice of dining establishments:
Well, sure. Most fast food is pretty basic, but is there really anything wrong with wanting a quick, filling bite? Maybe they were out running around and didn't feel like trying to deal with some fancy restaurant, alright? Though, I will admit, when I sit down for my first dining out experience in months, it will be at a joint that's at least a bit classier than Chick-fil-A. And, speaking of dining out:
Welllllll...shit. This person has a complete and total point. We can't see what West looks like right now, but I'm willing to bet that if Harvey did have a mask (and I really hope he did), he'd already taken it off to eat when this picture was taken, since it does look like he's reaching for some additional foodstuffs behind that bag. It's possible his mask is in his pocket. Oh, damn, speaking of Steve Harvey's pockets...
What? Oh, hello, plastic baggie! I didn't see you there at first. If you don't mind me asking, are you holding Mr. Harvey's mask? What do you mean, "maybe"?
Oh, dear! I wasn't expecting this particular turn of events. Is that what's going on here? Weed is legal in California, so maybe that's what this impromptu Chick-fil-A trip was all about this whole time...the munchies.
Alright, I hate to do this to you (Not really, but it sounds nice, right?), but if you're still staring at that baggie in Harvey's pocket, why don't you slowly scan your eyes to the left, and you will spy something else that the Twitter replies are discussing. Ready?
Man, alive! I know it's been a long quarantine, y'all, but can't a man go out to visit a friend and eat in his favorite comfy convertible cargo pants without folks staring down his junk?! No? OK. Sure. The question was worth asking, at least...
Last, but certainly not least for the fans who mentioned it, some would rather see progress in a very different direction for West at this point in time...
Yeah. We were told that we'd be getting West's tenth studio album, Donda: With Child, on July 24, but that didn't happen. With everything that's been going on for him in the past few weeks, I can see him needing to slow that roll out and take some time to just hang, though, can't you? I'm sure we'll get the new music before too much longer, anyway. After all, an artist like Kanye West can't live on Chick-fil-A alone.
For your non-food entertainment options in movies and TV, be sure to stick with CinemaBlend for the latest!
Your Daily Blend of Entertainment News
Yennefer's apprentice, Gilmore Girl; will Vulcan nerve pinch pretty much anyone if prompted with cheese...Yes, even Jamie Fraser.