Why Dancing With The Stars Fans Think Artem Chigvintsev Is Returning For New Season With Tyra Banks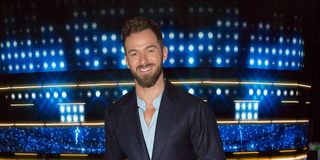 Dancing with the Stars will be returning for Season 29 in September and a few morsels of information have been trickling out about the show lately. To start, long-time dance troupe professional Britt Stewart will be paired up with a celebrity for the first time since she joined the show in 2016, marking the first time a Black woman pro dancer will be featured in competition. Meanwhile, another pro dancer is being revealed next week, and Dancing with the Stars fans think it's Artem Chigvintsev who's returning, and for good reason.
Pro dancer Artem Chigvintsev was a staple of the competition series for several seasons. He officially joined Dancing with the Stars in Season 19, paired with actress Lea Thompson. After eight seasons of competing, Chigvintsev was last seen during Season 27. Over on Twitter, the Good Morning America account shared a fun pop quiz video teasing that a mystery pro dancer would be revealed on Monday, August 24. The video hinted at who it might be and fans guessed that it was Chigvintsev based on these specific clues:
Honestly, I can see why fans think that Artem Chigvintsev will be revealed as a pro dancer for Season 29. The clues are all in the video, after all. Fans of the show know that Chigvintsev's celebrity partner in Season 25 was former pro wrestler and Total Bellas star Nikki Bella. The pair began a romantic relationship and got engaged last November, with Bella recently giving birth to the couple's first child together.
Of course, the only hiccup here is that the video also includes the word "wife" when referencing the mystery dancer's significant other and Artem Chigvintsev and Nikki Bella are still not married yet (as far as we know).
That said, the couple didn't announce their engagement until this past January, two months after they'd actually gotten engaged, so it's possible that the pair got married and just haven't shared it publicly. Or, it's misleading for a reason, but I suppose we'll find out soon enough, whatever the case may be. Check out the full video below and see if you can guess who it is.
Dancing with the Stars might be returning in a month, but long-time host Tom Bergeron and Erin Andrews will not be returning for Season 29. Taking over in the role of host will be America's Next Top Model vet Tyra Banks. Pro dancer Derek Hough thought it was "understandable" why Bergeron was ousted and replaced, while Dancing with the Stars winner Jordan Fisher thought the decision to hire Banks in place of Bergeron and Andrews was "odd."
Dancing with the Stars Season 29 will premiere on Monday, September 14 on ABC. For more on what to watch this fall, be sure to check out our complete guide of premiere dates and times.
Your Daily Blend of Entertainment News
Your Daily Blend of Entertainment News
Thank you for signing up to CinemaBlend. You will receive a verification email shortly.
There was a problem. Please refresh the page and try again.