Batwoman Star Javicia Leslie Cites An Iconic Batman Actress As Her Idol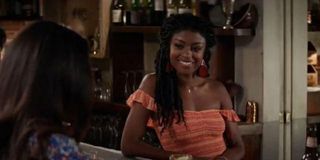 Over the weekend, the first day of the virtual DC FanDome event offered fans a plethora of new information, never-before-seen footage, and intriguing panels for tons of Warner Bros. projects. The event skewed heavily to the film side on Saturday, but Batwoman's very own Javicia Leslie was in attendance to discuss representation and how it has felt for her to be joining Batwoman for Season 2. Leslie herself currently serves as an idol for many fans as she's the first Black woman to play Batwoman. As it turns out, Leslie looked up to one of the most iconic Batman actresses growing up.
During DC FanDome's BAWSE Females of Color Within the DC Universe panel on Saturday, Javicia Leslie joined Legends of Tomorrow's Tala Ashe, The Flash's Candice Patton, Black Lightning's Nafessa Williams, and many more for a discussion on the importance of representation and what it means for fans of color to see amazing women who look like them in a superhero show. For Javicia Leslie, her own personal idol was none other than the inimitable Eartha Kitt, who played Catwoman in the 1960s Batman series. Here's what she had to say about why she felt so empowered by Kitt:
Eartha Kitt's activism was indeed admirable, and she was a big part of several major causes over the course of her life. The Catwoman actress and singer established a non-profit foundation called Kittsville Youth Foundation to benefit underprivileged and marginalized youth. Plus, she later became an advocate for LGBTQ rights.
In that vein, Javicia Leslie took to her Instagram and posted some of her thoughts about Eartha Kitt's activism from the DC FanDome panel. She also included pictures of her fellow DC actresses — including Shazam!'s Meagan Good and Titans star Anna Diop — who have also been doing their fair share of activism. Take a look at the post below.
Javicia Leslie was cast as Batwoman following Ruby Rose's exit as Kate Kane after portraying the hero for just one season, citing back injuries as one of the reasons why she decided to leave Batwoman behind. Leslie won't be playing Kate at all, but a new character named Ryan Wilder who will assume the role of Gotham City's caped hero. Although Rose was really growing into her character, I am very much looking forward to seeing what Leslie brings to the role of the scarlet knight.
Batwoman Season 2 is all set to premiere in January 2021 on The CW. In the meantime, be sure to check out our 2020 fall TV premiere schedule for more on what to watch.
Your Daily Blend of Entertainment News
Thank you for signing up to CinemaBlend. You will receive a verification email shortly.
There was a problem. Please refresh the page and try again.