Netflix's Sweet Magnolias Cast: Where You've Seen Them Before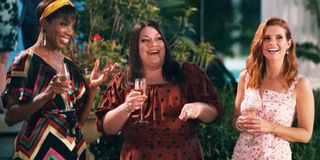 Sweet Magnolias was a Netflix 2020 summer hit. It is like a good Hallmark movie turned into a sentimental, feel-good series, and follows three best friends as they deal with different life challenges, while also opening a business together. The Sweet Magnolias cast may look a bit familiar because many of the main and supporting cast have appeared in numerous shows and movies prior to the series.
If you streamed Sweet Magnolias this year, then you have probably been rattling your brain to remember where you've seen the cast before. Well, we have the article for you! Here's where you've seen the Sweet Magnolias cast before.
JoAnna Garcia Swisher (Maddie Townsend)
Maddie Townsend begins the first season of Sweet Magnolias as a woman who is the talk of the town, but not in a good way. She's in the midst of a divorce after her husband had an affair. Throughout Sweet Magnolias Season 1, Maddie finds herself again and starts to fall for her son's baseball coach. Many will remember JoAnna Garcia Swisher for her role as Sam in Nickelodeon's original horror anthology series Are You Afraid Of The Dark?
Garcia-Swisher's next big TV role was in 2001, appearing opposite Reba McEntire in Reba. Her next main TV role came in 2008 on the short-lived CW series Privileged, while some fans might recognize her for playing Ariel in Once Upon a Time. Throughout her career, she has had recurring roles in the series Party of Five, Freaks and Geeks, Gossip Girl, The Mindy Project, and Royal Pains. JoAnna Garcia Swisher has also appeared in the movies American Pie 2, Not Another Teen Movie, Revenge of the Bridesmaids, The Internship, and Fist Fight.
Brooke Elliott (Dana Sue Sullivan)
Dana Sue runs a successful restaurant. Though her career is thriving, her love life has had a bit of a rollercoaster run lately, seeing as how she is no longer with her husband--likely due to an affair on his part. Dana Sue gets a new love interest during Sweet Magnolias Season 1, but then her handsome ex-husband re-enters her life. Brooke Elliott has a theater background, so if you've been to Taboo, one of the touring productions of Wicked, The Pirate Queen, or Beauty and the Beast, then you may have seen her on-stage.
Elliott may be most known for her role on Drop Dead Diva, where she played the main character, Jane Bingum, from 2009 to 2014. The actress also appeared on episodes of Law & Order: Trial by Jury and Dolly Parton's Heartstrings. She also lent her talents to the movies What Women Want and More Beautiful for Having Been Broken.
Heather Headley (Helen Decatur)
Helen once left Serenity but has come back and become the town lawyer, and one of its biggest cheerleaders. Just as she's settling in, someone from her past shows up and makes her really think about what she wants from life. Heather Headley is a well-known, talented, and respected singer and Broadway performer. She has earned both Grammy Awards and Tony Awards for her music and acting. Headley has appeared in Broadway productions of The Lion King, Aida, Dreamgirls, The Bodyguard, and The Color Purple.
Headley's screen acting credits include Dirty Dancing: Havana Nights, Breakin' All the Rules, She's Gotta Have It (the Netflix series), and Chicago Med. In 2021, she'll appear in the Aretha Franklin biopic Respect.
Justin Bruening (Cal Maddox)
Cal Maddox is new to Serenity, and he has moved to the small-town to coach their high school baseball team. Immediately, he forms a bond with Maddie that turns to romance. Soap opera and, specifically, All My Children fans will recognize Bruening for his role as Jamie Martin, which he played from 2003 to 2007, and also made some guest appearances in 2011. Bruening's TV roles also include episodes of Cold Case, CSI: Miami, Castle, Lucifer, and CSI: NY.
Briefly, Bruening became Knight Rider on the NBC reboot series. He also had recurring roles on the series Switched at Birth, Ringer, Grey's Anatomy, Hawaii Five-O, Ravenswood, and Good Behavior.
Chris Klein (Bill Townsend)
Bill Townsend, better known as the worst character on Sweet Magnolias, is Maddie's ex-husband, who cheated on her with his assistant. He's a family physician, but clueless about his family, girlfriend, and ex-wife.
Chris Klein may best be known for his role in the American Pie films. Klein appeared in a string of popular films in the late 1990s and early 2000s, like Election, Here on Earth, We Were Soldiers, The United States of Leland, and Just Friends. He's also had roles in the series Raising Hope, The Grinder, and The Good Guys, and nabbed recurring roles on Winfred and The Flash.
Jamie Lynn Spears (Noreen Fitzgibbons)
Noreen is the former mistress / soon-to-be wife of Bill. She wants to be accepted by the town and her new family so much that she often goes too far to fit into Serenity and Bill's family. Jamie Lynn Spears is best known for appearing on the Nickelodeon sketch comedy show All That. She then took on the lead role in Zoey 101 from 2005 to 2008.
Spears also appeared in the shows Just Jordan, Miss Guided, and the movie Crossroads.
Dion Johnstone (Erik Whitley)
Erik is a sous chef at Dana Sue's restaurant, who's keeping a lot of secrets about his past. He also starts to form a bond with Helen. Dion Johnstone has appeared in the series Departure, Star Falls, Ties That Bind, Stargate SG-1, and Monk. He also showed up in the films Josie and the Pussycats, and A Family Christmas Gift.
Carson Rowland (Ty Townsend)
Ty is the eldest son of Bill and Maddie, who is a popular student and a star of his high school baseball team. He's best friends with Annie (Anneliese Judge), but has no clue that she harbors a crush on him.
Carson Rowland had a lead role on the Nickelodeon series I Am Frankie, which aired from 2017 to 2018. Rowland had a recurring role on American Housewife, and he appeared in the films Santa in Training, Sinister Seduction, and Dream Killer.
Anneliese Judge (Annie Sullivan)
Annie is Ronnie (Brandon Quinn) and Dana Sue's daughter. She has a crush on Ty, but he just sees her as a friend. Anneliese Judge is fairly new to acting. She's only appeared in one major thing besides Sweet Magnolias, a horror movie called Where's Rose, which hasn't been released yet.
Logan Allen (Kyle Townsend)
Kyle is Bill and Maddie's youngest son, who also happens to have a secret crush on Annie, and is much nerdier than his older brother Ty. Logan Allen has appeared on episodes of Creepshow and Talia in the Kitchen. He was also in the film Bernie The Dolphin, and its sequel.
Brandon Quinn (Ronnie Sullivan)
Ronnie is Dana Sue's ex-husband and Annie's father. He only appears in one episode of Sweet Magnolias Season 1, but I suspect that he may play a bigger role in Sweet Magnolias Season 2. Brandon Quinn got his start on the ABC Family series Big Wolf on Campus. He then appeared on episodes of The Nightmare Room, What I Like About You, Drake & Josh, Reba, Charmed, Knight Rider, The Vampire Diaries, and Bones.
He had recurring guest roles on The O.C, Entourage, Kevin (Probably) Saves the World, Rebel, Die Hart, and The Fosters.
Netflix renewed Sweet Magnolias for season 2, which hopefully airs sometime in 2021. When Sweet Magnolias returns for the second season, we may see some new and familiar faces, so be sure to stay tuned to CinemaBlend for the latest!
Your Daily Blend of Entertainment News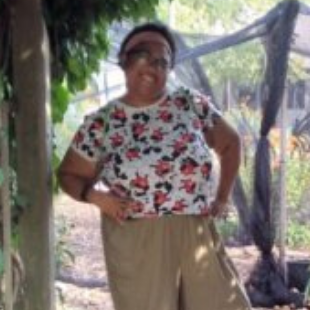 Spent most of my life in various parts of Illinois, including attending college in Evanston. I have been a life long lover of pop culture, especially television, turned that passion into writing about all things entertainment related. When I'm not writing about pop culture, I can be found channeling Gordon Ramsay by kicking people out the kitchen.