Star Wars Fans Are Both Loving And Hating The Thought Of Robert Downey Jr. Playing Thrawn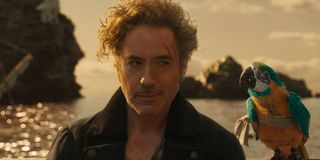 It feels like the rumors about Grand Admiral Thrawn joining the world of The Mandalorian have been running around for forever. As we all know, the moment a big time rumor hits the internet, complete with matching fan art to help illustrate things, there's bound to be talk as to who could fill such a casting. And, as of late, Robert Downey Jr. has been the name processing through the Thrawn rumor mill, which has been causing fans to both love and hate the very thought of it.
Inside The Magic posted the rumors on Twitter, as well as a statement claiming that fans were absolutely crazy about this notion. On the surface, why wouldn't people be happy about Robert Downey Jr. joining the Star Wars galaxy; and in such a prestigious role. But the moment this post went up, you could feel the ground shake, as both sides of the matter would eventually go to war:
Throwing Star Wars and Robert Downey Jr. into such a soup is even more of a supercharged way to get reactions out of people, as the beloved franchise and the even more beloved Marvel Cinematic Universe actor are instant conversation starters. For the sake of our discussion, we'll start with the more positive reactions, as it's hard to turn down the joy of fans who react this happily:
That is pure happiness over the concept of RDJ potentially becoming a part of Jon Favreau and Dave Filoni's Star Wars universe. It's the sort of joy that you could practically hear fans cheering with over that big revelation in Season 2 of The Mandalorian; and you could hear it if Grand Admiral Thrawn joins up for Season 3. Cheers like those could be pretty loud, but at the same time they could be very understated, but forceful statements, just like the following:
If that's not a Death Star sized 10-4 in favor of Robert Downey Jr. playing Grand Admiral Thrawn, then I don't know what is. But, believe it or not, there are some that seem even more excited about a Downey casting for this legendary Star Wars character. Which brings us to our final positive offering, and showers high praise and emojis on the former Iron Man lead's potential turn:
However, just as there are those that would be pleased as punch to see The Mandalorian add Robert Downey Jr. as Grand Admiral Thrawn, there are those who aren't buying it at all. And, friends, when I tell you those takes are spicy, you'd best have a glass of milk ready to cool the scorch. Ready yourself for the dark side of the Downey paradox, and start with this first hot take:
Addressed directly to Jon Favreau, that Star Wars style dissent ripped into the fact that a potential Downey casting would be, in that particular opinion, nothing more than an A-list stunt. Though, to be fair, there was a polite "thank you" at the end to offset the heat. The fire's not totally out just yet though, because here's yet another firm refusal of Grand Admiral Thrawn looking like a genius billionaire playboy philanthropist:
If you think you've seen it all when it comes to Robert Downey Jr being dragged by Star Wars fans, think again. This last take is quite possibly the sharpest in the drawer, and it all comes down to one key phrase:
Somehow, Robert Downey Jr. lacks the air of being a "refined and efficient" Imperial officer for some fans. Sure, the man's not exactly the most serious when he's playing somewhere like the Marvel Cinematic Universe sandbox, but his career has seen him play pretty restrained and serious roles plenty of times. Regardless of the good or the bad, there's no confirmation either way on whether or not Team RDJ is fielding any offers for The Mandalorian or even Kevin Feige's Star Wars film at this time. So, for now, the world will have to wait and see what plays out; and that could lead to another viewing of The Mandalorian Season 2, which is available now on Disney+.
This poll is no longer available.
CinemaBlend's James Bond (expert). Also versed in Large Scale Aggressors, time travel, and Guillermo del Toro. He fights for The User.
Your Daily Blend of Entertainment News
Thank you for signing up to CinemaBlend. You will receive a verification email shortly.
There was a problem. Please refresh the page and try again.