A-Rod Has Finally Responded After Rumors Of JLo Split Swirl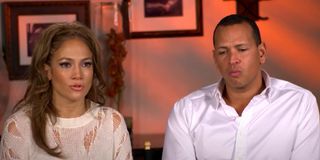 The speculation surrounding Alex Rodriguez and Jennifer Lopez's relationship feels a lot like watching one of those professional Chinese ping pong sport matches: endless back and forth, back and forth, with no clear resolution in sight. The couple have been officially engaged since 2019, but it seems they are still far from tying the knot. Now, A-Rod himself has finally responded to whether he and JLo are officially done.
Rumors have been swirling that the two called it quits, following cheating allegations and reports of tension. Alex Rodriguez's short and sweet answer doesn't quite reveal the juicy details folks are clamoring for, but it's straight from the horse's mouth, so to speak. When asked outside his gym in Miami, per TMZ, if he was single, A-Rod simply said, "No, I'm not."
Alex Rodriguez's personal response reiterates the couple's statement made to TMZ only yesterday. A-Rod and Jennifer Lopez reportedly told them:
In other words, Alex Rodriguez and Jennifer Lopez's relationship status is "it's complicated." By their own admission, they are still together, but what things need to be worked on? Sources have alleged that long distance coupled with COVID-19 is the reason for the strain, with JLo filming in the Dominican Republic and A-Rod based in Miami. Long distance is certainly a burden, and the couple have weathered more pressure than most after several years of being engaged at their ages.
Many have wondered if the rocky relationship between Alex Rodriguez and Jennifer Lopez is due to the allegations of cheating between A-Rod and Southern Charm star Madison Lecroy. Though according to Rodriguez and Lopez, per TMZ, what they are working on is private and has nothing to do with a "third person."
The Southern Charm star is, however, familiar with being the center of scandalous allegations, as fans will remember that her co-star Craig Donover notoriously insinuated at their reunion special that Madison Lecroy was "sleeping around" with the likes of Jay Cutler and an unnamed Major League Baseball player. But with the recent A-Rod and JLo news, Lecroy has now chosen the wisest course of action – minding her business.
In fact, Madison Lecroy seems more intent on staying far removed from the drama and allegations concerning Alex Rodriguez altogether. One could say she is content to be outside the public's purview. The hairstylist posted on her Instagram stories just yesterday a series of pics and videos of herself and friends out at sea having fun.
It's still unfortunate for fans to see Alex Rodriguez and Jennifer Lopez struggling as a couple. The two screamed "Ultimate Relationship Goals" for so long that the any rumor about a split seems preposterous. Hopefully, the speculation is just part of the rumor mill ping pong game.
Freelance writer. Favs: film history, reality TV, astronomy, French fries.