The White Lotus Cast: Where You've Seen The HBO Actors Before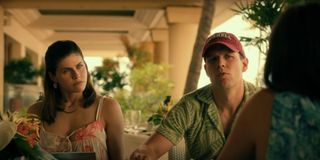 Whether you are planning to watch or have already started the new HBO dramedy series after catching the sunny and strange first look at the show's trailer, you probably want to know where you've seen the members of The White Lotus cast before they all arrived at a beautiful beachside resort that almost certainly has to take a turn at some point.
Outside of series leads like Alexandra Daddario, Connie Britton, Jennifer Coolidge, and Jake Lacy, the rest of the large ensemble cast is made up of some of the funniest names in Hollywood, with years of experience on the big screen and small screen alike. To help you make sense of it all, we've put together a quick (yet comprehensive) rundown of The White Lotus cast and where you have seen them before setting off for a holiday in the sun on the HBO limited series.
Murray Bartlett (Armond)
Armond, the fastidious resort manager of The White Lotus, is played by Murray Bartlett, who longtime HBO subscribers will most likely remember from the 2014 drama series Looking and the 2016 film continuation of the same name. If not there, then some may remember Bartlett from his days on the CBS soap opera Guiding Light, where he was a series regular from 2007 to 2009. Sticking with the television side of his career, Bartlett has shown up in episodes of Sex and the City, White Collar, Damages, and the Marvel Netflix show Iron Fist for a handful of episodes in 2017. The actor's film credits include the 2013 Kristen Wiig comedy Girl Most Likely and the 2011 drama August.
Connie Britton (Nicole Mossbacher)
Prior to taking on the role of Nicole, the domineering leader of the Mossbacher family on The White Lotus, Connie Britton was already one of the most recognizable faces in show business. Starting with the movie side of her filmography, Britton has been in everything from the 2004 sports drama Friday Night Lights (she would later go on to appear in the TV adaptation of the same name but played a different character) to 2018's underrated The Land of Steady Habits. Britton also recently appeared in the Academy Award-winning dark comedy Promising Young Woman. Britton's career on television is just as, if not more, impressive with extended runs on Spin City, Nashville, and the aforementioned Friday Night Lights.
Jennifer Coolidge (Tanya McQuoid)
Tanya McQuoid, the wealthy lonesome traveler looking for love (and a great massage) on The White Lotus is played by comedy legend Jennifer Coolidge. Best known for her portrayal of Jeanine Stiffler in American Pie and for bending and snapping as Paulette Bonafonté Parcelle in the two Legally Blonde films, Coolidge is also a mainstay of Christopher Guest's mockumentary films, giving hilarious performances in Best in Show and A Mighty Wind to name only a few. Coolidge has also been in her fair share of TV shows over the years, including The Secret Life of the American Teenager, 2 Broke Girls, and the Friends spinoff Joey.
Alexandra Daddario (Rachel)
Alexandra Daddario takes on the role of Rachel, a newlywed whose honeymoon doesn't go according to plan when her mother-in-law unexpectedly shows up to make a mess of things. Prior to landing one of the leading roles on The White Lotus, Daddario made a name for herself on TV with All My Children and on the big screen in the Percy Jackson films which she followed up with multiple movies alongside Dwayne Johnson including San Andreas and Baywatch (her scene in Rampage was cut). Following one-off appearances on shows like The Sopranos, Law & Order, and Damages, Dadarrio found some success on True Detective Season 1 and American Horror Story: Hotel.
Jake Lacy (Shane Patton)
Playing Alexandra Daddario's on-screen husband, Shane Patton, is former member of The Office cast, Jake Lacy. In addition to playing Pete Miller, aka "Plop" on the show's ninth and final season, Lacy has become one of the most promising comedic actors in the past decade, giving outstanding performances in movies like Obvious Child (which was his feature film debut), Carol, and Miss Sloane, as well as on television series like Girls, Last Week Tonight, and Mrs. America. Lacy will soon appear in the Aaron Sorkin's star-studded biographical drama about the making of I Love Lucy titled Being the Ricardos, in which he will portray television writer Bob Carroll Jr.
Steve Zahn (Mark Mossbacher)
Mark Mossbacher, the subservient husband of Nicole who just so happens to be dealing with what appears to be quite an embarrassing health crisis on The White Lotus, is brought to life by Steve Zahn. Over the years, Zahn has been a fixture of one movie after another with memorable roles in everything from Reality Bites to That Thing You Do (where he almost died) and Dallas Buyers Club to Uncle Frank (oh, and we can't forget Saving Silverman). The comedic actor who can also handle himself in more dramatic roles has also had a decent amount of success on television, with the HBO limited series From the Earth to the Moon and David Simon's 2010 post-Katrina drama series Treme coming to mind.
Fred Hechinger (Quinn Mossbacher)
Fred Hechinger, who plays Quinn, the awkward video-game-obsessed teenage son of Mark and Nicole Mossbacher, is one member of The White Lotus cast with not a lot of years under his belt but boundless potential. Since making his debut in Bo Burnham's 2018 coming-of-age story Eighth Grade, Hechinger has gone on to appear in movies like Let Them All Talk, News of the World, and The Woman in the Window. The young actor reached new heights in July 2021 with the release of the Fear Street trilogy in which he gives a commanding performance as Simon Kalivoda.
Sydney Sweeney (Olivia Mossbacher)
Taking on the role of the fourth and final member of the Mossbacher family, Olivia, is Sydney Sweeney. Prior to appearing in The White Lotus as cynical college sophomore who takes pleasure in running down everyone at the resort, Sweeney appeared on some of the modern era's biggest television shows including The Handmaid's Tale, Sharp Objects, and Euphoria. Sweeney has also made appearances in several feature films in recent years, including Once Upon a Time in Hollywood, which saw her bring to life Dianne Lake, aka Snake, one of the members of the infamous Manson Family.
Brittany O'Grady (Paula)
Brittany O'Grady shows up on The White Lotus as Paula, Olivia Mossbacher's friend from college who joins the family on the peaceful retreat at the beachside resort. Prior to joining The White Lotus cast, O'Grady made a name for herself on The CW's The Messengers before landing a main role on the Fox musical drama series Star, which showcased not only her acting skills but her singing talents as well. After that, O'Grady landed one of the lead roles on the Apple TV+ romantic comedy series Little Voice. The multi-talented star also appeared in the 2019 remake of Black Christmas.
Natasha Rothwell (Belinda)
Belinda, the down-to-earth spa manager who ends up becoming wrapped up in the life and needs of the wealthy Tanya McQuoid on The White Lotus, is played by comedian, teacher, actress, and former Saturday Night Live writer Natasha Rothwell. Prior to landing a role on the HBO limited series, Rothwell came up writing for shows like the aforementioned SNL, Netflix Presents: The Characters, and Insecure, acting on the latter two programs. Since then, Rothwell has been a part of shows like Brooklyn Nine-Nine, DuckTales, A Black Lady Sketch Show, and BoJack Horseman. You may also recognize the HBO fan-favorite from Love, Simon (and it's TV follow-up Love, Victor), Wonder Woman 1984, and Sonic the Hedgehog. Rothwell will also be in the upcoming Sonic the Hedgehog 2.
Molly Shannon (Kitty)
Showing up on The White Lotus as Kitty, the mother of Shane Patton who takes it upon herself to join her son and his new wife on their fairytale honeymoon, is Saturday Night Live alum Molly Shannon. Since appearing on a single episode of Twin Peaks back in 1991, Shannon has gone on to become one of the most iconic members of the SNL cast (and one of the few to get her own movie with Superstar), as well as give memorable performances on shows like Will and Grace, Scrubs, The Middle, and 30 Rock. Shannon's film contributions are just as prolific with everything from the Hotel Transylvania franchise to Me and Earl and the Dying Girl under her belt. She even reprised her role from Wet Hot American Summer for the Netflix revival back in 2015.
In addition to all of these familiar faces and names, The White Lotus cast also includes Jon Gries (Napoleon Dynamite), Jolene Purdy (Wandavision), Kekoa Kekumano (Aquaman), and Lukas Gage (Euphoria) in recurring guest roles.
New episodes of The White Lotus air at 9 p.m. EDT Sundays on HBO and streaming on HBO Max. If you want to know what else is coming to your TV screen soon, check out 2021 Summer TV Schedule for all the latest info.
Your Daily Blend of Entertainment News
Philip grew up in Louisiana (not New Orleans) before moving to St. Louis after graduating from Louisiana State University-Shreveport. When he's not writing about movies or television, Philip can be found being chased by his three kids, telling his dogs to stop yelling at the mailman, or yelling about professional wrestling to his wife. If the stars properly align, he will talk about For Love Of The Game being the best baseball movie of all time.
Your Daily Blend of Entertainment News
Thank you for signing up to CinemaBlend. You will receive a verification email shortly.
There was a problem. Please refresh the page and try again.