Bachelor In Paradise Spoilers: Fans Call Out Demi Burnett For Seemingly Lying About Tayshia's Bachelorette Season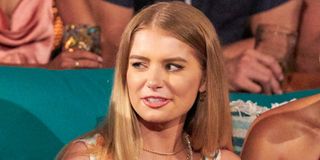 (Image credit: ABC)
Warning: spoilers ahead for the August 23 episode of Bachelor in Paradise on ABC.
The seventh season of Bachelor in Paradise got off to as dramatic a start as could be expected with Bachelor Nation's most bonkers series, but the drama really amped up in the second episode thanks to the arrival of Bachelor and Paradise alum Demi Burnett with a date card and her eye on Brendan Morais. During the course of their date, Demi made a bold claim about Tayshia Adams' season of The Bachelorette, and there are receipts to prove that she's not being altogether truthful.
On Demi Burnett's date with Brendan Morais, she told him that she hadn't watched Tayshia Adams' season of The Bachelorette, so she didn't know his story as one of Tayshia's frontrunners before he decided to leave after hometowns. While that would be all well and good since Bachelor Nation veterans aren't exactly required to keep up to date on every single season of the franchise, Demi actually live-tweeted portions of Tayshia's time on The Bachelorette as she watched. Take a look:
I couldn't find any tweets from Demi Burnett that specifically mentioned Brendan Morais, but she did comment on the guys of Tayshia Adams' season of The Bachelorette:
Of course, Demi Burnett was live-tweeting Tayshia Adams' season of The Bachelorette the better part of a year ago, and she didn't tweet along with every single episode to indicate that she was religiously watching. Still, unless she was elaborately faking some live tweets back in the fall, then Demi was lying to Brendan Morais about not watching Tayshia's season. And some Bachelor Nation fans have called Demi out for lying, with some receipts to show their work:
Now, that particular tweet of Demi Burnett breaking out the emojis to tell Tayshia Adams to "Get their asses" while live-tweeting doesn't seem to be posted anymore, so Demi evidently deleted it at some point, but the tweets that are still up on her account are proof enough that she was watching at least some of the season. And considering how closely connected the big names in Bachelor Nation tend to be to the franchise, it would honestly be pretty shocking if Demi went to Paradise completely in the dark on the guys who might be coming from trying to woo Tayshia.
The doubts that fans had in response to Demi Burnett's claim about Tayshia Adams' time on The Bachelorette were probably fueled by Demi happily embracing the fact that she was about to turn Paradise upside down thanks to her arrival that raised the total number of women to fourteen hoping to win the roses of just ten guys. She seemed like she was looking forward to starting trouble, and her last go on Bachelor in Paradise proved that Demi does tend to deliver the drama, intentionally or not.
I'm sure plenty of viewers would have had their doubts about Demi Burnett's claim even if not for the Twitter receipts, which may mean that there might not be as many people on Team Demi as might have been without her comments about Tayshia Adams' season. On the plus side, fans who doubted Demi's statement definitely picked out some fun gifs to post their thoughts!
For some fans, Demi Burnett's arrival felt rehearsed for more reasons than her bold (and easily contradicted for anybody with a long enough memory of her social media activity) claim, with one person saying that it all feels "staged."
By the end of the hour, Demi Burnett was pretty much just looking for any available man with a rose to spare, and she set her sights on James Bonsall, ready for a friendship rose if that's what it took to stick around, but not without dropping a joke about having sex. He did ultimately give her a rose in the hope of getting to know her better, so Demi is sticking around for a bit longer. Assuming the women are distributing roses next, she's safe until at least the next round.
Bachelor in Paradise is moving to two nights a week, so fans will get plenty of drama each week as the Bachelor Nation veterans continue their latest searches for love. Catch new episodes of Season 7 on Mondays and Tuesdays at 8 p.m. ET on ABC. Another season of The Bachelorette is on the way next, with The Bachelor not returning (likely with a divisive leading man) until next year.
Resident of One Chicago, Bachelor Nation, and Cleveland. Has opinions about crossovers, Star Wars, and superheroes. Will not time travel.
Your Daily Blend of Entertainment News
Thank you for signing up to CinemaBlend. You will receive a verification email shortly.
There was a problem. Please refresh the page and try again.